What to see at Formnext 2019!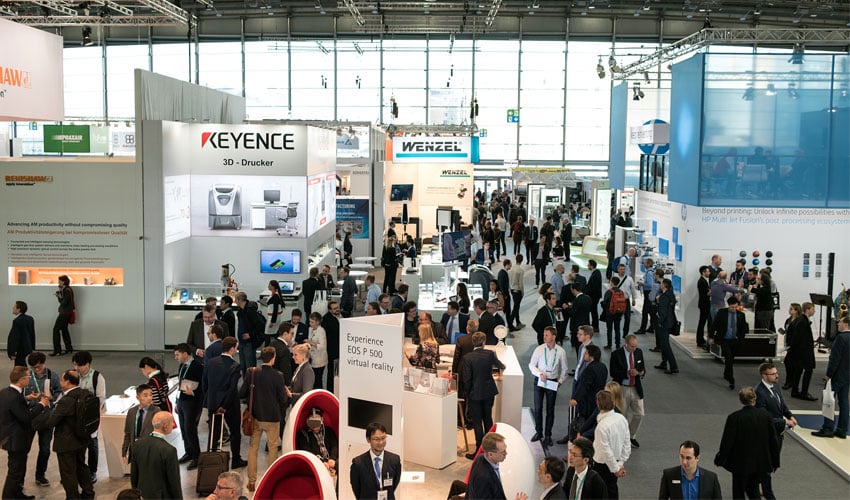 Formnext is undoubtedly the largest fair dedicated to additive manufacturing: for 5 consecutive years, it has brought together thousands of international players and helps strengthen the position of 3D printing technologies in the industry. This year, it opens its doors on November 19 in Frankfurt until November 22. For the first time since its creation, Formnext is partnering with a country: the USA will be in the spotlight for this 5th edition with several dedicated spaces and conferences. It looks like metal additive manufacturing will also remain in the spotlight this year, with many new machines announced to launch. Find out what you can expect at Formnext 2019 to make sure you don't miss a thing once you get there!
Last year, Formnext welcomed 632 exhibitors, 27,000 participants, in a 37,000 square metre space, showcasing its leading position. Nevertheless, the 5th edition has grown and the event had to move into two new halls (50,000 square metres in total) to accommodate the 800 exhibitors and thousands of participants expected. 285 new companies will exhibit their additive manufacturing solutions for the first time, from all over the world. 50% of exhibitors are international: after Germany, the most represented countries are China, the United States, France, Italy, the United Kingdom, Spain and the Netherlands. Moreover, the United States is the partner country of the exhibition, a first in the history of Formnext.
A partner country for this 5th edition
The United States, in addition to being represented by its 50 exhibitors such as Carbon, HP and 3D Systems, will be honored through several activities and conferences throughout the show, with a special 'Formnext Partner Country USA Day' organized on Wednesday, November 20. On this occasion, about ten innovative companies will present their additive manufacturing solutions during pitch sessions. The day will end with an evening organized by AMUG (The Additive Manufacturing Users Group).
Several American associations will be present, such as The Association for Manufacturing Technology (AMT), The American Society of Mechanical Engineers (ASME) and of course AMUG. You will be able to meet them and other American players in the dedicated pavilion (Hall 12.0 stand E101).
Metal additive manufacturing at Formnext 2019
For this edition of Formnext, we can highlight a significant presence of metal 3D printing technologies: several machines will be exhibited for the first time – some are new players on the market such as Meltio, which has developed a process called 3E Metal Deposition, or the Israeli startup Tritone and the German One Click Metal, a company derived from Trumpf. Its objective is to make metal laser 3D printing more accessible, especially for the education, R&D and SME sectors. The startup, created in April 2019, announces a machine below $100,000.
The Italian manufacturer Sharebot enters the metal 3D printing market with its first MetalOne machine based on Laser Powder Bed Fusion. It should provide better control of the printing chamber and be compatible with 316L steel and cobalt-chrome.
Chinese manufacturer Shining 3D will use Formnext 2019 to expand its range of metal machines with its new EP-M250 Pro, a dual laser 3D printer that offers a 3D printing volume of 262 x 262 x 350 mm. Additionally, the Dutch company Admatec will unveil its latest machine, the ADMAFLEX 300, a flexible production solution compatible with metals and ceramics.
New 3D printing materials: polymers in the spotlight
Although metal additive manufacturing continues to grow, polymers maintain a strong market position. This year at Formnext 2019, many manufacturers are presenting high-performance thermoplastics or photopolymers with high mechanical properties. Cubicure & Evonik will present their Evolution FR resin, the first flame retardant photopolymer for UL94 V0 certified SLA technologies.
On the filament side, we should see the amorphous thermoplastic polyimide developed by SABIC and Roboze, capable of withstanding temperatures of 230°C. The French company Armor 3D will present its PEBA-S Kimya filament, an elastomer designed for applications where lightness is key. Not to mention its PEKK-A, a high-performance material that is now approved on many machines, including 3DGence's new INDUSTRY F420, which will be presented for the first time at Formnext 2019.
Formnext 2019 will of course organise numerous conferences with the objective of presenting the evolution of additive manufacturing, its applications and trends. Among the speakers, we will note the presence of major groups such as BMW, Procter&Gamble and Audi Sport. Find all the practical details of the exhibition and the conference programme on the website of the event HERE.