What To Expect at Formnext 2022!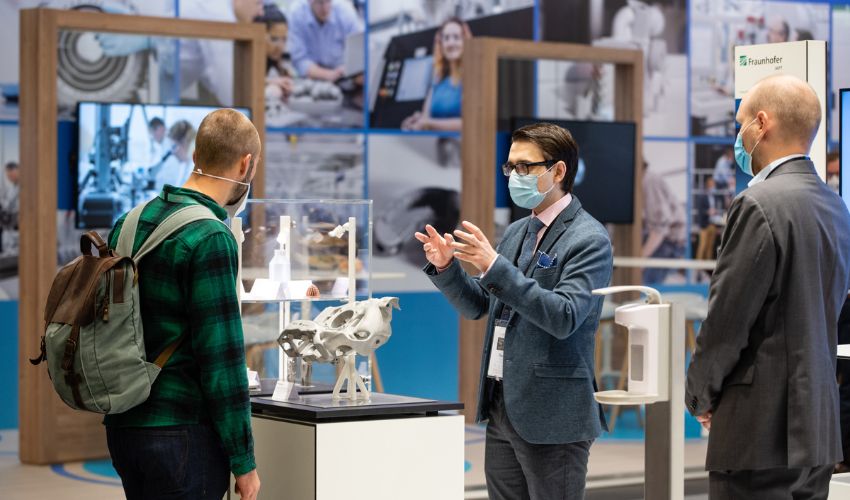 The last Formnext took place in 2021 and was the first in 18 months as a result of the pandemic. Almost 18,000 visitors visited around 606 exhibitor stands from manufacturers, resellers, start-ups and other players within additive manufacturing. Formnext 2022 hasn't even begun and already the number of registered exhibitors is 800 more than last year; the event space will span over more than 50,000 m². Similarity, in 2021 many US and Asian exhibitors and visitors did not have the chance to visit Formnext due to pandemic entry regulations, but the easing of restrictions means that this should not be the case this year. Covid aside, the organizers of Formnext are well aware of the reason for the enormous increase in numbers: additive manufacturing is enjoying ever-increasing popularity in all sectors of industry, and its advantages are only too obvious. The anticipation – both on the visitor and exhibitor side – is immense, not least due to the newly presented products and services. We have taken a detailed look at the innovations you can look forward to.
Looking at Formnext over the years, it is noticeable that it had an extremely strong 2019 with 852 exhibitors and almost 35,000 attendees before being curbed by pandemic regulations. Last year, the focus of Formnext was on repeatability and process automation, especially in relation to a 3D printing solution, which brings both higher productivity and a distinct reliability of quality for the user. This year, on the other hand, topics such as start-ups and investment, as well as construction, architecture and decentralized manufacturing, will receive a lot of attention. In addition, Formnext 2022 welcomes France as the official partner country this year.
Products and Services To See at Formnext 2022!
As Formnext is considered one of the most important and largest additive manufacturing events in the world, it is hardly surprising that AM players take advantage of this to reveal new printers, software, scanners and much more. Since some of these companies are already announcing innovations before the start of the events, we can now bring you a few highlights to explore in more detail during Formnext. For example, we can already tell you that it will definitely be colorful! Mimaki, who is particularly well-known in the world of additive manufacturing for its 3D color printing, has announced the launch of its new material called Pure Clear Ink MH-110PCL. This is a transparent material with no yellow tint, which is particularly suitable for medical professionals, architects, product designers or even artists. While we are on the subject of newly presented materials at Formnext 2022, the Italian company Roboze will also be presenting its new product which is able to reduce CO2 emissions generated throughout the production process. This material is to be used especially in mobility, energy, aerospace, medicine and industry.
Of course, there will be must-see presentations of new machines: in the field of metal 3D printing, EPLUS 3D will present its new metal 3D printer, which is a large-format multi-laser machine. Particularly exciting here is the build space with a size of 1258 x 1258 x 1350 mm3 and a total of nine laser systems, which contribute significantly to the production of metal parts with a size of several metres. Zortrax will also be showcasing its Powerful Trio, which is a resin 3D printing and post-processing system. Specifically, this includes the Zortrax Inkspire 2 UV LCD 3D printer, the Zortrax Cleaning Station and the Curing Station. The new 3D printer, which is intended for medical applications, is also to be presented alongside new materials. HP has already provided a special highlight in the run-up to this year's Formnext with the announcement of its entry into metal 3D printing. The new metal 3D printer, called Metal Jet S100, is said by HP to contribute to "the industry's most advanced commercial solution for mass production of metals in 3D printing."
Also awaiting you at Formnext 2022 is the Swiss 3D printing manufacturer Sintratec, which will be presenting its new selective laser sintering system for the first time at the fair. The manufacturer claims that this high-tech module is a three times more powerful laser than previous generations. Named the Sintratec S3, it is particularly concerned with improvements in terms of speed and production times. Apart from that, the Swiss 3D printing manufacturer also explains the first presentation of a brand new SLS material as well as other products at this year's Formnext.
But what would additive manufacturing be without post-processing? When it comes to post-processing, there will be plenty of new things to see at Formnext, such as at the exhibitor stand of the German post-processing technology company AM Solutions, a brand of the Rösler Group. The company announced that it will introduce two more machines during Formnext 2022, the M1 Basic and C1, for post-processing in additive manufacturing at its exhibitor stand. These will be on display alongside four other key technologies, thus expanding AM Solutions' range of post-processing machines.
Conferences And Competitions
As every year, Formnext will also feature a number of high-quality conferences with renowned speakers from different sectors who will share exciting insights and impressions on additive manufacturing with visitors. Here, speakers from companies such as PepsiCo, JACK WOLFSKIN and Honda, among others, will take to the stage. You can find the complete schedule HERE.
You also shouldn't miss the individual events and challenges during Formnext 2022! One of them is the Purmundus Challenge, which is taking place for the tenth time this year. This is an international design idea competition for 3D and 4D printing on an industrial level. The Pitchnext event also promises a lot: here start-ups show what they can do and why it is worth investing in them. Through short pitches you can get an insight into the start-up and go further activities together with them.
Will you be attending Formnext 2022? What are you looking forward to the most? Let us know in a comment below or on our LinkedIn, Facebook, and Twitter pages! Don't forget to sign up for our free weekly Newsletter here, the latest 3D printing news straight to your inbox! You can also sign up to our special Formnext newsletter HERE. You can also find all our videos on our YouTube channel.