What to Expect at AMTC 2022?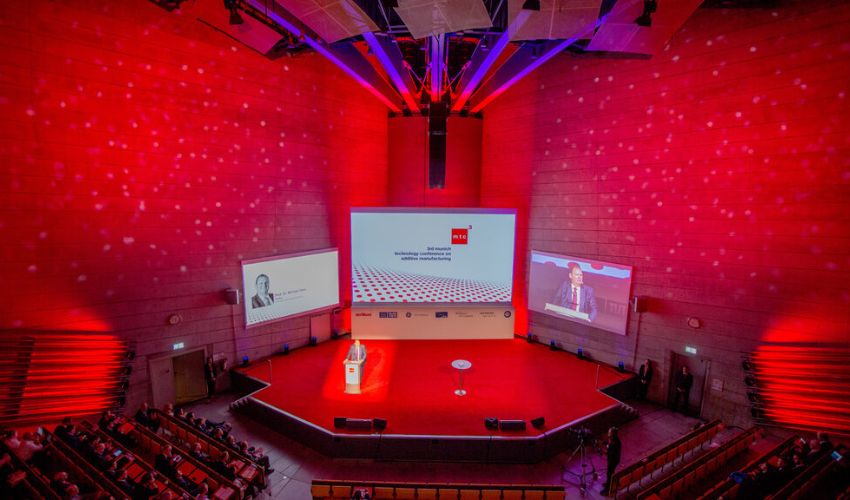 This year, for the fifth time, the annual Advanced Manufacturing Technology Conference (AMTC) will be taking place for all those interested in AM on October 11th and 12th on the campus of the Technical University of Munich (TUM). The event sends a clear and unmistakable signal for international cooperation in the field of additive manufacturing. This is particularly evident from the list of speakers who, in addition to Europe, will also be coming from Asia and the USA and will provide information on numerous AM innovations in various sectors, industrial processes and other news. As the year is marked by various global crises, this once again challenges additive manufacturing to make its contribution. This means, above all, to change in terms of resource-saving and climate-friendly production and products.
The globally renowned AMTC conference serves as an opportunity to gather together C-level executives from industry, decision-makers from the regulatory field as well as experts from the fields of science, research and standardization to discuss the development of AM in industrial applications. As already announced, international cooperation will be a particular focus of the program, which will be guided by the question "What can the three major economic regions of America, Europe and Asia learn from each other?" Prof. Michael Süß, Executive Chairman of Oerlikon and founder of the AMTC explains further: "The global upheaval we are currently experiencing in political systems as well as in markets is changing international supply chains. "In addition to the focus on sustainability, this is one of the main reasons why the demand for additive manufacturing is increasing at an ever faster pace. The fields of application are becoming more numerous and the printing and processing technology has already reached a very high level. The last technical and regulatory hurdles can best be overcome through cooperation. This is where the international AM community plays a significant role."
What can AMTC participants expect during the event?
On the first day of the event, October 11th, AMTC will start with a gathering of 3D printing startups scene, with a discussion on the current trends within the international 3D startup scene including keynote speeches from Arno Held, AM Ventures, and Helmut Schöneberger, UnternehmerTUM. After subsequent discussion sessions with representing companies such as Kinexon, Seurat and Kumovis, a total of six startups will present their innovative ideas in short and concise pitches. These include solutions for AM powder made from recycled materials, wire alloys for large-format 3D metal printing, and a completely new printing process that uses microwaves as an energy source.
The second day of AMTC is dedicated to the foundation of the "Bavarian AM Cluster", which includes companies like Siemens, Audi, MTU, EOS, Linde, GE Additive and Oerlikon. The aim is to work together to improve and overcome potential technical and economic challenges for science and companies along the entire AM value chain. The next item on the agenda of the second day, after the foundation of the "Bavarian AM Cluster", will be the exchange of content, which will bring a novelty: all participants – online as well as on site – will for the first time get the chance to get an insight and outlook on the markets of the future from the experts in this edition of the AMTC. This will happen thanks to the publication of a trend study, as well as all the answers from futurologist Kai Gondlach.
However, participants at this year's AMTC can also look forward to other high-profile experts from various industries. These include Ilse Aigner, President of the Bavarian Parliament, Oliver Hoffmann, Member of the Board of Management for Technical Development at Audi AG, Peter Körte, Corporate Vice President, Chief Technology & Chief Strategy Officer at Siemens AG, Thomas Hofmann, President of TUM, Francisco Betti, Head of Advanced Manufacturing / Member of the Executive Committee at the World Economic Forum, and Lionel Lim, Vice President & Head, Technology Hardware & Equipment at the Singapore Economic Development Board (EDB). With these speakers, participants will not only learn more about real-world applications, but also exciting updates from the research community. Representatives from universities as well as research institutions will report on current projects and discuss technical issues in detail. Specifically, two major international EU projects will focus on innovative laser beam shaping to make the process faster and more efficient, and on combining different AM processes and materials so that the material properties of a single component can be adapted to local needs.
In addition, the participants will gain an insight into extensive projects from all three included continents. From Asia – specifically from Singapore – the company SembCorb Martine will present metal 3D printing for the maintenance of ships and its advantages. Also from Asia, this time from China, the company Deep Blue Space will show the production of components for rocket propulsion. From Europe, we can expect a total of four exciting projects, with one coming from the Fraunhofer Institute IGCV in collaboration with Siemens Healthineers and other partners: they will be demonstrating the 3D printing of an extremely complex heat sink made of copper. The automotive industry will also find its spot in Munich, as Audi and Siemens will present in detail how an AM project can be successfully brought through the entire process. From North American, we can look forward to seeing the companies Eaton, Collins Aerospace and Boeing. If you would like to find out more about the AMTC in advance, please click HERE.
Will you be attending AMTC 2022? Let us know in a comment below or on our LinkedIn, Facebook, and Twitter pages! Don't forget to sign up for our free weekly Newsletter here, the latest 3D printing news straight to your inbox! You can also find all our videos on our YouTube channel.
*All Photo Credits: AMTC