What is Autodesk Inventor and How Does it Work?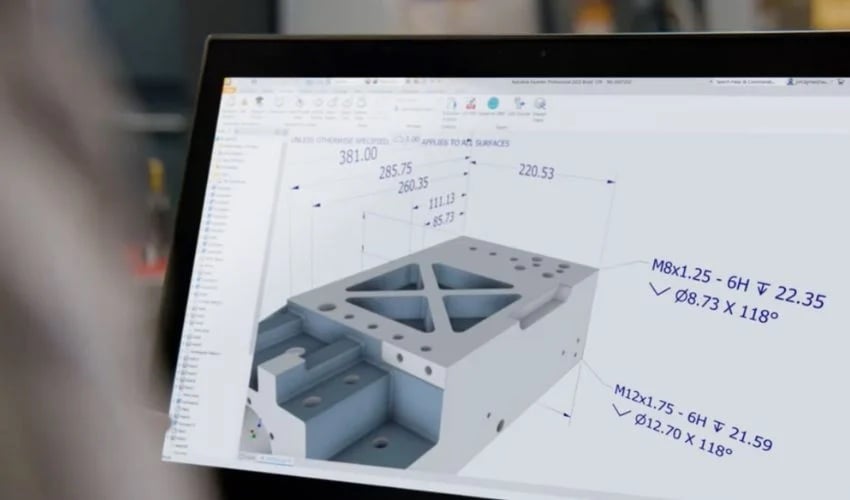 Autodesk Inventor is computer-aided design (CAD) software developed by Autodesk for 3D mechanical modeling, simulation, visualization and documentation. Inventor enables the integration of 2D and 3D data in a shared environment, creating a virtual representation of the final parts that allows users to verify the its form, fit and function before it is built. Autodesk Inventor includes parametric, direct editing and free-form modeling tools, as well as multi-CAD translation capabilities in its standard DWG (DraWinG) computer drawings. It uses ShapeManager, Autodesk's proprietary geometric modeling core. This software competes directly with SolidWorks, Solid Edge and Creo.
It's a powerful combination of parametric design capabilities: direct, freeform and rule-based. With this professional software, you get integrated tools for sheet metal, frame, tube, cable and harness design, layout, rendering, simulation, machine design and more. It also offers support for TrustedDWG® files and powerful model-based definition capabilities for embedding manufacturing information directly into the 3D model. It is widely used by mechanical engineers who need specialized, automated tools for design and manufacturing preparation.
Autodesk Inventor's Features
The main building blocks of Inventor are parts. They are created by defining features or characteristics, which in turn are based on sketches (2D drawings). Working drawings can also be used to create the sketches at different locations in the workspace. The advantage of this design method is that all sketches and features can be corrected later without having to recreate the entire layout. This modeling system is more intuitive than previous, older tools that required starting from scratch when changing basic dimensions.
To continue the process, the parts are connected to form assemblies. In this way, by changing parts and assemblies, different variants of the product can be obtained. Parts are assembled by adding dependencies between faces, edges, planes, points and axes. This method of modeling enables the creation of large and complex assemblies.
Autodesk Inventor for 3D Printing
Autodesk Inventor is one of the most widely used 3D CAD design programs in the world for creating 3D digital prototypes used to design, visualize and simulate products for mechanical design. It uses parametric solid modeling techniques, making it well suited for the design process of engineering mechanisms, such as tubular structures and geometric external shapes. This allows for quick changes and adjustments to the geometric characteristics of the product design through a very intuitive workflow.
In 3D printing, the goal is to create correctly meshed models that are exported as STL files. A 3D model created with Autodesk Inventor software results in a closed design and a perfect mesh. In this software we find a tool specialized in 3D printing, which is easy to find: Navigate in the top bar and go to the "Environment" section. When you click on this tool, a representation of a print bed will appear. This tool is designed to be used with an Autodesk Ember printer or other 3D printers. In this environment, we can now set the orientation of our part, model it directly if we need to extend it a bit, or even insert working drawings. In addition, users have the option to send this part to Autodesk Print Studio, Meshmixer or directly to the desired printer. The Print Options tool allows you to refine the mesh structure, the units and even the color.
The Latest Version, Inventor 2023
The latest version of Inventor® 3D CAD software is packed with updates and enhancements to help you manage your design process, accelerate your networked design workflows and reduce repetitive tasks. This latest release enables interoperability with Fusion 360 so you can quickly access and launch Inventor-to-Fusion 360 workflows, including generative design, simulation, electronics and manufacturing. You can also securely share data between Revit and Inventor using an advanced approach to Building Information Modeling (BIM) and Mechanical CAD (MCAD) interoperability.
Other benefits include the ability to prepare drawings for manufacturing with the new "Mark" command, updates to the sheet metal export, and support for dimensional tolerances in additional features. With this software, you have better control over your BOMs and can manage tolerances. This version also includes performance and productivity improvements for graphics and large assemblies.
As for the price, Autodesk Inventor can be tested free of charge for 30 days, after which payment is made by subscription. The annual subscription is $2,300/year, though there is also a monthly and 3 year subscription . If you already know this type of software and are thinking of purchasing it, you can find more information on the official Autodesk website HERE.
What do you think of Autodesk Inventor? Do you use it as your go-to CAD software? Let us know in a comment below or on our Linkedin, Facebook, and Twitter pages! Don't forget to sign up for our free weekly Newsletter here, the latest 3D printing news straight to your inbox! You can also find all our videos on our YouTube channel.