What Are the Pellet 3D Printers on the Market?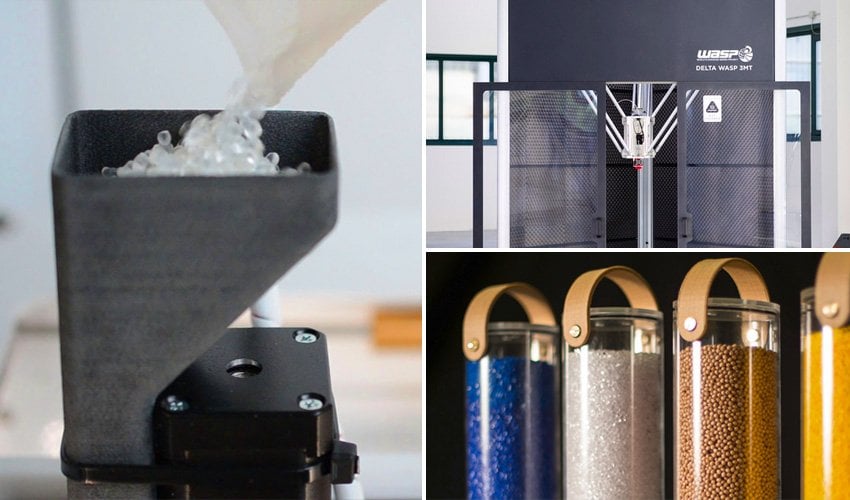 When it comes to extrusion printing processes, what comes to mind most often is FDM using filaments. But this is not the only material form available. Increasingly, printers adapted to print using pellets are coming to the market. Pellets or granules are the materials that are often used most for injection molding and are becoming more popular in 3D printing thanks to the fact that they help to save costs and also allow for a wider range of materials than filaments. These printers are either full solutions dedicated to pellet 3D printing, or a pellet extrusion head add-ons.  In our latest ranking, we took a closer look at the currently available pellet 3D printers and hybrid printers to get a better idea of the market for pellets in 3D printing.
Pollen AM P Series
Pollen AM is probably one of the first manufacturers to use pellet 3D printing technology. The Pollen AM P Series is a machine with 4 extruders and a printing volume of Ø 300 x H 300 mm. It can thus design parts with different materials, whether standard thermoplastics or elastomers. Its resolution is 40 microns on the Z axis and 5 microns on the X and Y axes. Finally, with this 3D printer, the French manufacturer meets a wide range of applications for sectors such as automotive, aerospace or consumer goods.
A Hybrid Pellet 3D Printer from Titan Robotics
One hybrid machine is the Atlas from Titan Robotics, the company's flagship industrial 3D printer. It is available with pellet extrusion, filament extrusion or hybrid pellet/filament extrusion and allows for faster printing, decreased material costs and parts are end-use manufacturing ready. In terms of pellets extrusion, the company notes that uses would be able to print with high temperature materials including CF-PEI, GF-PEKK and GFPC thanks to the pellet extrusion system and industrial heated closure. According to. Titan Robotics, printing with pellets allows for a wider use of materials while still reducing material cost by 10X and with 10X high deposition rates compared to filament 3D printing.
Everplast
Everplast Machiner Co., LTD from Taiwan, a plastic extruder specialist, also has an offering for a pellet extrusion 3D printer. The EM3-1504-D apparently could save 30% to 70% of printing time compared to a traditional filament 3D printer tahnks to the accelerated printing speed. It can work with rigid plastics including PVC, ABS, PC, PA and HDPE as well as soft plastics, such as TPU and EVA, though also alloy plastics like PA+fiber and even cement.
Cosine Additive
Spanish manufacturer Cosine Additive has developed the Cosine AM1 pellet 3D printer, a large machine with a closed, heated chamber. With its two extruders, it offers two manufacturing options: the creation of parts with filaments (ABS, PLA, PETG, TPU, etc.) thanks to the Filament Feed System; or the production of components with plastic pellets thanks to the Pellet Feed System, which is 10 times faster and 10 times cheaper than the first option. If you opt for 3D printing with pellets, you should know that the printing volume reaches 1,100 x 850 x 620 mm.
The Epeire 3D T-600 Pellet Printer
Another French company on our list, Epeire 3D, has designed the Epeire 3D T-600 pellet printer, which is compatible with plastics commonly used in the manufacturing industry: ABS, PS, TPE, PC, PA, PPS, etc. It can also design parts with regenerated, recycled and bio-based thermoplastics. The Epeire 3D T-600 has a printing volume of 500 x 450 x 500 mm and offers a resolution of 0.01mm in X and Y, and 0.002mm in Z.
The Pellet 3D Printer Gigabot X
Gigabot X line are the pellet 3D printer offerings from Puerto-Rican and American printer manufacturer, re3D. Composed of the Gigabot X and the Gigabot X XLT, the company chose to start turning to pellets as a way to move to a move circular economy as they are able to use recycled pellets, flake or regrind. It is capable of printing with 3-5mm plastic granules, including PC, PET, PLA and speciality pellets, that melt below 270ºC with a choice of either a 0.8, 1.75 or 2.85mm nozzle. The company notes that printing with pellets is cost saving, faster and more versatile than printing with filaments. The price of the Gigabot X starts from $16,950.
The ExAM 510 from AIM3D
Though not yet available, this next printer should come out before the end of 2022. We wanted to include it because according to AIM3D it will be the first industrial 3D printer that is able to process pellets conventionally used for injection molding, thus allowing for an even wider range of materials compared to current offerings. This is because it uses the composite extrusion modelling (CEM) process, which combines metal injection molding with AM technologies, which would allow users to print with metal as well as polymers. The company notes that the machine will also have all the advantages of a typical FDM or FFF printer, including an automatic material feeder than can take up to one liter of material per extruder and can be refilled during the printing process. The machine is quite large as well at 1831 x 1051 x 745 mm with a 255 x 255 x 255 mm (10 x 10 x 10 inch) build chamber. You can learn more in the video below.
Colossus and WEBER ADDITIVE's Pellet 3D Printer
A strategic partnership with WEBER Additive has resulted in the new XS series from Colossus. Thanks to the expertise of both companies, it was possible to design a high-performance FGF printer with a standard build volume of 1600 x 1200 x 1300 mm. The device uses WEBER extrusion technology and achieves speeds of up to 200 mm/s. According to the manufacturers, the 3D printer is suitable for small to medium volume production. The XS series comes standard with a 60 L drying system inc. Conveyor belt, a vacuum-heated bed up to 115 degrees and software with slicer. However, Colossus points out that the FGF printer is also customizable to customer requirements.
Arburg Freeformer 200-3X
With ARBURG's patented AKF process (plastic freeforming), an open system has been developed that allows users to freely program slice and process parameters and adapt them to individual requirements. The freeformer models melt granules, such as those used in injection molding, and allow the component to be created layer by layer thanks to the generation of tiny plastic droplets. The freeformer model 200-3X has three axes and a build volume of 200 cm². The unit works with any (qualified) standard pellets. For example, a PC approved for aviation or a medical TPE with FDA approval can be processed with the freeformer. For industrial practice, the company offers the freeformer 300-3X with a larger build volume.
CEAD's E 25 and E50 Printer Heads from CEAD
The E25 and E50 are both printheads from the manufacturer CEAD. The E50 is the latest model and an upgrade to the E25. Previously, it was only possible to extrude pellets at a speed of 12 kg/hr, 84 kg/h is now possible. The print heads are used either on robotic arms or CNC machines. Users include ETH Zurich, the University of Stuttgart and the University of Tampere, which have already relied on the E25 extruder. The new E50 now speeds up the printing process for them enormously, and can print at temperatures up to 400 °C. The E50 comes with a variable die size from 8 to 20 millimeters in diameter. It is equipped with a thermoplastic pellet feeder and a PLC-based control system from Siemens. The print head is driven by a 15 kW motor.
The BIGFoot Pro Range from TUMAKER
Tumaker is a brand belonging to the Spanish group IT3D that specializes in the development and international distribution of additive manufacturing equipment. Its range of BIGFoot Pro 3D printers consists of three machines of different sizes and which are capable of working with pellet materials. Specifically, the threesolutions include the 200, 350 and 500 3D printers, differing respectively in their manufacturing volume. These solutions are tailored to the needs of each user, being able to work with a wide range of pellet materials, including PLA, ABS, PETG, Polypropylene, Ultem, PEEK, and many more. This is also due to its proprietary designed head with dual temperature sensor, which is capable of reaching a temperature of 350 degrees. The BIGFoot Pro Pellets are specifically designed for professional use, making them a unique machine on the market.
The Super Discovery Pellet 3D Printer
Developed by Discovery 3D Printers, a division of the Spanish CNC Barcenas Group, the Super Discovery is an industrial 3D printer that works with pellets. With a standard print volume of 1.3 x 2.5 x 1 meter, this machine has the ability to customize the work area and redesign it to size. Among other things, it integrates Panasonic servomotors, automatic bed leveling and an closed build chamber to compensate for unevenness during the manufacturing process. On the more technical side, this 3D printer works with a wide range of materials (ABS, PC, PPE, CF, ASA, erc.); it also uses Simplify3D software and has Ethernet connectivity. In addition to the standard Super Discovery, the company has also developed two other solutions based on it, namely the Super Discovery 3D Printer Compact and the Super Discovery 3D Printer Hybrid.
Delta WASP 3MT Industrial 4.0
The Delta WASP 3MT Industrial 4.0 is a large industrial 3d printer from Italian manufacturer WASP. It features a closed build chamber and a print volume of 1000 mm x 1000 mm x 1200mm. The machine is designed to print pellets and recycled plastics in granule form: the HDP extruder prints the pellets directly, reducing costs and time. In addition, the 3D printer features a self-feeding pellet tank and an end-of-pellet sensor to ensure print continuity and avoid waste. The patented Firecap system generates a localized hot chamber up to 250° directly on the printing area and the VAC (Vacuum Active Control) system, vacuum printing plate, allows you to replace the plate in a few seconds ensuring the total absence of micro-movements during printing even at high temperatures.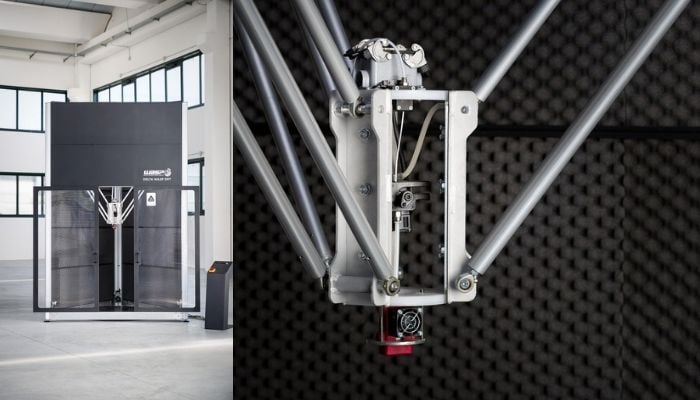 Photo Credits: WASP
Tradesman Series P3-44 from Juggerbot 3D
The Tradesman series P3-44 from Juggerbot 3D is a large 3D printer equipped with Fused Granular Fabrication (pellet extrusion) technology, with a print volume of 36 in x 48 in x 48 in (915 mm x 1,220 mm x 1,220 mm) and a print speed of 1 m per second. U.S.-based Juggerbot 3D worked with Rockwell Automation to make the machine perform as well as possible and reduce the margin of error. The P3-44 can work with a wide range of thermoplastic pellets: commodity/bulk, flexible, high-performance, engineering-grade, high-temperature and high-fill. The extruders are interchangeable, so you can choose the one that best suits your needs: the 14L model for optimized productivity and the 14S model for more precise printing.
Millebot's Pellet 3D Printer
The American company millebot is known for its large industrial printers contained in transportable containers. Among its machines, the MILLE-300 and MILLE-500XL can use pellets. Usable materials range from industrial polymers, thermoplastics, hybrid composite pellets, filaments, recycled plastics and more. Specifically, key printable materials include ABS, PLA, HIPS, TPU, TPE, ULTEM and PEEK. Multi-extruder options, an optional heated platen, thermal insulation and automatic pellet feeding/drying system are available. According to the manufacturer, using plastic pellets increases production and reduces 3d printing costs. Integrated slicing and monitoring software and automation greatly simplify the printing process.
Are there any pellet 3D printers missing from our list? Let us know in a comment below or on our Linkedin, Facebook, and Twitter pages! Don't forget to sign up for our free weekly Newsletter here, the latest 3D printing news straight to your inbox! You can also find all our videos on our YouTube channel.