What are the Material Jetting 3D Printers on the Market?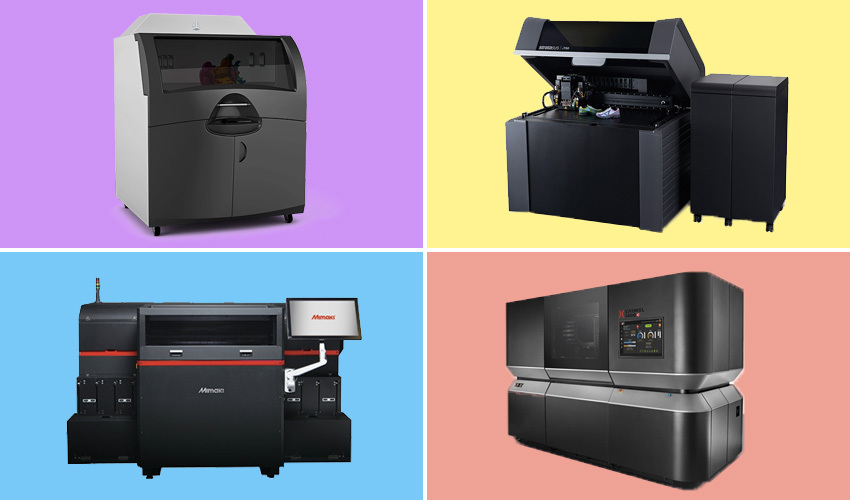 Material Jetting is one of the seven families of additive manufacturing processes. As the name suggests, it consists of depositing material on a printing tray, layer by layer, much like a 2D printer that drops ink on paper. Here, the print head actually projects many fairly large drops of ink, usually composed of photopolymers which are then hardened by UV light. But the process can also use metal, ceramics and even wax, dividing material jetting into three subgroups: Material Jetting, better known as the patented technology PolyJet; NanoParticle Jetting (NPJ) and Drop on Demand (DOD). Regardless of the process used, the user usually obtains high-precision, highly detailed parts with the possibility of printing in colour and with several materials. To help you make your choice, we have selected a few 3D printers per technology, classified by sub-group.
Material Jetting
Stratasys – J750 Digital Anatomy
Stratasys is the leading player in 3D material jet printing, having merged in 2012 with Objet Ltd. the company that patented the process. Its process has been called PolyJet and makes it possible to create multi-material, multi-color and even transparent parts. Stratasys today offers a wide range of PolyJet 3D printers but we will focus on the J750 Digital Anatomy, mainly designed for the medical sector. It offers a volume of 490 x 390 x 200 mm but above all can recreate very precisely the behavior of human tissues on anatomical models, allowing health professionals to have a real feeling and to train better.

Mimaki 3DUJ-553 Printer
In 2017, the Japanese manufacturer Mimaki, which has historically specialized in 2D printing, unveiled the 3DUJ-553 industrial 3D printer. With a print volume of 508 x 508 x 305 mm, the 3D printer is based on a UV LED process. In this process a light hardens the different layers applied successively. The machine deposits ink droplets coloured, white or black, on the printing tray until the final piece is obtained. A considerable advantage for professionals, especially since the 3DUJ-553 would offer 10 million colors to its users. In addition, it is also possible to add transparency with translucent ink. Thanks to its simulation software, it is possible to have a very precise overview of the shape and colors of the part before printing. Also, the printer has a surveillance camera, allowing users to follow the printing process remotely. Finally, the machine uses a support structure that can be dissolved in water. This makes it possible to obtain accurate and neat models, without damaging them.
NanoParticle Jetting
XJet Carmel 1400M
The XJET Carmel line of AM systems relies on the company's patented inkjet technology, NanoParticle Jetting (NPJ). NanoParticle Jetting is a material jetting technology that builds parts by jetting a liquid containing nanoparticles of either metal or ceramic material in suspension. XJET offers both metal and ceramic systems. Its metal NPJ systems come in two sizes. The smaller possesses a build plate of 700cm2, XJet Carmel 700M. While the larger, at 1'400cm2, called XJET Carmel 1400M, is equipped with one of the largest build trays the industry has to offer. XJET Carmel 1400M, delivers impressive quality, accuracy, and reliability, as well as high levels of productivity. Both sizes are compatible with software including Autodesk and Netfabb. The XJET Carmel 1400M is also compatible with a mobile app.
XJet Carmel 1400C
Like its metal systems, XJET's Ceramic AM systems also come in two sizes, one with a build plate of 700cm2, called XJet Carmel 700C, the other with a build plate 1'400cm2, called XJet Carmel 1400C. Again, both sizes are compatible with software including Autodesk and Netfabb, and only the larger printer is compatible with the mobile app. Like XJET Carmel 1400M, XJet Carmel 1400C possesses a maximum build height of 200mm. Thanks to its NanoParticle Jetting Technology, XJet's Ceramic systems deliver parts of the utmost quality, with impressive levels of detail, finish and accuracy. Which, as with XJet's Metal systems, is accompanied by uncompromised throughput and build time.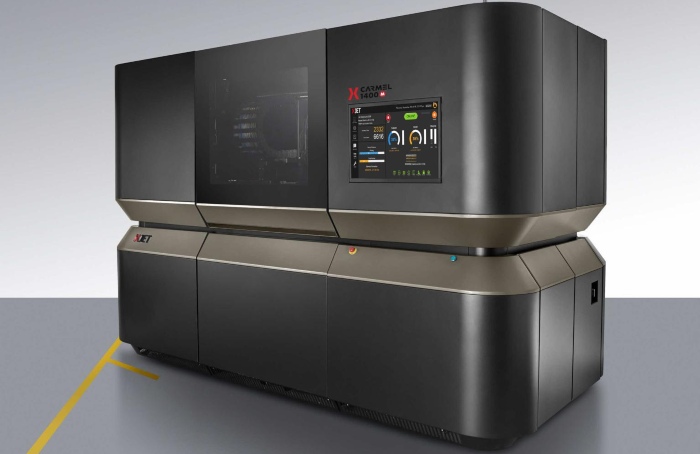 Drop On Demand
Solidscape – S390
Belonging to the Prodways group, Solidscape has developed a range of 3D DOD printers dedicated to the jewellery sector, including the S390. Thanks to its two printing heads, the machine allows to deposit wax and a soluble support material in order to design very precise moulds, whether for injection, for lost wax moulding, etc. It offers a printing volume of 52 x 152 x 101 mm and a wide choice of compatible materials. The S390 automatically generates print media to protect the most fragile parts of the model. These dissolve completely, leaving durable wax models ready to be molded.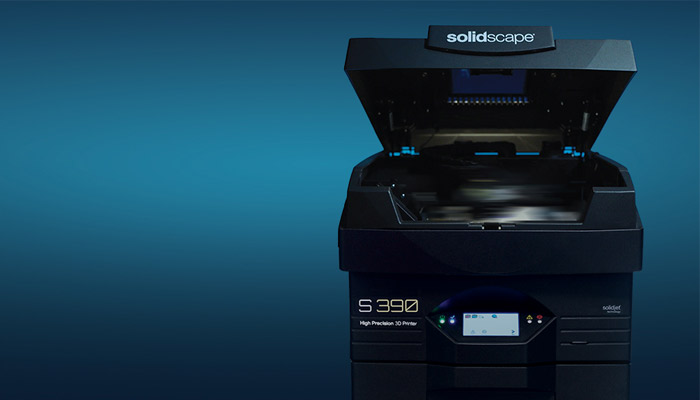 DragonFly LDM®
The DragonFly LDM® Lights-Out Digital Manufacturing system is unique in that it is the industry's only comprehensive additive manufacturing platform for around-the-clock 3D printing of electronic circuitry. Equipped with Nano Dimension's state-of-the art, LDM technology. This allows for unattended operation as the printer maintains itself, with typically just one weekly maintenance operation needed thanks to improvements like a new advanced printer head, software management algorithms and automatic self-cleaning of the print heads every few hours. Approximately the size of two refrigerators, DragonFly is extremely large with machine dimensions of 1400mm x 800 mm x 1800mm (~4'7" x 2'7.5" x 5'11") and a build volume of 160mm x 160mm x 3mm (6.5" x 6.5" x 0.125"). It is a precise inkjet deposition printer with dedicated nano-inks, equipped with two printheads: one for nano-Silver conducive ink and the other for dielectric polymer ink. The DragonFly is able to concurrently print using simultaneous multi-material additive manufacturing. Minimum trace layer thickness is at 17 microns, the minimum Dielectric layer thickness is 35 microns and technical accuracy is .01mm or 1 micron, with Nano Dimension claiming that the system is setting new precision standards for 3D printed electronics. The DragonFly LDM® can be used in a variety of industries including aerospace, defense, automotive, medical and electronics, among others.
Other Material Jetting Technologies
XYZPrinting da Vinci Color
The combination of FFF and inkjet technology makes the da Vinci Color from the Chinese manufacturer XYZprinting a unique 3D printer. The inkjet technology uses CMYK cartridges, which allows millions of colour combinations to be printed by absorbing individual ink droplets. This means that the parts can be printed with the da Vinci Color in any color, which is why it is very suitable, for example, for the implementation of creative projects. The machine is compatible with various (special) PLA and PETG filaments and also prints the XYZ carbon fiber material with a special extruder. The maximum pressure range is 200 x 200 x 150 mm and a plane resolution of 100 – 400 micrometers can be achieved. The printing speed is 30 to 60 mm per second. The da Vinci Color also has an integrated touch screen and removable printing plate and can be wirelessly connected to the home network.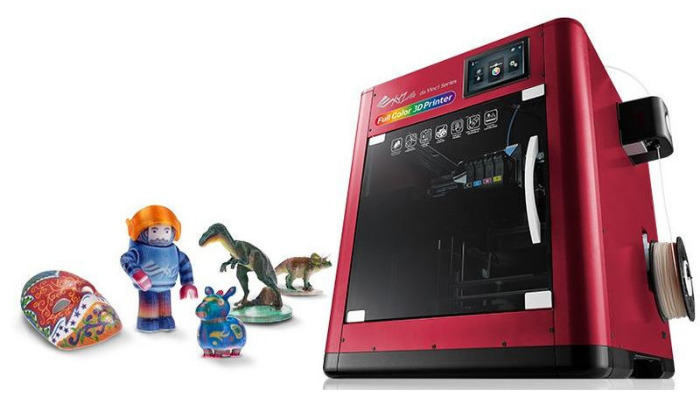 ProJet CJP 860Pro from 3D Systems: (Colour Jet)
On a comprehensive list of 3D printers, we have of course not forgotten 3D printer manufacturing giant 3D Systems. That's why the next machine is the ProJet CJP 860Pro color printer, which can create a realistic color experience thanks to its five print heads. What makes this 3D printer special is its ColorJet Printing (CJP) technology, which allows for parts that are up to 7 times cheaper than other technologies and, can eliminate waste through efficient use of materials. It also eliminates the need for supports, which significantly reduces post-processing time. The ProJet CJP 860Pro can also impress with its 5 to 10 times faster printing speed, saving additional time, allowing large format models to be built in just a few hours. As you can see, the press is an all-rounder: while it saves time and money, it delivers incredible color choice, a large build space capacity of 508 x 381 x 229 mm, and a sustainable factor.
What do you think about these material jetting 3D printers? Let us know in a comment below or on our Facebook, Twitter and LinkedIn pages! Sign up for our free weekly Newsletter here, the latest 3D printing news straight to your inbox!