Which Are the New Machines Not to Miss at Formnext 2021?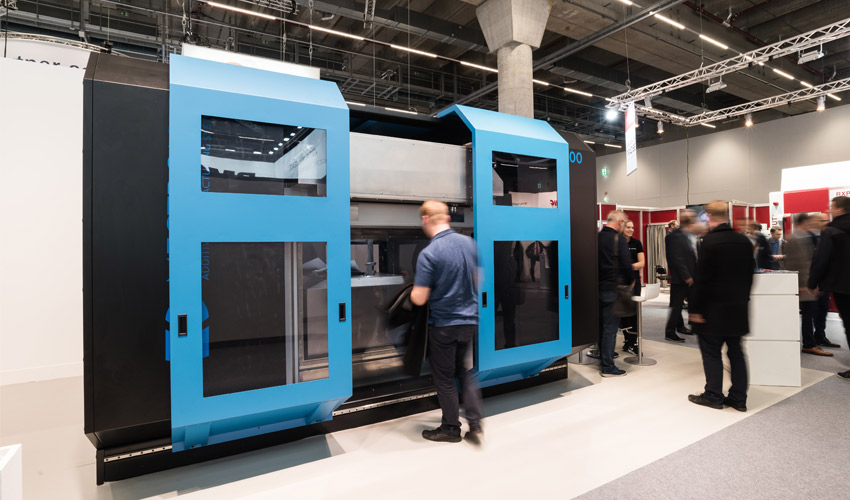 It's been one day now since Formnext opened its doors and visitors can discover the 600 exhibitors from 35 different countries, spread over three halls. There is a lot of news and it is not always easy to find your way around! That's why we're offering you a series of innovations that you absolutely must see if you're in Frankfurt. From machines to materials to applications, don't miss it! We will start today with the machines. 3D printers, post-processing solutions, 3D scanners: which machines are worth seeing at Formnext 2021?
Metalizz and its Smoothit post-processing machine
The French manufacturer Metalizz is presenting its Smoothit solution, a machine for their MiM process (for Measured Incremental Multilayering) at stand 12.0 A59 at Formnext. This process allows users to smooth and protect 3D printed plastic parts thanks to the addition of a translucent leveling varnish. Compatible with a wide range of materials and additive manufacturing technologies, with its cold process based on UV radiation, Smoothit is ready to use and has an average cycle time of 5 minutes.
In concrete terms, the user places the parts in the machine which is equipped with 4 rotating axes. The varnish is then sprayed on as several layers of a few micron. Thanks to this, better sealing, surface hardness, a smooth touch and a glossy or mat effect are obtained. The user can easily follow all their operations via Smoothit's touch interface and customize his productions. To learn more, click HERE.
PostProcess and its DEMI 800 machine
American PostProcess Technologies has developed a line of post-processing machines to facilitate and automate the removal of 3D printing support structures and excess resin which they are showing at Formnext. Called DEMI, this range is capable of removing excess resin from parts that have been 3D printed on an SLA, DLP or CLIP machine.
The DEMI 800 will be on display at the PostProcess booth (12.1 F81) at Formnext 2021. Designed to be Plug&Play, the user runs the solution through the intelligent AUTOMAT3D software platform. Based on Submersed Vortex Cavitation (SVC) technology, the machine creates a dynamic flow that, combined with a good distribution of energy and detergent used, removes resins quickly and easily, without damaging the final part. Thus minimizing the risk of errors and reducing working time by 80%. Optimize your post-processing: go HERE to learn more!
BIGFoot PRO DUAL Bowden-Pellets
This BIGFoot Pro Dual 3D printer is equipped with two independent Bowden-Pellets heads that allow you to work with filament and pellets at the same time. Developed by the Spanish brand Tumaker, owned by the companies IT3D and Indart3D, the machine stands out for its performance and the possibilities offered by dual extrusion 3D printing, such as reduced costs and manufacturing times.
On the one hand, its granular head allows to lift the barriers in terms of material compatibility, being able to use clean plastics or those that do not exist in filament, using nozzles of 0.4-0.6-0.8-2-3-5 mm. On the other hand, the Bowden traction head allows the use of spools of up to 10 kg, which improves the quality of prints in rigid materials, with the possibility of using nozzles of 0.2-0.4-0.6-0.8-1.2 mm. The 3D printer is available in 3 different versions: BF Pro 200, BF Pro 350 and BF Pro 500, each with different print volumes of 490x470x200 mm, 490x470x350 mm and 490x470x500 mm respectively. You can see it at its German distributor Picco Die Service, in hall 11.0 stand D68 or get more information HERE.
9T Labs
This year, Zurich-based manufacturer 9TLabs AG has unveiled its Red Series Additive Fusion technology, which combines a cloud-based design and simulation tool with two pieces of equipment. On the one hand, there is the Build Module, a 3D printer geared toward preform production that uses pure filaments (PA12, PPS, PEEK, PEKK) as well as qualified and standardized carbon fiber filaments (as well as PA12, PPS, PEEK or PEKK matrices).
Once the part is printed, it is transferred to the second equipment, the Fusion Module, a post-processing unit for the consolidation of the final parts which can reach a maximum size of 350 mm x 270 mm x 250 mm and a fiber/material volume ratio of up to 60%. Pure filaments allow for a reduction in fiber/material volume and cost in areas of the part where performance is less important. In some cases where the part will be machined post-print, virgin polymer filaments can be used to print the last layer, allowing the creation of a rich resin, offering a homogeneous surface finish, faster and at lower cost. The solution has been designed for mass production of parts from 100 to 10,000 parts/year.
According to 9T Labs AG, this solution offers "design flexibility, optimal control of fiber placement in all three axes, excellent surface finish (no voids) combined with high repeatability and traceability." Structural parts created using this technology are targeted at the Aerospace, Sports, Automotive, Industrial, Medical Device and many other markets. You can find 9T Labs AG on the booths of Arkema – Hall 12.1 F119, Solvay – Hall 12.1 A101 and Evonik – Hall 12.1 C69.
Lithoz and the CeraFab Lab L30
The Austrian manufacturer Lithoz is specialized in the development of ceramic printing solutions, based on a resin process. This year, it presents its new entry-level DLP machine, the CeraFab Lab L30. Designed for research laboratories and "beginners" in 3D printing, it offers a printing volume of 76 x 43 x 170 mm. It is a machine that will fit perfectly into any working environment due to its size, capable of designing small series and custom parts easily. You can find it on stand 12.1 C21. Moreover, the manufacturer also exhibits multi-material parts (ceramic/metal, ceramic/polymer), designed on the CeraFab Multi 2M30.
AIM3D and its ExAM510 printer
AIM3D is a young German manufacturer that is a spin-off of the University of Rostock. This year at Formnext, it is presenting its ExAM 510 multi-material machine, which is actually an enhancement of its first solution, the ExAM 255. The new 3D printer, based on a pellet extrusion process, has a larger print volume of 510 x 510 x 400 mm and can combine three materials (two materials for manufacturing and one for supports). The user can use metals, ceramics and polymers, all in granular form. The machine will be on display at booth 12.1 A66 as a prototype – production will have to wait until Formnext 2022.
Markforged FX20
American manufacturer Markforged is presenting its latest machine at Formnext 2021, the FX20. It is the largest 3D printer developed by the company, and the most accurate too – it offers a print volume of 525 x 400 x 400 mm and a resolution of between 50 and 250 microns. It is compatible with Markforged's composite materials as well as Ultem and nylon. Equipped with a 7 inch touch screen, it is easily controlled by the user. You can see this machine in operation at booth 12.0 D01.
BOFA and its particle filtration solution
UK-based BOFA has developed a range of solutions to filter particles from 3D printers, offering improved temperature and airflow management for a safe and healthy working environment. Its latest machine is the 3D PrintPRO HT, designed specifically for high-temperature 3D printers that use materials such as PEI, PEKK and PEEK. It eliminates fumes, gases and nanoparticles emitted by these machines which can go up to 500°C. Feel free to go and see Markforged's machines with your own eyes on booth 12.0 E22 at Formnext.
*Cover photo credits: Mesago / Mathias Kutt
Are you at Formnext 2021? Which of the Formnext machines were your favorites? Let us know in a comment below or on our Linkedin, Facebook, and Twitter pages! Don't forget to sign up for our free weekly Newsletter here, the latest 3D printing news straight to your inbox! You can also find all our videos on our YouTube channel.