WEBINAR: 2023's Must-Know Tech Trends in Dental 3D Printing and How to Implement Them in Labs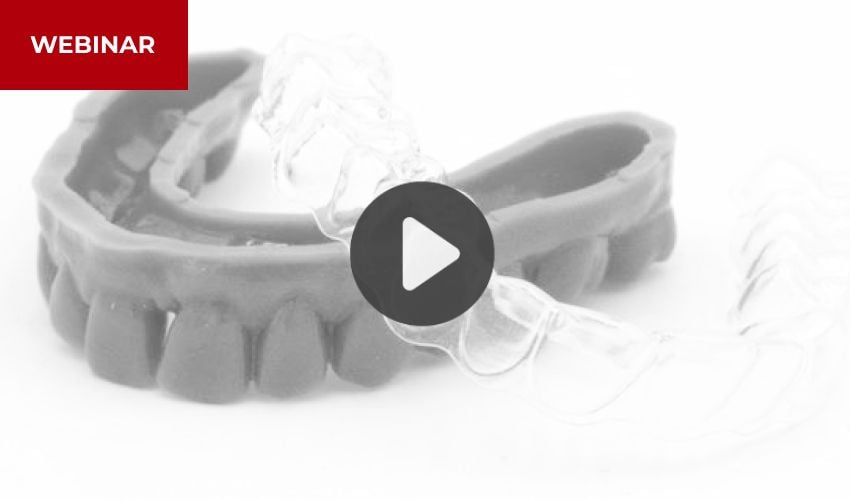 As the world of digital dentistry continues to evolve and accelerate, it is essential to keep up with the latest trends and advancements and take advantage of them. And considering how fast the sector is growing, with the market already worth $4.2B in 2021 and expected to grow to $16.3B according to research from Persistence Market Researcher, it is never too late to bring yourself up to date with the latest from the field especially when it comes to dental 3D printing.
In 3Dnatives' webinar, "2023's Must-Know Tech Trends in Dental 3D Printing and How to Implement Them in Your Lab," we explored key trends and innovations that will shape digital dentistry in 2023 and beyond – from new materials and applications to improved technologies and workflows and how future trends like AI will play into the industry. Attendees were able to gain valuable insights on how to adopt and integrate these cutting-edge solutions into labs immediately to stay competitive in this quickly changing market.
Key insights:
Growing applications and materials for 2023
How to efficiently scale up 3D printing usage
Building an all-digital workflow
Leveraging digital processes for sustainable manufacturing
Long-term trends that will transform the industry: Increased Connectivity and AI evolutions
We were joined by experts and thought leaders from digital dentistry from Prodways Machines and 3Shape, on June 15th at 10:00AM EDT/4:00PM CEST in order to delve into these exciting topics and discover how to take a dental practice to the next level in 2023. Check out the replay below:
Speakers
Alban D'Halluin
Rune Fisker
Madeleine Prior
Alban d'Halluin is CEO of Prodways Machines, a leading industrial 3D printing solutions company headquartered in France. Since 2015 d'Halluin has been instrumental in driving the company's growth and success. Under his leadership, Prodways has expanded its range of 3D printing solutions to serve a variety of industries, including aerospace, jewelry, dental and medical.
Rune Fisker is a key creator and driver of 3Shape's solution-orientated innovations and fills his presentations with concrete CAD/CAM technology methods and his vision of the future "Digital Dentistry." Rune has been with 3Shape since its beginnings. Today he is responsible for 3Shape's product strategy and innovation roadmap. He holds a Ph.D. from Denmark's Technical University and an executive MBA from Copenhagen Business School.
Madeleine Prior is the English Content Specialist at 3Dnatives, the leading international online media on 3D printing and additive manufacturing. As part of the team, Madeleine is in charge of defining the content 3Dnatives covers for its English-speaking audience, bringing the latest news about the additive manufacturing sector and its implications to readers.
Register for free HERE. Will you attend this webinar? Are you interested in dental 3D printing? Let us know in a comment below or on our LinkedIn, Facebook, and Twitter pages! Don't forget to sign up for our free weekly Newsletter here, the latest 3D printing news straight to your inbox! You can also find all our videos on our YouTube channel.