WEBINAR: How Customized and High Volume Production of Footwear Is Realized With DLP 3D Printing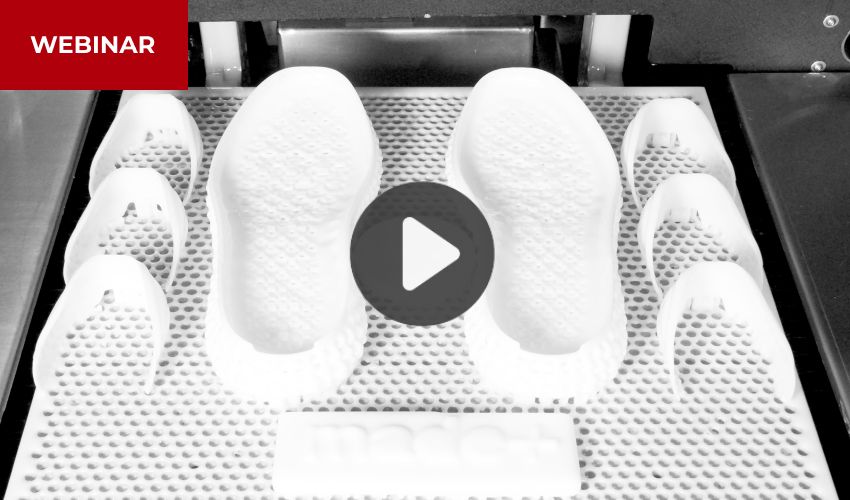 Today, high-volumes coupled with delocalized production can lead to a number of business challenges, as demonstrated by the many logistic disruptions in recent years. Indeed, since COVID-19, we have seen multiple supply chain crises which have brought entire industries almost to a halt. Adopting flexible technologies allows users to revolutionize domestic, mass customization manufacturing of rubber parts and combine cost-saving and on-demand production of highly accurate and flexible end-use parts, thus eliminating extensive tooling and molds. The freedom of design and the ease of iteration of digital manufacturing enables to quickly respond directly to market demands. This is increasingly the case in footwear in particular.
To learn more, check out our free webinar, "How Customized and High Volume Production of Footwear Is Realized With DLP 3D Printing" which took place on October 19th, 2023. 3Dnatives was joined by 3D printing experts from ETEC and Made+ who showcased advantages of DLP 3D printing within footwear manufacturing environments. They also showed how to leverage this technology in the production of end-use parts with accuracy, speed, efficiency and the diversity of industrial materials. You can see the replay below!
Speakers:
Manuel Delgado is the Head of the Polymer Sales team at Desktop Metal for the EMEA region. He has 12 years of experience in consumer and manufacturing goods and 9 years of experience in additive manufacturing in the polymer industry covering different materials, equipment technologies and holding various leadership positions.
Alan Guyan is the founder and CEO of Made+. Leveraging an extensive experience of over 25 years spanning product creation, manufacturing innovation, and business development, he stands as a seasoned and accomplished executive within the dynamic realm of 3D printing. Throughout his professional journey, He has adeptly led diverse teams on a global scale, orchestrating the conception and launch of pioneering products and solutions across a diverse spectrum of sectors, including aerospace, medical and footwear.
Madeleine Prior is the English Content Specialist at 3Dnatives, the leading international online media on 3D printing and additive manufacturing. As part of the team, Madeleine is in charge of defining the content 3Dnatives covers for its English-speaking audience, bringing the latest news about the additive manufacturing sector and its implications to readers.
You can register for the webinar for free HERE. Will you be attending "How Customized and High Volume Production of Footwear Is Realized With DLP 3D Printing"? Let us know in a comment below or on our LinkedIn, Facebook, and Twitter pages! Don't forget to sign up for our free weekly Newsletter here, the latest 3D printing news straight to your inbox! You can also find all our videos on our YouTube channel.