flyingshapes° releases next-generation virtual reality CAD solution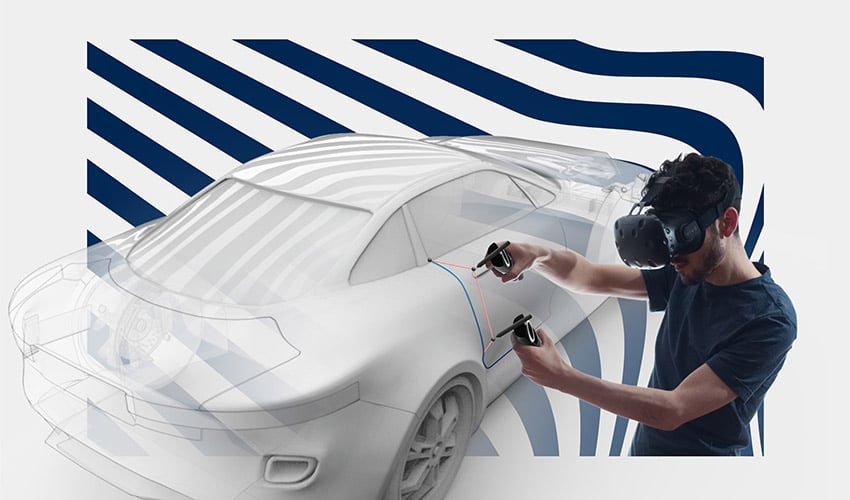 The company flyingshapes° has released a next-generation virtual reality CAD solution. You might ask what is VR CAD – the concept is in fact quite original, in short it relates to drawing 3D objects with controllers in your hands, instead of modeling them on CAD software. The VR CAD application is targeted at streamlining 3D modeling and design for professionals working across industrial design, including product design, automotive, manufacturing, engineering, architecture, 3D printing and related fields.
The solution from flyingshapes° works in a completely immersive virtual environment, with intuitive haptic controls and interactive tools for sketching, surfacing and collaborating with teams on the cloud. It's true that modeling on a 2D screen is the norm in 3D printing, but VR CAD can play a role in reducing time-consuming iteration cycles during prototyping and early stages of design. Professionals could even achieve greater efficiency and accuracy in a 3D workspace.
"Our vision is to make CAD as accessible as an iPhone app. Traditional CAD applications have a steep learning curve and require designers to create 3D models in 2D workspaces. We're disrupting classic CAD workflows by allowing designers to sketch 3D models to scale in a fully virtual environment, using their hands to build and manipulate objects,"" said Dr. Johannes Mattmann, Co-Founder, flyingshapes°
What are the benefits of Virtual Reality CAD?
As mentioned, one of the key benefits of a solution such as this one is being able to experience all three dimensions of a product instead of just a flat image. flyingshapes° explains that for designing symmetrical objects, they provide the user with a mirror that duplicates whatever you are designing along a plane. It can be turned off whenever is needed, for example, when you want to create irregularities in a 3D design.
‍
Moreover, just like with cloud-based CAD software solutions, there is the possibility of collaborating on projects with other team members. Of course, the end-goal is to be able to create the piece that has been modelled, which involves turning it into an STL file for 3D printing. VR CAD in some cases can be thought of as a first step in the 3D modeling workflow of a designer as it is possible to export models to traditional CAD software for further processing.
Jonas Kunze, Co-Founder, of flyingshapes° concludes: "We''re leveraging VR technology to solve the challenges and design bottlenecks that hinder traditional CAD workflows. "Lengthy iteration cycles, communication inefficiencies and discrepancies between the initial prototype and final model waste resources and can delay time to market for new products. We''ve engineered flyingshapes° to revolutionize design workflows and help teams maximize time spent perfecting models.""
You can find more information HERE.
What do you think of the concept of Virtual Reality CAD? Let us know in a comment below or on our Facebook and Twitter pages! Sign up for our free weekly Newsletter, all the latest news in 3D printing straight to your inbox!