VIP TIE and its 3D printed luxury ties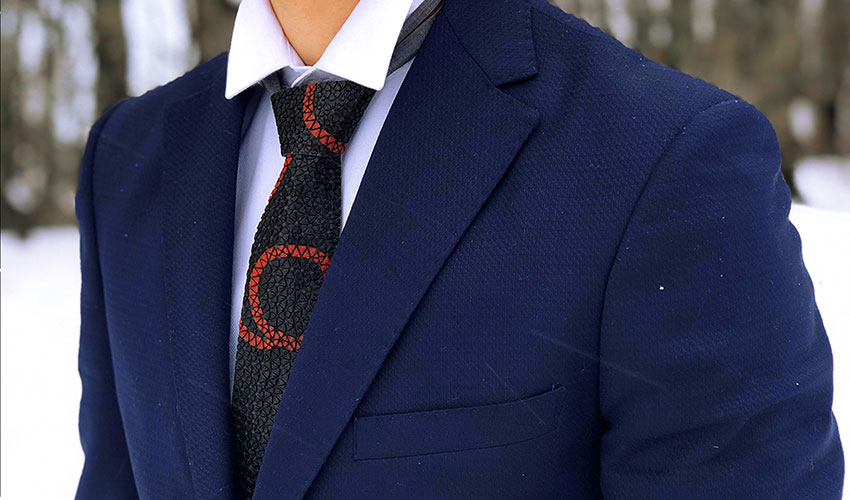 The search for personalisation is a key issue in the fashion industry and 3D printing could well answer it more effectively. There are many examples, from Iris van Herpen's collection to Julia Daviy's skirt: 3D technologies offer a unique look to multiple creations. Today, we wanted to focus on ties, an accessory that adds a stylistic touch to men's clothing. Even more stylish when 3D printed! This is the challenge of the Italian company VIP TIE: it uses 3D printing to offer custom ties. We met with its CEO, Fiordi Pernaska, who explained how they are combining 3D technologies and traditional craftsmanship to design custom 3D printed ties.
3DN: Can you present yourself and your link with 3D printing?
My name is Fiordi Pernaska and I am CEO of VIP TIE & UNAIDS, two luxury fashion brands. I have a degree in international economics from Bocconi University in Milan, Italy. I was born in Paris where lived for part of my childhood – I was quite influenced by the fashion industry, an influence that consolidated once I arrived in Milan. My relationship with fashion is also linked to my family's heritage because it is something that has been passed down from generation to generation. In 1927, my great-grandfather, designer Jonuz Pernaska, created the first fashion workshop in Tirana, Albania, for the creation of luxury clothing. He was the official designer of the royal family at the time and was really eclectic about luxury accessories. We have therefore decided to create VIP TIE in order to offer a unique and unlimited personalisation, allowing all our customers to express themselves freely. We quickly saw that traditional methods were going to limit us: so we started exploring additive manufacturing technologies in 2015 and, thanks to an in-depth R&D process, we manufactured during three years our luxury products.
3DN: What is VIP TIE and how did the idea of using 3D printing come about?
VIP TIE is the timeless way to express yourself through a unique collection of luxury accessories 3D printed and personalised by hand. Our mission is to make everyone feel unique and confident on a daily basis. What better way to do this than with custom accessories, with an infinite selection of styles?
VIP TIE combines luxury and innovative high-tech design. A complex combination of several complementary processes and materials is realised: craftsmanship, embroidery, 3D printing, exotic leather, mother-of-pearl, carbon fiber, silver, gold and silver plated solid, all in one and the same product. VIP TIE redefines the look of a fashion accessory with unlimited detail and customisation. VIP TIE luxury accessories are designed with particular attention to detail and style, thanks to the complex combination of craftsmanship and embroidery with 3D printing. Some people call it freedom of fashion but we call it the fashion revolution. With unlimited customisation options, everyone can express themselves more freely.
The idea of 3D printing appeared in a rather unexpected way. In 2015, Gerti Struga (UNAIDS CTO and co-founder of VIP TIE) and I considered the possibility of creating unique products and designs. While we were examining conventional methods, we realised that our project was almost doomed to failure. But Gerti convinced me to consider 3D printing. It was a challenge because we had no previous knowledge of the technology, because it was relatively new in 2015, and no one had ever applied the application in the fashion sector before. We therefore begun our extensive research on this subject.
3DN: Can you explain in detail the process to create these 3D printed ties?
Several complementary steps are involved. It all starts with an initial idea, drawn on a piece of paper, then moves on to the 3D modeling phase where the drawing is entered into advanced CAD software such as AutoCAD or 3D MAX; finally, a virtual simulation of the customer's tie – this is very important because it gives them a much clearer idea of their product to which they can make modifications before entering the manufacturing phase. The file is then converted to STL format, printable in 3D. Once this process is completed, a craftsman comes to sew by hand the different parts of the tie. It is during this phase that the customer can add materials such as exotic leather, silver, gold, etc.
3DN: What are the benefits of additive manufacturing when producing these ties?
Additive manufacturing allows the creation of very complex detailed designs, as well as unlimited customisation down to the smallest detail, which cannot be achieved by other conventional methods. In addition, sustainability is very important to us. More than 80% of the materials we use are 100% environmentally friendly.
Our unique production process is significantly different from those used by industry, which suffer from the "comfort" factor. The ergonomics and style of our 3D printed creations are mainly due to the craft process that combines 3D printed elements with fine textiles. The materials used also play an important role.
3DN: What is the importance of these ties in the fashion sector?
The role of 3D printing in fashion is constantly evolving, mainly in haute couture due to high production costs. 3D printing allows fashion designers to go beyond the limits of traditional design and realise some of the most challenging concepts.
3DN: Any last words for our readers?
Choose durable and timeless products that represent you in the best possible way; choose custom designs, achieved by mixing additive manufacturing and manual processing. You can visit our website HERE.
 What do you think of these 3D printed ties?  Let us know in a comment below or on our Facebook and Twitter pages! And remember to sign up for our free weekly Newsletter, to get all the latest news in 3D printing send straight to your inbox!