#3DStartup: Vader Systems and 3D Liquid Metal Printing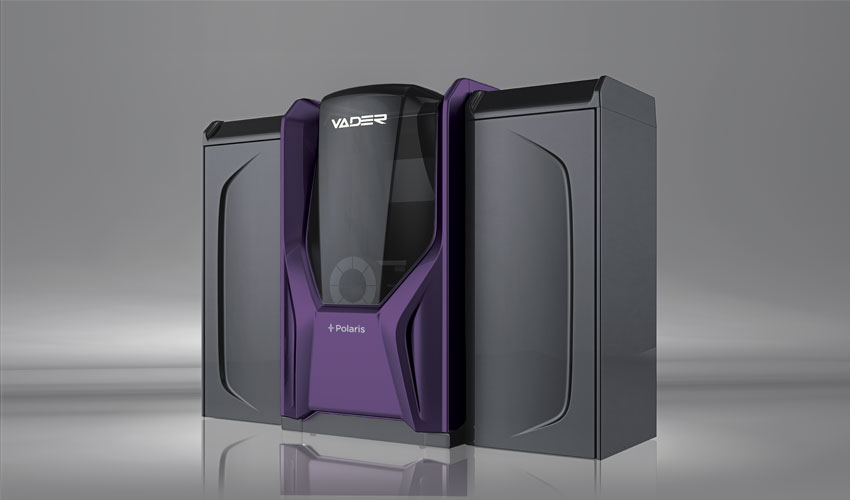 In 2013, Vader Systems presented us with their prototype for their first 3D printer, the Mark 1, which was based on Liquid Metal Jet Printing technology. Created by Scott Vader and his son Zach, the startup wanted to make metal additive manufacturing more accessible. A few years later, they introduced the MK1, a machine based on the patented MagnetoJet technology that manipulates a liquid metal through magnetism. Like the Inkjet process, the Vader Systems solution propels droplets of liquefied metal, which helps to increase the speed of printing and lower the costs. We met with Jenae Pitts, the startup's strategic advisor, to learn more about the solutions developed and the benefits that they offer.
3DN: Can you introduce us to Vader Systems?
Vader Systems is the inventor of the MagnetoJet technology, which enables metal 3D printing for commercial use, making the technology of tomorrow available today.
Vader's technology is available in three platforms that provide system solutions to address the needs and requirements of the rapidly growing additive manufacturing market. These solutions include the Vader Polaris™ liquid metal 3D printing system, The MagnetoJet Subsystem for integration into hybrid manufacturing equipment, and the Are Microsphere Production System which produces Vaderite on demand – a small-batch powder for specialty additive. This innovative approach provides the market with the flexibility to use the most dynamic and innovative technology for countless customized applications.
Vader works collaboratively with customers to understand their unique application and is positioned to create customized solutions. This intuitive approach delivers engineered solutions that are cost-effective while satisfying unique customer problems that can be solved by the platform of Vader's technologies.   
3DN: Can you tell us more about the MagnetoJet technology?
Vader Systems' MagnetoJet technology represents a revolutionary advancement in 3D printing — eliminating the many issues inherent in legacy processes. Vader's patented MagnetoJet technology employs the control and precision of an electromagnetic field to propel liquefied metal droplets and to produce high integrity, high-density parts faster and for less.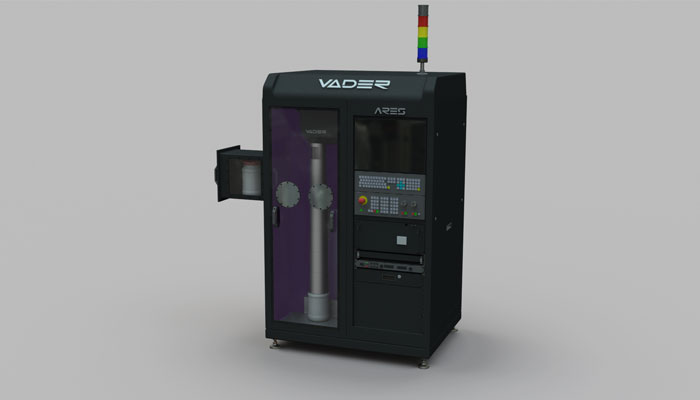 The Vader System delivers up to 1,000 droplets per second with micron-level accuracy, while more than doubling the speed of conventional 3D powder bed metal printers. The input material for a Vader System is metal wire, which is up to 96% less expensive than specialty metal powders used in powder bed machines.
3DN: What are the advantages of your technology?
The Polaris is a turnkey system used to print metal 3D parts from conceptualization to realization utilizing Vader's patented liquid metal process. Vader is excited to announce that it can now print the most sought-after aluminum alloys in the market, including 6061 and 7075. Producing parts at rapid speeds with low-cost material and virtually no waste creates high value for customers.  These advantages are compounded when also considering the safety of utilizing non-hazardous input materials, which stand in strong contrast to the substantial requirements that come with operating a powdered metal 3D printing machine.
The MagnetoJet customized subsystem is designed to integrate into hybrid manufacturing systems such as CNC and machine center equipment. By eliminating the use of powdered metal, the MagnetoJet system allows manufacturers to produce parts and precisely finish them all in one system. Vader collaborates closely with customers to assure its MagnetoJet subsystem is customized to work within existing or planned equipment and workflow. As with the Polaris System, the benefits are significant – including isotropic material properties, enhanced safety, and finished parts with near full density.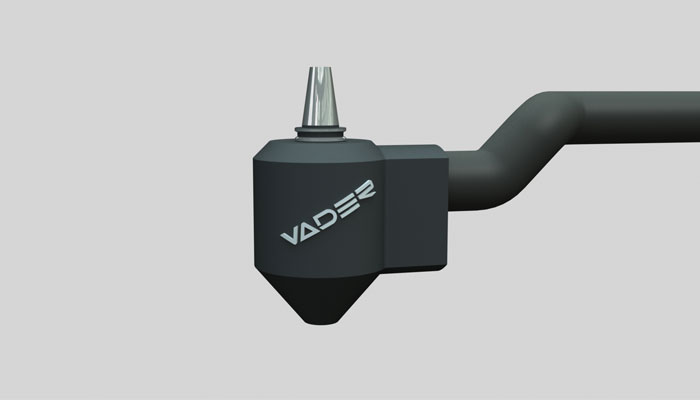 The Ares "Powder" System produces highly uniform and consistent metal microspheres for on-demand usage.  The microspheres have been tested by a leading national lab and show best-in-class results.  Printing powder on demand eliminates the need to carry powder inventory and enables a wide variety of small batch applications. The microspheres are extremely consistent with a very narrow particle distribution size. These attributes allow for excellent flowability, nearly 100% material usage, and more reliable results.
3DN: Who are your customers today and in what industries can your technology be applied to?
We focus on three markets: industrial, defense and aerospace, and research and development. Within the industrial space, we are working with customers interested in hybrid solutions that integrate our technology into current technologies, like CNC mills. We have drawn great interest from the automotive and casting industries.
Because Vader's process does not require gravity (is not sensitive to vibration) and does not use powders, we are working with several aerospace and defense partners. Applications for this technology within this market include in-theater manufacturing, sustainment (replacement or repair of discontinued parts for land and sea craft), vertical integration of the supply chain, and printed circuit boards, for example.
3DN: What do you see in the future for metal additive fabrication?
We know the fourth industrial revolution is coming and that 3D metal printing augmented by web connectivity will be a part of it. Vader Systems' solutions offer real value to commercial manufacturers, now, that will help the industry prepare.
What do you think about Vader Systems solutions? Let us know in a comment below or on our Facebook and Twitter pages! Don't forget to sign up for our free weekly Newsletter, with all the latest news in 3D printing delivered straight to your inbox!