USS Essex Becomes First American Ship With a Metal 3D Printer Onboard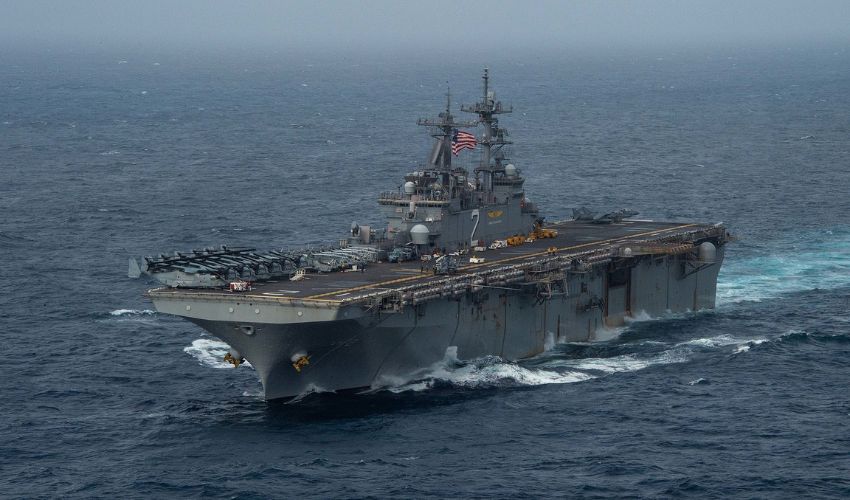 You may remember last year when the Naval Postgraduate School announced a partnership with Xerox to use the ElemX 3D printer to explore the capabilities of 3D printers for the Navy and Marine Corps. Well it seems that it has finally born fruit. The Naval Postgraduate School has now partnered with Commander, Naval Surface Force, U.S. Pacific Fleet (COMNAVSURFPAC)  to install a 3D printer on the first American war ship. The Xerox 3D printer was placed on Wasp-class amphibious assault ship USS Essex (LHD 2) according to a press release from COMNAVSURFPAC.
3D printing has become attractive in many industries for its speed and cost-effective parts, but navies worldwide have had their eye on the technology for an even more innovative reason. It has long been posited that by having a 3D printer onboard, ships could become more self sufficient, notably allowing them to print replacement parts even when they are out at sea. In this case, the ElemX was chosen not just because of the partnership but also because it it is one of the fastest printers on the market thanks to its unique liquid 3D printing process. Additionally, it is able to print parts made out of aluminum that are up to 10″ by 10″, including common components like heat sinks, housings, fuel adapters, bleed air valves, valve covers and more.
Although the Essex has always had the capability to manufacture small items needed on the ship, they expect that the 3D printer will expand their capabilities. Aviation Electronics Technician 2nd Class Jonah Waage expanded, "We have never been able to make something with the precision and intricacy that this new 3D printer will provide which is important because it will contribute to saving time and money for our Navy in the long run." Ultimately, the goal is to test and evaluate the 3D printer during underway (at sea) conditions in order to determine its viability when out to sea, a long-time project of the navy. The USS Essex is the first ship to take part, however it seems likely that others may join in the future.
USS Essex Becomes the First US Ship with a 3D Printer
Maritime applications for additive manufacturing are not new and the Navy has certainly seemed to be turning more and more towards the technology, but this does mark the first time a 3D printer will be placed on a US Navy ship while it is out at sea. That being said, it is not the first time that a 3D printer has been on a warship. Notably in 2019, a 3D printer was taken onboard a French aircraft carrier, the "Charles de Gaulle." This move however shows how other navies are seeing the advantages, especially in terms of "readiness" for ships that may be far from port. The next step in this particular project will be to train sailors aboard the USS Essex to use the equipment.
Lt. Cmdr. Nicolas Batista, the Aircraft Intermediate Maintenance Department (AIMD) officer aboard Essex concluded, "Having this printer aboard will essentially accelerate, enhance and increase our warfighting readiness. Additive Manufacturing (AM) has become a priority and it's evident that AM will provide a greater posture in warfighting efforts across the fleet and will enhance expeditionary maintenance that contributes to our Surface Competitive Edge." You can find out more in the press release HERE.
What do you think of the placement of a Xerox 3D printer on the USS Essex? How do you think the project will advance? Let us know in a comment below or on our Linkedin, Facebook, and Twitter pages! Don't forget to sign up for our free weekly Newsletter here, the latest 3D printing news straight to your inbox! You can also find all our videos on our YouTube channel.