Using Ceramic 3D Printing to Achieve Complex Aerospace Structures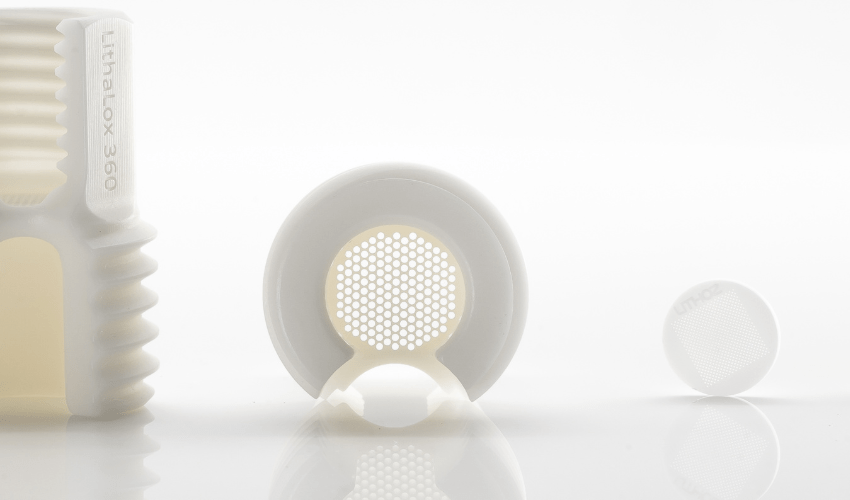 Industries are increasingly searching for new and advanced materials and processes to improve their products, and the aerospace sector is no exception. The industry's needs are evolving rapidly with the introduction of more stringent requirements. Thus, they demand new technologies that can provide innovative and efficient solutions. Additive manufacturing is emerging as an ideal solution for aerospace applications. According to a report by Research and Markets, the aerospace and defense market's value for 3D printing was estimated to be $1.9 billion in 2021, with an expected CAGR of over 24% from 2022 to 2027. Additive technologies are bringing significant changes and advantages to the aerospace industry, such as the production of lighter, stronger, and more complex parts, design freedom, the ability to combine multiple parts into a single unit, the reduction of waste of costly raw materials, and cost and resource efficiency.
If we look at the innovative materials that can be used through 3D printing, the one that is gaining most success is ceramics. This has proven to have the necessary properties to meet the needs of industry and the high standards required in aerospace applications. Among the companies that have focused on ceramic additive manufacturing is Austrian manufacturer Lithoz, which has developed Lithography-based Ceramic Manufacturing (LCM) technology for complex parts with high resolutions. The company doubled the sales of its ceramic 3D printing solutions and turnover in the year 2022, indicating market interest in this technology in multiple industries, including medical and aerospace.
The Benefits of Using Ceramics in Aerospace Applications
The research report titled "3D Printing Ceramics 2022-2032: Technology and Market Outlook" highlights the significant growth in the value of the ceramic 3D printing market, estimated to reach $400 million by 2023. According to the report, the aerospace, defense, dental, and chemical engineering industries are the most interested in ceramic manufacturing for producing small-batch parts. Ceramics have captured the attention of the aerospace industry due to their exceptional properties, such as high resistance to heat, oxidation, and abrasion as well as mechanical and dimensional stability. This makes ceramics highly efficient and suitable for use in extreme conditions, making it an ideal material for next-generation spacecraft construction, especially for parts exposed to high stresses. We mainly refer to "advanced ceramic materials" or "technical ceramics" which possess remarkable properties such as high strength, corrosion resistance, and excellent thermal and electrical insulation. Some of the most noteworthy advanced ceramics are aluminum oxide (Al2O3), silicon nitride (Si3N4), silicon carbide (SiC), and zirconia (ZrO2). Via 3D printing, even ultra-high temperature ceramics (UHTCs) can be processed, the material properties of which are extremely sought-after in this industry.
Ceramics have even replaced some more traditional materials used in the aerospace industry, such as metals. Indeed, even if metals are still the most commonly used materials in the aerospace industry, their use is being questioned for some applications. The need to create more efficient space thrusters, reduce space debris, or develop more precise and complex aviation foundry cores has led to a search for alternative materials. Ceramics now offer practical solutions to these problems as they wear more slowly. Moreover, in combination with additive manufacturing, they can achieve more detailed parts.
Therefore, ceramic 3D printing has enormous potential for the aerospace industry, as evidenced by the various applications of Lithoz's LCM technology. A prime example of the exceptional capabilities of advanced ceramics is the 3D printed aerospike engine nozzle made of silicon nitride from the company. This nozzle successfully passed all stress tests, demonstrating its ability to withstand significant thermal shocks, even when subjected to temperatures exceeding 1200 °C.
High Resolution and Intricacies Using LCM Technology
In the ceramic industry, precision and accuracy are key, as a single small defect can lead to the complete failure of the part and thus the application. It is for this reason that Lithoz itself was founded on the values of endurance and precision. And throughout its decade-plus experience, the company has been able to refine its technology to achieve zero tolerance to error.
Lithoz's Lithography-based Ceramic Manufacturing (LCM) technology is based on photopolymerization. The CeraFab 3D printer dispenses a ceramic-loaded liquid (slurry) into a transparent vat. The printing plate moves from top to bottom and is selectively exposed to blue light from below the tub. Using a digital micro-mirror device (DMD) and a state-of-the-art projection system, a layered image is produced, and the green object is created layer by layer. The process requires thermal post-processing to remove the binder and sinter the components, resulting in high-density ceramic components that are strong and durable.
The advantage of this procedure is that the entire surface area is exposed at the same time, with zero tolerance over the entire build platform. This means that the parts are reproduced with consistency and accuracy on the entire built plate, regardless of where on the platform they are printed. It is therefore this precision of exposure that makes it possible to achieve extremely complex microstructures.
Lithoz has eight different 3D printing solutions available on the market today, all variations of the CeraFab machine, and all with their own particular strength – for example, the CeraFab S25 has been specifically designed for high resolutions as precise as 25µm. Interestingly, Lithoz's technology is now being used not only for small batches but also for large-scale production. Steinbach AG, for example, used Lithoz's CeraFab System solution for mass-producing surgical tubes. The complex design of the tubes required the use of additive manufacturing from prototyping to final production. Steinbach was able to produce 12,000 parts per year, demonstrating the effectiveness of additive manufacturing in scaling up production even to the serial level.
Achieving Aerospace-Optimized Structures With Ceramic 3D Printing
As already mentioned, the possibility of combining the properties of ceramics with the flexibility of 3D printing is one of the main advantages of using the technology in the aerospace sector. Being able to precisely tailor the design of a component, modify its structure and even add specific functionalities, is something that industry players look for when it comes to producing complex parts.
A practical example of this is the creation of RF filters for aerospace applications. RF filters are crucial electronic circuits that enhance signal quality and minimize interference in communication systems like satellite communication, radar, and avionics. Ceramic 3D printing allows for the creation of highly-engineered resonators with a wide range of shapes, orders, and bandwidths that can be incorporated into a single component, optimizing performance, reliability, and durability.
Why 3D print them with ceramics? In the aerospace industry, RF filters play a critical role in ensuring reliable and accurate communications in high-frequency bands. Due to the harsh environmental conditions that they must withstand, these filters have to be highly performing and meet stringent reliability and performance requirements. The desirable material properties of ceramics make them perfectly suited to meet these requirements, while also easily enabling the miniaturization of these filters to reduce weight – a crucial factor in aerospace applications. On top of that ceramic filters show good stability over temperature and time, ensuring reliable and consistent performance over a long period of time.
Controlling the Microstructure of Ceramic Components
Lithoz ceramic 3D printing solutions offer a remarkable advantage for more complex applications by allowing more precise control of the material's microstructure and porosity, which is a limitation of any other AM or conventional manufacturing techniques currently available. With Lithoz's LCM technology, multi-material 3D printing and functionally-graded ceramics are also achievable due to its two-vat system. This system, in the newly developed multi-material LCM printer setup, enables not only the assignment of one material to any desired layer but also the use of different materials in each layer by assigning the respective materials to selected pixels of the layer image. As an example, Lithoz and Fraunhofer IGD created parts from aluminum oxide with high complexity and a defined gradient of dense and porous within a single part. This capability is very relevant to the 3D printing of complex catalysts for aerospace applications, among other possibilities.
All these examples show that by utilizing additive manufacturing to enhance the properties of ceramic components, it is possible to increase their complexity and, in turn, improve their efficiency. This approach also opens up new research possibilities in the aerospace industry. With Lithoz LCM technology, higher complexity and resolution is possible compared to other processes on the market, making it a perfect match for the ever-increasing requirements in geometries when it comes to aerospace components. You can find out more about Lithoz and its technology HERE.
What do you think of the use of ceramic 3D printing for aerospace parts? Let us know in a comment below or on our LinkedIn, Facebook, and Twitter pages! Don't forget to sign up for our free weekly Newsletter here, the latest 3D printing news straight to your inbox! You can also find all our videos on our YouTube channel.
*All Photo Credits: Lithoz