US Air Force sponsors the development of a 3D printed runway mat
Published on August 29, 2020 by
Aysha M.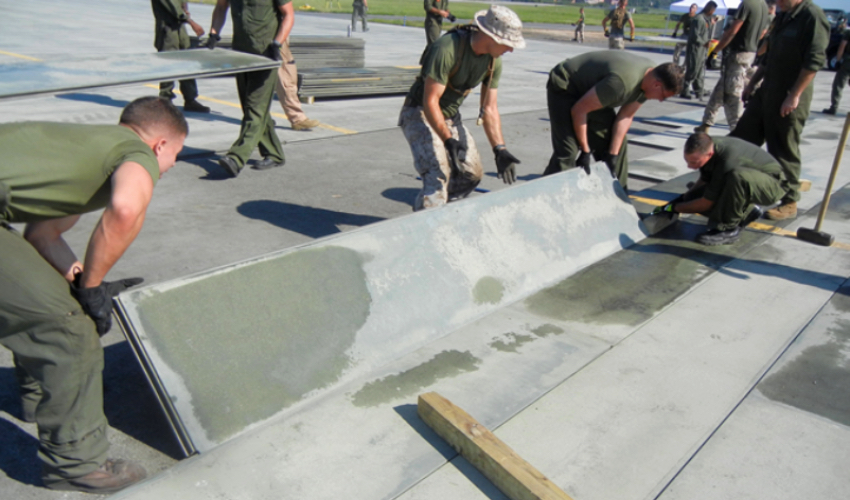 ITAMCO (Indiana Technology and Manufacturing Companies) has been working with a Purdue University professor, Pablo Zavattieri, to develop a unique 3D printed runway mat for Expeditionary Airfields for US Air Force. Last year the team was competing in Phase 1 of SBIR (Small Business Innovation Research), where they had to present the project plan, taking into account the feasibility and technical merit of the additively manufactured portable runway mat. Their project won, so they were eligible to compete in Phase 2. It was recently announced that ITAMCO and Purdue University were awarded a $1 MILLION grant to build the runway for US Air Force, thus the partners are now moving to the prototyping and testing stage.
Runway mats are a critical component of Expeditionary Airfields (EAFs) for the military. They are designed to be placed on weaker ground surfaces to enable military aircraft to land and takeoff. For decades, the United States military was using a portable runway  made with an aluminum plank matting, AM-2. This matting has served them well since the Vietnam War, but the materials and technology are outdated. Therefore, the Air Force is looking forward to using the new 3D printed product conceived by ITAMCO and Purdue University.
The objective of the research led by professor Pablo Zavattieri was to develop a robust sheet or roll technology that serves as an alternative to the AM-2 mat for temporary or expeditionary flight operations. The design of the matting solution is composed of an upper surface that mates with a lower surface and contains a type of architectured material called Phase Transforming Cellular Material (PXCM) geometry to mitigate anticipated loading and shear stresses. The ideal solution to manufacture such product was metal 3D printing.
Professor Zavattieri, explained, "Products made with PXCM geometry have the ability to change from one stable configuration to another stable or metastable configuration and back again. This means the new runway mat could potentially heal itself, resulting in a much longer life span than a runway made with AM-2 matting. Another benefit is that debris on the runway will not hamper the runway's performance with our technology."
ITAMCO used EOS M290 3D printer to manufacture the runway. The final design of the product has proved to be lighter and more durable than the AM-2 matting, so ITAMCO and Pablo Zavattieri will accelerate the development of the 3D printed runway, moving into the prototyping and testing stage. Their job is now to evaluate the additively manufactured runway's ability to restore itself to its original contour and full operational capability within a target period of 30 minutes.
What do you think about US Air Force developing a 3D printed runway? Let us know what you think in a comment below or on our Facebook and Twitter pages! Don't forget to sign up for our free weekly Newsletter, with all the latest news in 3D printing delivered straight to your inbox!