Urwahn Bikes presents its limited edition copper-plated 3D printed bike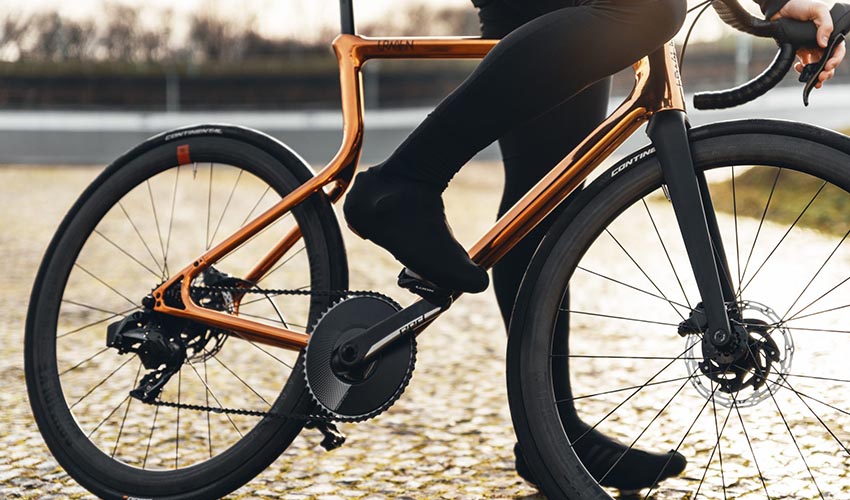 The German bike manufacturer, Urwahn Bikes has partnered with Schmolke Carbon, specialized in the fabrication of carbon fibre bike parts to develop a 3D printed frame for its racing bike. This is not the first time Urwahn Bikes has worked with 3D printing technologies to optimize the design of its bike frames. In 2019, it had released the Stadfuchs cycle, featuring a 3D printed steel frame. This time around, the copper-coated bike combines a 3D printed steel frame that has been adapted to integrate the lightweight carbon fiber parts developed by Schmolke Carbon.
Carbon fiber can enhance performance as it has a very good strength-to-weight ratio. Whilst increasing the resistance and strength of a part, it remains lightweight. In the 3D printing industry, carbon fiber is the most popular reinforcement material in composites. More and more 3D printing applications are using carbon fiber composites to create parts that increase performance. In this case, the carbon fiber bike parts developed by Schmolke Carbon were not 3D printed, but we can imagine that in the future Urwahn Bikes could use 3D printing for more than its bike frame.
Improving performance through design
The first thing you will notice on this bike is the copper plating on the 3D printed steel frame. Besides its shiny exterior, this racing bike has a geometric advantage over other bikes. Schmolke Carbon explains: "The elastic suspension of the rear wheel gives the rider additional riding comfort without sacrificing bottom bracket stiffness. This effect is especially noticeable on longer rides and uneven surfaces." Urwahn Bikes also stated that it has been able to "avoid any restrictions regarding part geometry," by creating thin-walled parts using Selective Laser Melting (SLM) technology. Such design freedom allowed the company to integrate various technical components within the steel frame, including an LED lighting system and GPS tracking system.
Schmolke Carbon provided various additional parts, including the TLO Evo handlebar and the TLO saddle unit, which have been trimmed for lightweight construction. The company also developed a 45mm carbon clincher for the cycle, designed to provide aerodynamic directional stability and a smooth cycling experience.
Urwahn Bikes writes on its website: "We see ourselves as technology pioneers, combining traditional manufacturing techniques with additive manufacturing to create an uncompromising product design with the highest levels of functionality and performance." Finally, to test the performance of the bicycle, the companies appointed track bike world champion Stefan Bötticher to perform some velodrome test runs using the bike. You can find more information HERE.
What do you think of the copper-plated 3D printed bike frame? Let us know in a comment below or on our Facebook and Twitter pages! Sign up for our free weekly Newsletter, all the latest news in 3D printing straight to your inbox.