How to Unlock Additive for Industrial Applications with Vapor Smoothing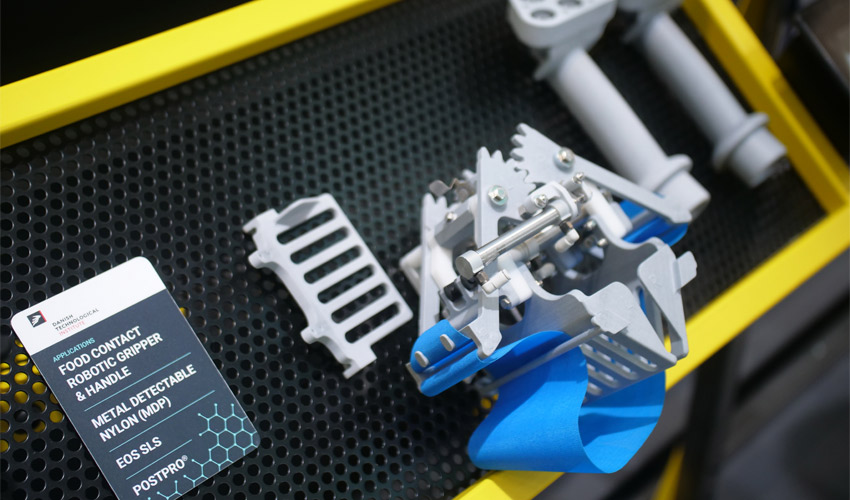 In any industry or sector, there are a number of necessary standards that must be met to ensure the proper functioning of certain parts, systems or services. The rise of additive manufacturing (AM) in many fields has led to the need to control the properties of 3D printed parts, both in terms of performance and biocompatibility. To meet these stringent requirements, post-processing of raw parts made using AM is crucial. This is because these steps eliminate imperfections and help users to obtain the desired, or even required, finish. Thus, different post-processing solutions have been emerging to help 3D printed parts to comply with the certifications for different applications, enabling them to compete directly with traditional processes such as injection molding.
Whether for the creation of prostheses, nasal swabs, dental aligners or medical helmets, the healthcare sector, among others, is one of the most demanding in terms of part quality, safety and performance. In the AM market, there are a number of post-processing methods that, at first glance, offer the necessary smooth finishes for these types of applications. However, the problem lies in the inner channels of the part, which are still exposed, potentially trapping bacteria and contaminating the production process. To provide a solution to this, AMT is offering an automated post-processing system, called Vapor Smoothing, which provides a smooth and sealed surface finish for 3D printed parts. Thanks to this post-processing method, it is possible for parts to pass different tests that prove that they meet the standards and regulations for industrial applications in a number of fields.
How Does Vapor Smoothing Work?
To understand how standards could be achieved with 3D printed parts in the most demanding industries, such as medical, dental and automotive, with this process, it is first necessary to look at how the technology works. The vapor smoothing method developed by AMT suspends batches of parts in a sealed processing chamber into which a proprietary solvent blend is introduced as vapor in a closed-loop system. The vapor comes into contact with the parts, sealing them and eliminating their surface irregularities. By eliminating the crack initiation sites, the vapor smoothing process completely seals the surface of the part, resulting in an increase in elongation at break with no loss in ultimate tensile strength.
This process can be used to achieve the desired surface roughness in parts created using additive manufacturing technologies such as SLS, Multi Jet Fusion (MJF), Selective Absorption Fusion (SAF) and Fused Deposition Modeling (FDM). In terms of materials, AMT's solutions are compatible with a wide range of polymers, including polyamides (PA12, PA11 and PA6), flexible materials such as TPU and more standard materials such as ABS, among others.
In addition to being highly controllable and repeatable, AMT's vapor smoothing system allows complex geometries to be smoothed without affecting mechanical properties. Additionally, it has a number of benefits that enable users to unlock even more applications for 3D printed parts in advanced industries. For example, it allows for surfaces to be sealed against the entry of liquids and gases. This prevents the accumulation of bacteria which in turn increases the part's sterilization. This surface smoothing also has additional benefits. Notably, it is important for parts that will be in contact with the skin, such as prosthetics, nasal swabs, dental applications, etc.
Beyond just the benefits of smoothing, this technology also increases the mechanical properties of the parts, making them more durable, functional and more resistant to breakage, increasing their longevity. This while improving the overall aesthetics of the parts without affecting the final weight or generating dimensional changes.
Standards and Qualifications testing for 3D printed parts
In order to implement 3D printed parts in certain industries, evaluations need to be carried out in order to ensure that the components are compatible and safe for their given application. In this case, to prove the success of this post-processing method, compatibility tests were conducted on 3D printed parts finished with AMT's vapor smoothing technology. Within the medical and dental sector, these components successfully passed various certifications related to skin contact, cytotoxicity and antibacterial tests. These performance tests are demanding and complex, requiring many controls and certifications in order to ensure patient safety.
In addition, industries such as automotive and food have also tested parts post-processed with vapor smoothing. In particular, the automotive industry has successfully passed flammability tests with parts made using PA12. Importantly, AMT's post-treatment systems comply with all safety and industrial hygiene standards in demanding applications, from medical and dental to consumer and food. In addition, they do not use corrosive and explosive acid mixtures in the machine, thus minimizing any other potential hazards.
Highly regulated applications remain the focus of many industries that still deny the potential of 3D printing. Now, AMT's vapor smoothing technology is making it possible to unlock the implementation of additive manufacturing in the most demanding industries by meeting their certifications. If you would like to learn more about this post-processing method, you can visit AMT's website HERE.
Do you use vapor smoothing? Let us know in a comment below or on our Linkedin, Facebook, and Twitter pages! Don't forget to sign up for our free weekly Newsletter here, the latest 3D printing news straight to your inbox! You can also find all our videos on our YouTube channel.