Ultimaker Unveils its New Software Strategy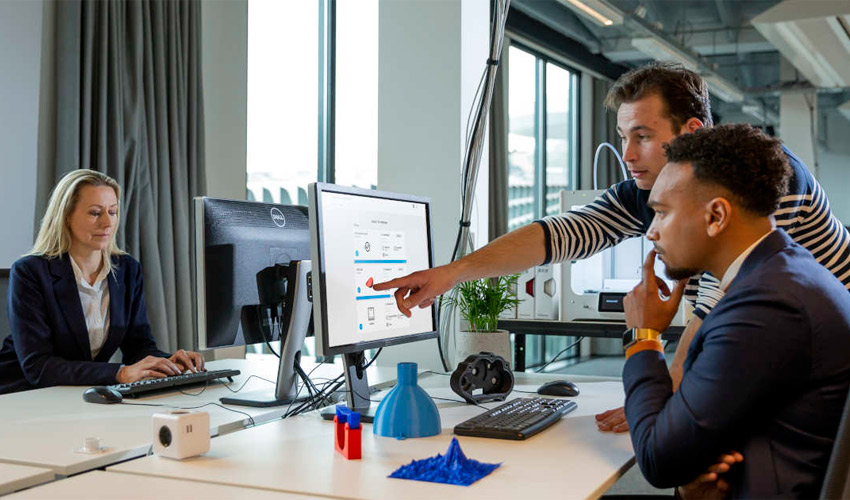 FDM 3D printing specialist Ultimaker has announced that its Ultimaker Essentials platform will now be integrated into all of its 3D printers, allowing all customers to take full advantage of its benefits. Through this tool, launched last summer, users can more easily manage all of the brand's products, from printers to filaments to accessories and software. The Dutch manufacturer wishes above all to bring more productivity and flexibility to all professionals, especially in this unstable time.
Additionally, Ultimaker took advantage of its virtual event, the Ultimaker Transformation Summit, to announce two new software programs: Ultimaker Professional and Ultimaker Excellence. These two  platforms include the same features as Ultimaker Essentials with some additional functionality. This new software strategy proposed by the manufacturer reflects its desire to simplify the manufacturing process as much as possible by facilitating the management of all workflows, from design to printing itself. Users will be able to find everything on Ultimaker Essentials, enabling them to download anything they need without having to use different tools and thus lose productivity.
Ultimaker Essentials
This platform brings together several software solutions such as the famous Cura Enterprise slicer, but also Digital Factory to control print flow, or Ultimaker MarketPlace to download plug-ins adapted to your needs. The tool also includes a direct support service and an e-learning offer. In addition to the online resources, the platform also includes a training program just for IT administrators. Please note that all new Ultimaker 3D printers will automatically integrate the Ultimaker Essentials platform at no additional cost. For those who already have a machine, they will be able to purchase a lifetime license for €600.
Jürgen von Hollen, CEO of Ultimaker, added: "Ultimaker is uniquely positioned as a leader in the professional 3D printing segment, offering both hardware and software solutions. This platform is a real evolution: it elevates our current capabilities and enables our partners and diverse ecosystem to deliver a seamless, innovative and future-proof customer experience. We believe that all businesses, whether small, medium or large, should have the ability to take advantage of the platform and ecosystem. This allows them to remain flexible and productive in a volatile world."
Ultimaker will also offer more advanced versions
To meet more advanced additive manufacturing needs, the Dutch manufacturer will offer two other versions of the software, Professional and Excellence, which include additional features. There are five main features, including an additional e-learning offering to allow more employees to benefit from the learning modules. Both software packages also include a digital library, hosted in the cloud, to access new applications and facilitate their development. Users will also be able to take advantage of reporting and analysis tools to gain insight into their printers, projects and applications. In addition, they will benefit from seamless CAD and platform integration, i.e. they will be able to open their CAD files directly in Ultimaker Cura without converting them to STL format. Finally, users will be able to rely on a solid and fast expertise from Ultimaker teams. The Excellence version also includes full access to the API.
Ultimaker Professional is available from 500€, a version that includes one 3D printer and 10 users. For €1,500, it goes to 5 printers and 50 users, and so on. Regarding Ultimaker Excellence, subscriptions start at 10 000€, with 20 printers and 200 users. You can find prices and features HERE.
*Thumbnail Photo Credits: Ultimaker
What do you think of the Dutch Manufacturer's software solutions? Let us know in a comment below or on our Linkedin, Facebook and Twitter pages! Sign up for our free weekly Newsletter here, the latest 3D printing news straight to your inbox! You can also find all our videos on our YouTube channel.