Ultimaker safety enclosure and filtration by Ultimate 3D Printing Store
The Ultimate 3D printing Store, is an E-commerce business located in Tampa Bay. The company is dedicated to 3D printing and bringing it to homes, schools and businesses around North America. They recently unveiled their 3Domus (3DFS): a safety enclosure designed specifically for Ultimaker printers and XSTRAND filaments. One focus of the enclosure is to make it easier to implement the printers in various environments.
3D printing is growing across various sectors. One area of which the technology is getting more and more implemented is in education. Figuring out how to secure that both teachers and students get the most out of 3D printing while keeping it safe is important. The 3Domus (3DFS) safety enclosure is a great initiative by U3DPS to help this along.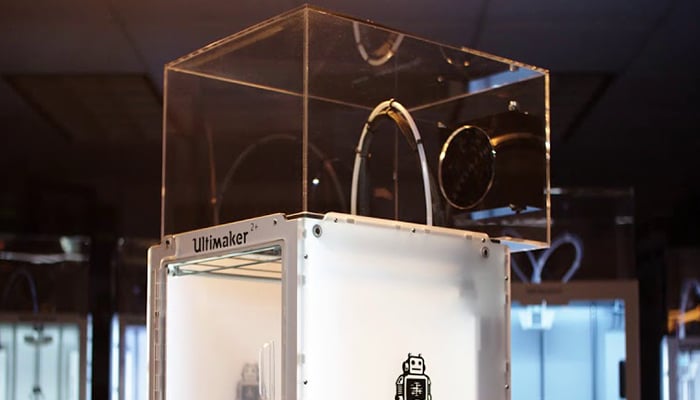 The 3Domus enclosure is manufactured at U3DPS's warehouse in Odessa, Florida. The enclosure was specifically designed to work with the Ultimaker S5. It's designed to allow users to print exotic filaments such as the XSTRAND. It is the first of its kind, designed specifically to keep you safe when printing with set filament on an Ultimaker 3D printer. Thus securing that the filament doesn't damage the machine or contaminates the workspace of which you are printing.
Keeping it simple and safe
The 3Domus consist of a clear enclosure to fit over your Ultimaker to form a seal. All while still allowing full visibility of the printing process. The 3Domus is further available with or without an activated carbon and HEPA filtration system. Thus allowing you to get the specific equipment to fit your wants, needs and budget.
With the Ultimaker printer series in general lacking a fully enclosed space, U3DPS wanted to find a solution to keep it as safe as possible. Thus making sure that the printer can print in a wider range of environments, such as at schools or closed workspaces without any issues arising. With this in mind they came up with their 3Domus (3DFS) safety enclosure. U3DPS has further secured the flexibility of their Ultimaker safety enclosure by not only making it compatible with one machine. Instead it is created to fit not only the Ultimaker S5, but also previous models such as: the Ultimaker 3 and the Ultimaker 3 Extended. As well as the Ultimaker 2+ and Ultimaker 2 Extended.

Roy Kirchner, the founder and president of U3DPS stated, "Anyone who works with one of these high-end printers, especially in an closed environment, should have this enclosure." He continues explaining, "Not only to protect their machine from outside contaminants and to maintain internal thermal management, but also to keep their work environment free of fumes during the printing process."
You can get the U3DPS safety enclosure without the filtration system for between $ 179 to $ 379. With the filtration system included the cost is from $ 299 to $ 499 depending on the machine. The enclosure is an easy and straight forward part to instal. Learn more about it on the Ultimate 3D Printing Stores website or in the video below:
What do you think of Ultimate 3D printing stores and their Ultimaker safety enclosure? Let us know what you think in a comment below or on our Facebook and Twitter pages! Don't forget to sign up for our free weekly Newsletter, with all the latest news in 3D printing delivered straight to your inbox!