Ultimaker's new solutions will optimize the 3D printing workflow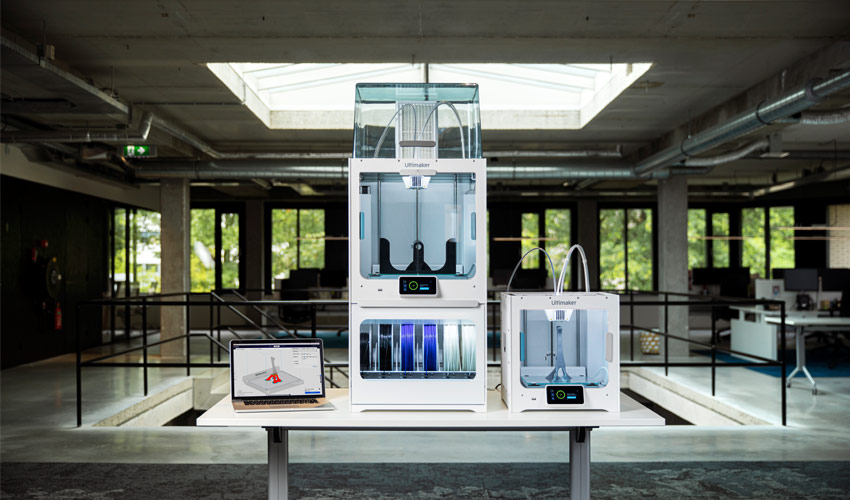 Since 2011, the Dutch manufacturer Ultimaker has been offering professional FDM 3D printing solutions designed to make their manufacturing process as easy as possible. In April, the company launched its new machine, the S5, for the first time it included a touch screen and a large build volume. Today, at the TCT Show in Birmingham, it is unveiling three new products: its new Ultimaker S3 3D printer, based on the famous Ultimaker 3, the Ultimaker S5 Pro Bundle, which includes an 'Air Manager' solution and a 'Material Station' to optimize material management. The company clearly states its objective of improving productivity for each of its customers by offering them automated management of their printing materials.
Last October, the 3Dnatives Lab tested the new S5, a machine that seduced us with its large volume, heating plate, color touch screen and dual extrusion system. After this success, the manufacturer decided to launch the Ultimaker S3, which will offer a higher printing volume than its larger sister, the Ultimaker 3 (230 x 190 x 200 mm), a touch screen, active leveling of the tray and sensors to control the filament flow. It also has a dual extruder and is compatible with a wide range of plastic materials, including composite filaments.
The Ultimaker S5 Pro Bundle, designed to optimize printing
To ensure continuous printing, Ultimaker has designed the 'Material Station', a device in which the user can store and manage their materials – up to 6 spools of filaments in this case – including glass and carbon fiber composites. Its chamber can keep the relative humidity below 40% while each of the 6 compartments is equipped with a sensor to automatically load another spool when the one used is finished. This should eliminate the need for the user to interrupt the printing process, thereby increasing productivity. Paul Heiden, Senior Vice President of Product Management Ultimaker explains: "The Ultimaker S5 Pro Bundle truly embodies the meaning of hassle-free 3D printing. Our goal is to make 3D printing easy, reliable and accessible in order to accelerate the world's transition to digital distribution and local manufacturing."
The Ultimaker S5 Pro bundle also includes the 'Air Manager', a filtration solution designed for the S5 3D printer that improves air quality and provides a safer working environment. The solution should filter 95% of the ultrafine particles emitted during printing. Paul Heidon adds: "We have heard many professional users express a need for a more enclosed 3D printing environment and we understand the desire for good, dry material storage and smart material handling in order to reduce the risks of humidity, dust and human error. The Ultimaker S5 Pro Bundle tackles it all and completes our vision of the ultimate office 3D printing experience. This solution enables users to take their 3D printing applications to a new level of quality and consistency, with greater flexibility, efficiency and confidence."
What do you think of theses new launches from Ultimaker? Let us know in a comment below or on our Facebook and Twitter pages! Don't forget to sign up for our free weekly Newsletter, with all the latest news in 3D printing delivered straight to your inbox!