UltiMaker Reveals its Brand Transformation Since Merger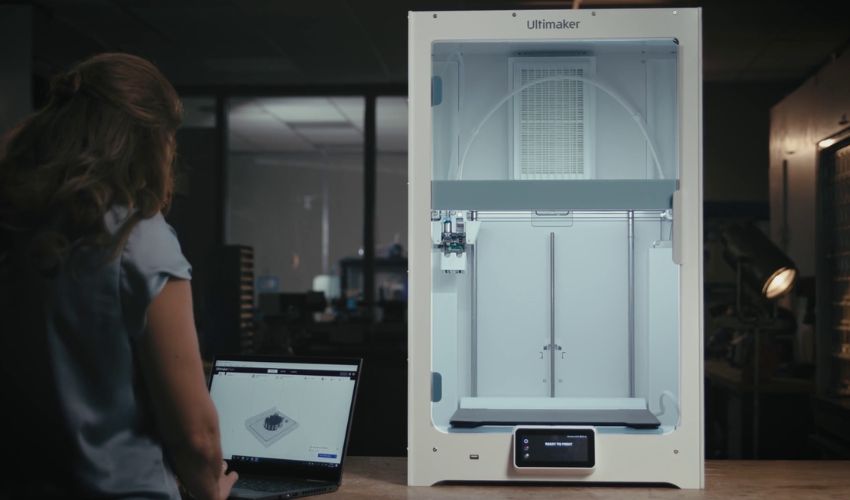 Last year, the entire additive manufacturing community was taken by surprise when Ultimaker and MakerBot, two leaders in the industry, announced that they would be merging. Though unexpected, the move was a continuation of a wider trend we have been seeing for greater consolidation in a healthy 3D printing market as major companies are working together more than ever to combine their strengths to give superior offerings for communities. Something that is especially important as AM continues to industrialize. Now, the brand has officially announced its new strategic vision to drive adoption of desktop 3D printing solutions.
As mentioned, consolidation is a growing trend in additive manufacturing. Over the past year or so, we have seen more and more acquisitions and mergers as providers seek to deliver increasingly better solutions to users. And though many of these moves are between companies offering different kinds of products in order to provide a more complete solution, for example material or software providers working with 3D printer manufacturers, Ultimaker and MakerBot were already known for their end-to-end solutions. As such, what they are focusing on with this move is continuing to grow adoption in the desktop 3D printing market as well as combining strengths as they continue to build their 3D printing ecosystem, allowing for even more applications. This is perhaps not surprising either when you consider the size of the market itself. Grand View Research announced last year that the market was valued at 2.69B in 2022 and is expected to grow at a CAGR of 21%, reaching $12.39B in 2030.
What's New With UltiMaker?
Beyond the name change (combining the Ulti from Ultimaker and the Maker from MakerBot), there will be a few differences coming from the new UltiMaker now that the brand has officially been established. First, under the UltiMaker brand, the company will be focusing on manufacturing through the S and Method series 3D printers. Professional 3D printing will be key here, notably through the S series as it will allow for a wider variety of materials, while the Method series is more suitable for specific manufacturing applications that need strict requirements such as a heated chamber or the use of specialist thermoplastics. Though this will not actually change much for the average user, it is a move that hopes to continue to solidify the UltiMaker name in the manufacturing field.
Nadav Goshen, the CEO of UltiMaker, said, "Success in manufacturing and product development hinges on implementing an efficient and thorough approach. This requires a deep understanding of the needs of the market and the ability to provide innovative solutions that can help companies bring their products to market faster. Our S and Method series offer customers exceptional flexibility, precision, and quality, enabling them to meet any application requirement with confidence."
But that is not all. Though perhaps less discussed, education is an important application for 3D printing. More and more, we are seeing schools, starting in Kindergarten and going all the way through university-level courses, adopting 3D printing and teaching it to students. Indeed, considering that one of the most prominent barriers to adoption of additive manufacturing is the lack of training and education, it is increasingly becoming a goal of the industry at large. And among those involved in providing solutions specifically for education, MakerBot has always had a large role to play, which will continue with this new strategic vision.
More specifically, the MakerBot brand is going to remain operational, according to UltiMaker, as a sub-brand within the education sector. In particular, this will happen through the MakerBot Sketch series, which has been designed for K-12 learning. With the release of the Sketch Large last year, MakerBot continues to grow its already comprehensive education ecosystems. This will continue under the new brand architecture, putting a premium especially on ensuring that customers from the education sector will have access to the products and resources that they need.
Goshen concludes, "Our new brand reflects the combined strength of the two companies that brought us here. By bringing together the best of both worlds, we are better equipped to deliver on our vision and continue to lead the 3D printing industry and empower more innovators to bring their ideas to life. Over the last few months, a lot of careful thought has gone into this exciting opportunity to decide on the direction of our brand's future. Our customers remain at the core of our decisions, and we're excited to unveil the result of UltiMaker's brand journey." You can find out more about UltiMaker HERE or check out the video below:
What do you think of this new strategic vision from UltiMaker? Let us know in a comment below or on our LinkedIn, Facebook, and Twitter pages! Don't forget to sign up for our free weekly Newsletter here, the latest 3D printing news straight to your inbox! You can also find all our videos on our YouTube channel.
*Cover Photo Credits: UltiMaker