All You Need to Know About ULTEM/PEI for 3D Printing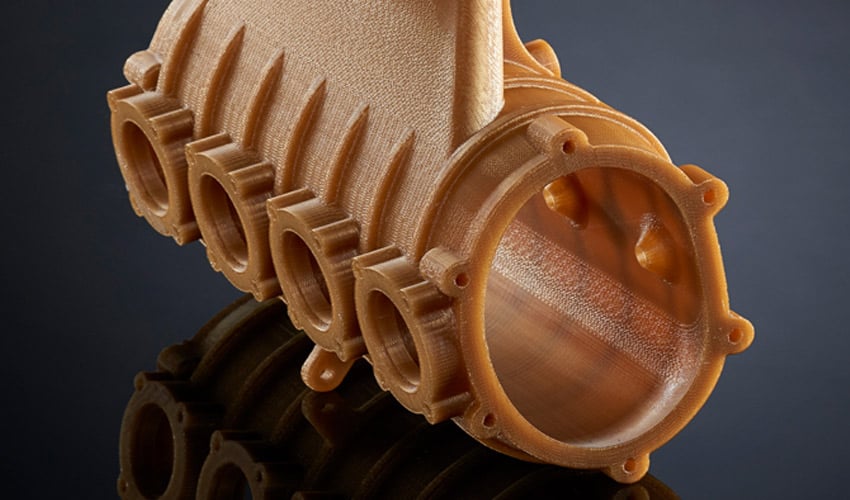 In recent years, the use of high-performance thermoplastics has become increasingly important in the 3D printing industry, as the technology moves away from rapid prototyping to the production of finished parts. As a result, the requirements for 3D printing materials have increased and high performance thermoplastics are becoming more and more common. Their properties make them an economical alternative to certain metals and are valued by many sectors such as aerospace and medical. Within this family are Polyaryletherketone (PAEK) which can withstand high temperatures and which you may be familiar with from PEEK and PEKK. There is a much cheaper alternative, Polyetherimide (PEI), an amorphous material better known by its trade name ULTEM®. Available as a filament for FDM 3D printers, it is compatible with certain machines, including those of Stratasys. Let's go back over the main characteristics of ULTEM.
PEI was developed in the 1980s by Joseph G. Wirth and was marketed by General Electric's Plastics Division under the name ULTEM. In 2007, the company sold its plastics business to Saudi Basic Industries Corporation (SABIC), which thus recovered the associated patent. Although ULTEM® was embraced by many industrialists thanks to its mechanical properties, it only became suitable for mass production with the development of high-performance FDM/FFF printers; the extruder of the machine must be heated up to 350°C in order to melt the thermoplastic.
Production and Characteristics of ULTEM/PEI
ULTEM® is a group of thermoplastic materials derived from Polyetherimide (PEI). Notably, ULTEM exhibits exceptional flame retardancy, characterized by high resistance to flames, minimal smoke generation, and low toxicity. These properties are validated by excellent performance in Flame, Smoke, Toxicity (FST) tests. Additionally, ULTEM demonstrates remarkable resistance to elevated temperatures, boasting a relative thermal index (RTI) of up to 180°C. The material is distinguished by its superior strength, rigidity, dimensional stability, creep resistance, and chemical resistance. Its various formulations offer a high weight-to-strength ratio, allowing them to potentially replace certain metals while maintaining excellent machinability.
ULTEM materials are available in a range of colors, both transparent and opaque. They retain their strength and resist stress corrosion cracking when exposed to automotive and aircraft fluids, aliphatic hydrocarbons, alcohols, acids, and weak aqueous solutions. ULTEM® 1010, known for its high tensile strength, exhibits exceptional durability and is biocompatible. It holds NSF 51 certification for food contact and is capable of withstanding steam sterilization.
Moreover, ULTEM copolymers are available, offering even higher temperature resistance and catering to diverse chemical and elastic property requirements. SABIC has introduced an ISCC+ certified renewable range of ULTEM, engineered from recycled scrap and residue, which delivers performance and machinability comparable to those derived from fossil fuels. By mid-2023, renewable ULTEM materials will constitute more than 25% of SABIC's ULTEM offerings.
SABIC now offers an extensive selection of 140 ULTEM® variants. Noteworthy examples include ULTEM™ 9085 CG, widely used in the aerospace and railway sectors for cabin interiors, and ULTEM HU1010, specifically designed for medical devices and pharmaceutical applications due to its biocompatibility.
Accurate temperature control is crucial when printing ULTEM® to ensure optimal results. Maintaining the chamber temperature is of utmost importance as any deviations can cause irregularities and affect layer adhesion. ULTEM exhibits a high glass transition temperature, which is the temperature at which an amorphous polymer transitions from a rigid/glassy state to a flexible/rubbery state, reaching 217°C for ULTEM1010 (185°C for ULTEM9085). To achieve the best outcomes, the print chamber temperature should be slightly below the glass transition temperature. This ensures proper dimensional accuracy and preserves the desired mechanical properties of the printed parts. If the temperature is too low, it may result in part deformation or even cracking.
ULTEM/PEI Applications
PEI, particularly ULTEM® 9085, is extensively used in the aerospace industry due to its exceptional characteristics mentioned earlier. Additionally, it is a preferred material in the automotive, medical, and food sectors, especially for designing kitchen utensils. This thermoplastic is also widely employed in tooling applications, including the creation of molds, jigs, and various fixtures. A notable example is the use of PEI by Bombardier to manufacture customized tools, customize components on production lines, and even produce finished parts for their trains.
Main Manufacturers and Prices
SABIC is the manufacturer responsible for supplying the raw material used in ULTEM production. Traditionally, SABIC's filaments for additive manufacturing were exclusively compatible with Stratasys machines. However, in recent years, SABIC has expanded its partnerships to include other companies such as Roboze, which offers the ability to print ULTEM filament ™AM9085F. Additionally, there are manufacturers like KIMYA, 3DXTech, and 3D4Makers who offer their own ULTEM filaments.
Notably, SABIC has introduced a detachable support filament, the AMS31F, specifically designed for ULTEM printing. This support material is easier to remove compared to other options that often require reheating. By using this detachable support filament, users can preserve the mechanical properties of their printed parts while also saving valuable time.
When comparing ULTEM to PEEK, it is important to consider the cost factor. PEI is relatively less expensive, with a price of around 150 euros per kilogram, whereas PEEK typically costs at least 300 euros for the same quantity. ULTEM has the advantage of being certified for various aerospace applications, meeting stringent standardized requirements. However, it should be noted that PEI exhibits lower impact resistance and temperature resistance compared to PEEK.
Do you use ULTEM as a 3D printing material? Let us know in a comment below or on our LinkedIn, Facebook, and Twitter pages! Don't forget to sign up for our free weekly Newsletter here, the latest 3D printing news straight to your inbox! You can also find all our videos on our YouTube channel.