All you need to know about PEI/ ULTEM ® for 3D printing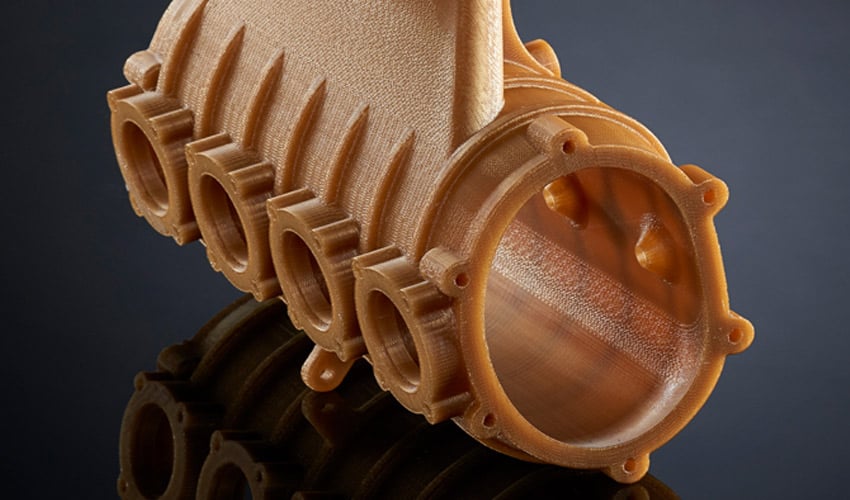 In recent years, the use of high-performance thermoplastics has become increasingly important in the 3D printing industry, as the technology moves away from rapid prototyping to the production of finished parts. As a result, the requirements for 3D printing materials have increased and high performance thermoplastics are becoming more and more common. Their properties make them an economical alternative to certain metals and are valued by many sectors such as aerospace and medical. Within this family are Polyaryletherketone (PAEK) which can withstand high temperatures and which you may be familiar with from PEEK and PEKK. There is a much cheaper alternative, Polyetherimide (PEI), an amorphous material better known by its trade name ULTEM®. Available as a filament for FDM 3D printers, it is compatible with certain machines, including those of Stratasys. Let's go back over the main characteristics of ULTEM.
The PEI was developed in the 1980s by Joseph G. Wirth and was marketed by General Electric's Plastics Division under the name ULTEM. In 2007, the company sold its plastics business to Saudi Basic Industries Corporation (SABIC), which thus recovered the associated patent. Although ULTEM® was embraced by many industrialists thanks to its mechanical properties, it only became suitable for mass production with the development of high-performance FDM/FFF printers; the extruder of the machine must be heated up to 350°C in order to melt the thermoplastic.
The main characteristics of ULTEM
Temperature management is therefore essential when it comes to printing ULTEM®. The temperature in the chamber must be maintained at all times, otherwise irregularities may occur and the adhesion of the different layers may suffer.  As the temperature of the PEI is between 345 and 400°C, you will need an extruder capable of rising to these levels.
PEI is known for its dimensional stability and creep resistance. SABIC now offers two different resins, ULTEM® 9085 and ULTEM® 1010. As for the first one, it is intrinsically flame retardant and has very good results in FST (Flame, Smoke, Toxicity) tests: it has a high flame resistance, low smoke emission and low toxicity. The material also has a high strength-to-weight ratio and can even replace certain metals thanks to its mechanical properties. Finally, it has good resistance to automotive fluids, hydrocarbons, alcohols and aqueous solutions. ULTEM® 1010 resin has a high tensile strength, showing great solidity and durability. It is biocompatible and NSF 51 certified for food contact. It can also withstand steam sterilization.
Compared to PEEK, PEI is cheaper – it costs €150 per kilo compared to at least €300 for the same amount of PEEK. It is a material that has the advantage of being certified for a number of aerospace applications, meeting highly standardized requirements. However, PEI will have lower impact and temperature resistance.
IAP Applications
PEI is widely used in the aerospace industry, particularly ULTEM® 9085 because of the characteristics mentioned above. It is also a material of choice in the automotive, medical and food industries, especially in the design of kitchen utensils. This thermoplastic is also widely used in tooling, whether to design moulds, jigs or various fasteners. Bombardier, for example, uses this material to manufacture its custom tools, customize components on its production lines and also to produce finished parts for its trains.
Finally, on the manufacturers' side, SABIC is today the only one to supply the raw material, in the form of resin or foam. The company manufactures its own filaments for additive manufacturing: historically, they were only compatible with the Stratasys range of machines but in recent years, SABIC has formed other partnerships such as with Roboze which can print the filament ULTEM™ AM9085F. Some manufacturers offer their own filaments such as KIMYA, 3DXTech or 3D4Makers.
Finally, you should know that if you are considering printing with ULTEM®, the manufacturer SABIC has launched a detachable support filament, the AMS31F, which is easier to remove than other support materials that often need to be warmed up. Thus, the part can keep all its mechanical properties and the user saves precious time.
What do you think about ULTEM? Let us know in a comment below or on our Facebook and Twitter pages! Sign up for our free weekly Newsletter, all the latest news in 3D printing straight to your inbox!