Two Weeks Until ADDITIV Aerospace 2.0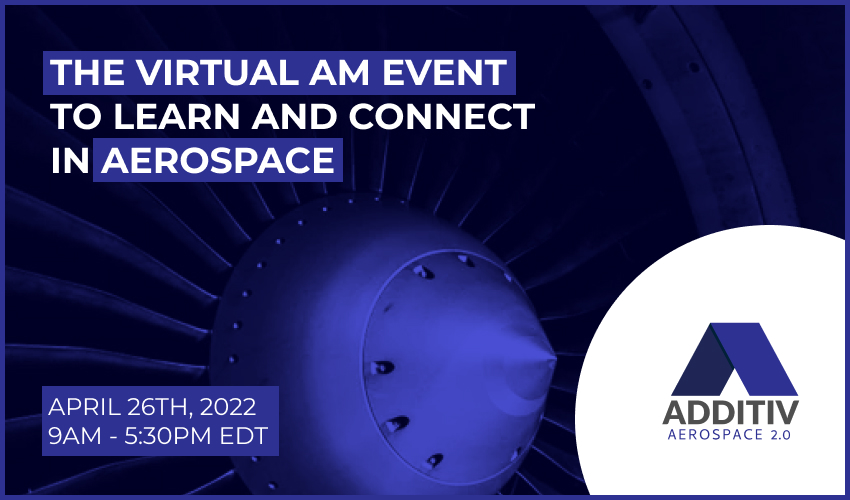 Additive manufacturing has been used in the aerospace sector for some time now and it has only grown in the past years. It has applications in everything from the creation of aircraft or helicopter parts, making lighter and more efficient engines, 3D printed turbines to space exploration and even possibly colonization. And it is clear that those in both AM and aerospace can see the true value of the technology. This is especially true for our partners for the event, Women in 3D Printing, Wohlers Associates, ASTM International Center of Excellence and the AIAA as well as our sponsor Formlabs. Indeed, Kristin Mulherin, the President of Women in 3D Printing noted "Additive manufacturing has always been an important driver of innovation. But with new levels of speed, automation, and repeatability it's now possible to take it a step further and use the same technology to produce end-use parts that was used for the prototypes. In contrast to other industries, this is especially relevant to the aerospace industry, which is largely focused on more complex parts and low-to-mid-volume production – a sweet spot for additive manufacturing." For Women in 3D Printing as well as our other partners, Wohlers Associates, ASTM International Center of Excellence and the AIAA, the importance is clear.
For these reasons and more, ADDITIV Aerospace decided to come back for a second edition. Filippos Voulpiotis, the Chief Business Officer for 3Dnatives, elaborated, "The Aerospace industry has always been an area of focus for us at 3Dnatives. Given the numerous innovations that are possible due to additive manufacturing, it only makes sense for us to be at the forefront of information and education on the sector. Having the honor and responsibility of providing content to tens of thousands of professionals from the Aviation, Space, and Defence sectors, we always try to find ways to help these communities. In 2021 we launched ADDITIV Aerospace, the first Aerospace/AM focused virtual event in the industry, and the results were positive beyond our expectations! This year, with the 2nd edition, we aim to deliver an even more exciting, informative, and fun event, on April 26th. Looking forward to seeing you all there!" 
What can you expect at ADDITIV Aerospace 2.0?
This international event will take place on April 26th from 9AM to 5:30PM EDT (3PM to 11:30PM CEST). As it is entirely 100% virtual, participants will be able to meet the users and makers of technology related to aerospace as well as hear from the most innovative experts in the secto. In addition to networking sessions, there will be panel discussions and workshops with topics ranging from AM certification in aviation, key applications of AM in space such as with satellites and 3D printed rockets, sustainability in the sector, the most important AM materials for aerospace and how AM is helping to advance interplanetary colonization. To do so, we will be welcoming speakers from NASA, Lockheed Martin, the Office of the Secretary of Defense, Boeing, Launcher, the FAA, ASTM International, Airbus, Oerlikon AM,  and many more.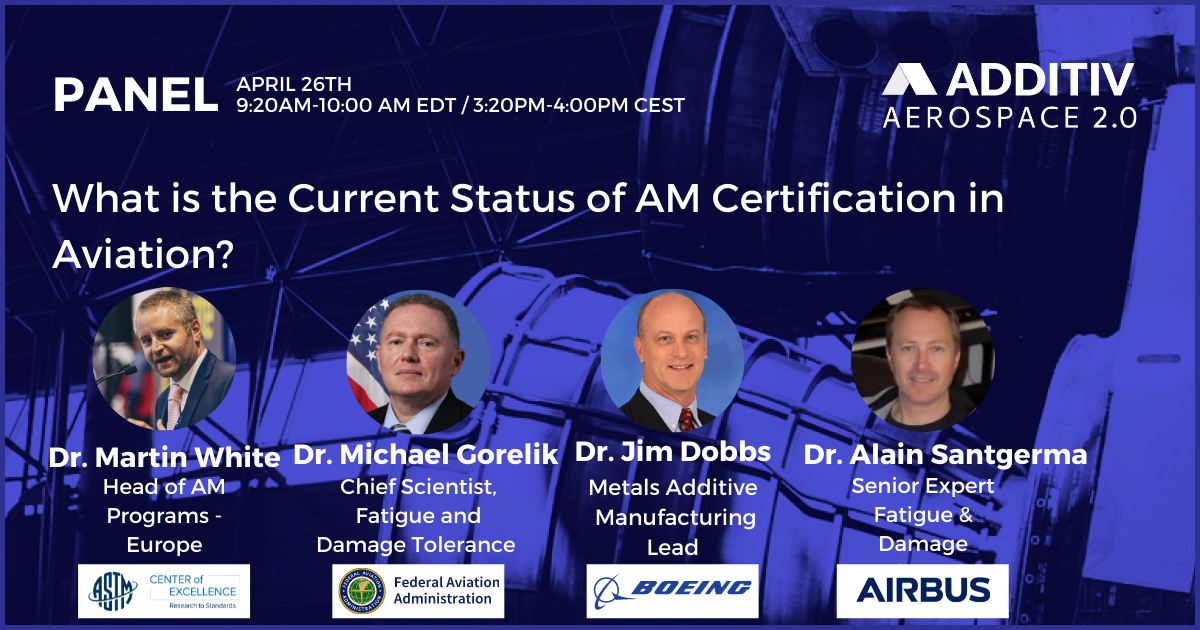 Our panels are designed to address many of the key areas where additive manufacturing is revolutionizing the aerospace sector. For example, in the panel "To Infinity and Beyond: How is AM Leading the Way for Interplanetary Colonization?" we will be welcoming experts to tell us about the ways that AM is paving the way for greater space exploration. When asked about the importance of the topic, one of the speakers, Dr. Christopher Protz from NASA Marshall Space Flight Center, commented "Additive manufacturing has been and continues to be a transformative and disruptive technology for terrestrial applications and is expected to be key in enabling sustained presence on celestial bodies."
Furthermore, a back and forth between networking sessions and conferences aims to provide the right mix of knowledge exchange and business discussions. Participants will be able to meet with experts in the field as well as users and makers of AM technology in Aerospace in the four networking sessions that will take place between the panel discussions. Over 20 virtual stands will be displayed on multiple floors, giving attendees the opportunity to connect with some of the world's leading AM companies in Aerospace. Thanks to its simple and intuitive user interface, registrants will be able to move from floor to floor to meet the exhibitors at their virtual stands. as well as sponsors' lounges. Private tables will also be available for 1-on-1 meetings!  Finally, to conclude a full day, ADDITIV Aerospace will host a bit of fun: the event will end with an afterwork party, ADDITIV Afterwork. Here attendees can network, chat and catch up in a more casual and relaxed setting. For more information as well as the agenda of the event, you can check out the ADDITIV Aerospace website HERE.