Tufts Researchers Develop Leather Alternative Thanks to 3D Printing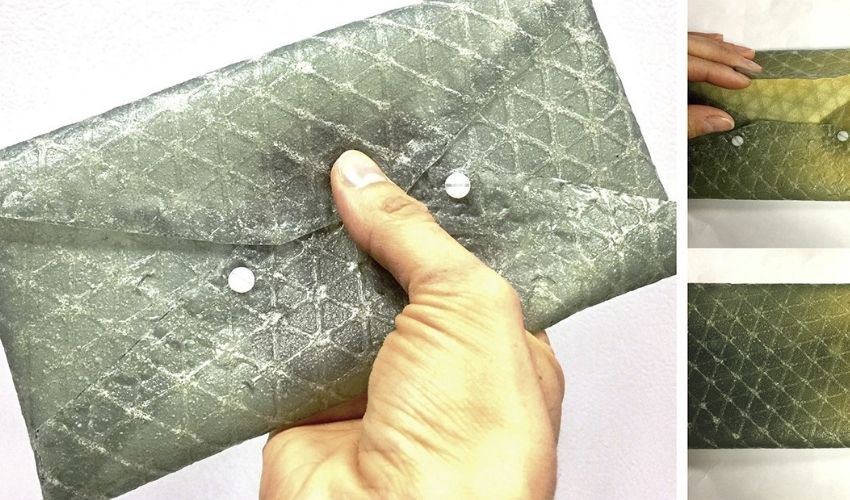 The use of 3D printing offers different advantages for different industries. The ability to produce complex geometries with a variety of materials using 3D printing is highly relevant for artists and designers, among others. It often seems as if creativity is no longer limited by the technology. Additive manufacturing processes also seem to be gaining in importance in the fashion industry. Because there is an increasing desire to set an example for ethical production methods and climate protection, interest in material alternatives and environmentally friendly manufacturing processes is on the rise. For example, 3D printing is ideally suited for reconstructing natural patterns or shapes, which can be derived into bionics. Researchers at Tufts University, for example, are using 3D printing to create animal-free products from a leather alternative that is intended to resemble real leather not only visually but also mechanically. The team has already made a wallet from the material.
Could tanning soon be a thing of the past?
The way leather is produced is not only a headache for animal rights activists. Above all, it is the harmful effects on the environment and the sometimes catastrophic working conditions that are causing both consumers and fashion labels to look for alternatives. Tanning, the process that makes animal skin durable, uses chemicals that are not only harmful to humans, but also to flora and fauna. Among the most important export countries of leather goods are China, India and Bangladesh. Countries in which there are no legal regulations regarding the use of highly toxic chemicals such as chromium salts and also no environmental regulations regarding the resulting pollution of wastewater. The scientists at the Tufts Silklab therefore want to develop a so-called silk fibroin that can be produced in an environmentally friendly way.
Although there are already some vegan leather alternatives on the market, such as pineapple leather, cork or artificial leather, which hardly differ visually from real leather, it quickly becomes clear that it is difficult to imitate the durability and flexibility that distinguish real leather. The research team at Tufts University wants to retain those same mechanical properties of leather in a leather-like material made from silk. The team has found a way to prepare the natural material in a way that makes it more durable and tear-resistant. According to Fiorenzo Omenetto, one of the study's co-authors, a Doble Professor of Engineering at Tufts School of Engineering and director of the Tufts Silklab , "Our work is centered on the use of naturally-derived materials that minimize the use of toxic chemicals while maintaining material performance so as to provide alternatives for products that are commonly and widely used today. By using silk, as well as cellulose from textile and agricultural waste and chitosan from shell-fish waste, and all the relatively gentle chemistries used to combine them, we are making progress towards this goal."
Preparation for extrusion
To ensure that the material ultimately looks like leather and can be formed into products in 3D printing, a sludge-like mass consisting of silk fibers has to be mixed with a plasticizer and a vegetable rubber thickener. The necessary strength is provided by chitosan, a sugar that is responsible for the hardness in exoskeletons of shellfish, for example. Only mild chemicals are added in the production process, which can be used in a standard laboratory environment. Thus, the scientists achieve a leather alternative is that is not only obtained from a sustainable source, but is even completely biodegradable afterwards.
Structure sizes from 0.25 to 5 millimeters
With a structure size of 0.25 mm to 5 mm, the material is said to be suitable for printing any geometry, and with some modification, it can also achieve different flexibilities and opacities. To date, a custom-built pneumatic extrusion 3D printer has been used to manufacture products. This consists of a 3-axis CNC gantry, a 1m x 1m print bed and a Nordson EFD ValveMate dispense valve controller. Tufts University is optimistic that it is getting closer to its goal of creating a sustainable leather alternative, and plans are already underway to further develop the process and manufacture additional products.
You can find more information about the project HERE. What did you think of the use of 3D printing to make this leather alternative? Let us know in a comment below or on our Facebook, Twitter and LinkedIn pages! Sign up for our free weekly Newsletter here, the latest 3D printing news straight to your inbox!