#3DStartup: TRIDITIVE facilitates mass production with 3D printing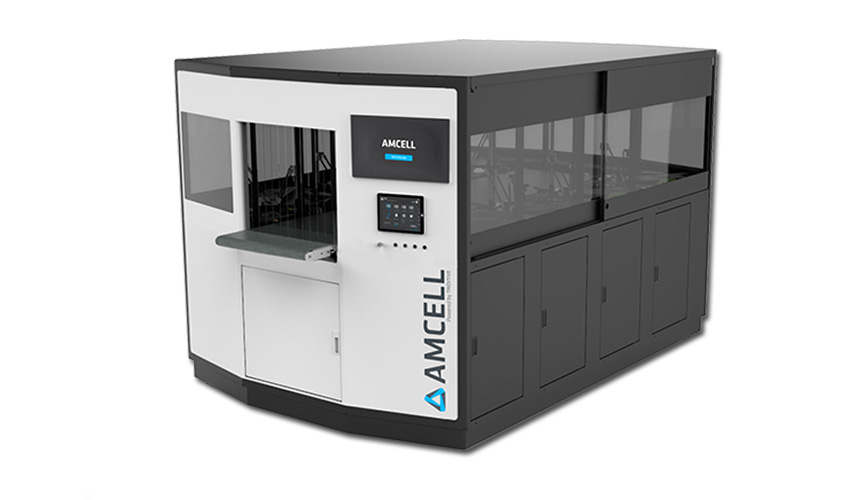 TRIDITIVE, based in Spain and founded in 2013 is an additive manufacturing center for serial mass production in metal and technical materials. In its beginnings, the company focused mainly on training related to FFF technologies and the development of DIY 3D printers. Given their early beginnings in 3D printing, the team saw a great opportunity in the AM industry. This is how they came to create their additive manufacturing solution AMCELL, which they presented to the world  in 2018. AMCELL is a modular machine designed for mass production, capable of producing with different materials at the same time, therefore increasing the workflow significantly.
Thanks to the development of their technology, for both hardware and software, TRIDITIVE has been propelled to the international market, which is why they have been selected as our #3DStartup of the month. We spoke to Mariel Diaz, Founder and CEO of the company that hopes to revolutionize manufacturing with 3D printing technologies to learn more!
3DN: Could you introduce yourself and tell us about your first approach to 3D printing?
My name is Mariel Díaz, my first contact with 3D printing was at the Engineering School of Gijón at the University of Oviedo when I was studying mechanical engineering. In a project where I had to design components I began to investigate the mechanisms, electronics and software for different types of 3D printers, and I began to design my 3D printer models and train in 3D printing by travelling around Europe in different institutes and research centres.
3DN: How did the idea of creating TRIDITIVE come about and what were the initial goals of the startup?
TRIDITIVE arose as a need to facilitate the industry's adoption of additive manufacturing for metals and polymers in large series. So far additive manufacturing is used in prototyping or focuses on very specific sectors such as aerospace or the medical sector, where the cost of parts completely limits the use of technology to other sectors, and additive manufacturing is already technologically mature to enter these sectors. The advantages of additive manufacturing are there, but it is not yet used for mass production due to various factors such as the cost of machinery, the need to train operators in a new technology, the speed of manufacture and the high final cost per piece. TRIDITIVE focuses on these factors to make the adoption of additive manufacturing a simple step for the manufacturing industry.
3DN: Can you tell us what your AMCELL solution consists of and what are its benefits for the industry?
AMCELL consists of a series of production modules that can be scaled according to the manufacturing needs of each company. AMCELL modules are automated to allow 24/7 serial production. With AMD technology (Automated Multimaterial Deposition), AMCELL can print metals through a process similar to MIM FDM, where we manufacture by extrusion of material what is known as a "green part" which then goes through a sintering process to obtain a 100% metallic part with high surface quality and mechanical strength. In this way we have managed to manufacture large series at a very economical cost, we have reduced up to 10 times the cost of mass production with 3D printing. Additionally AMCELL incorporates a Binder Jetting module for metals which brings great flexibility to the production process.
If we want to introduce additive manufacturing within industry 4.0, much more is needed than hardware, that is why we have simultaneously developed EVAM, a platform to control additive manufacturing from beginning to end, where we can not only monitor, but also control the entire manufacturing process, without the need for any type of integration between hardware and software from different manufacturers, everything is done and ready to work.
3DN: What other projects related to additive manufacturing are currently under development?
We've had a busy year internationally. We spent 3 months (March to June) in Barnsley, in the north of the United Kingdom, where we were part of the IoT "IoT Tribe" company acceleration program, developed in the DMC (Digital Media Center), there we had the opportunity to open new offices. With our CTO, Sergio Martinez, we developed and integrated machine learning and IoT in our control software and automation of additive manufacturing.
We are currently located in Hartford, Connecticut, where we have also opened offices. We were selected in the recognized accelerator, Techstars. This is a very important step for us, as only 1% of the companies that apply to Techstars are selected, so we are very proud to have the opportunity to develop and accelerate our technology in this environment. We have been in Hartford since July, and we maintain our factory and our Gijon headquarters activity. Techstars, in addition to being TRIDITIVE's investment partner, gives us the possibility to access a worldwide network of mentors, investors, entrepreneurs, and above all to develop a business model with global impact.
At the same time, thanks to the award we recently received, "Emprendedor XXI" from la Caixa, we were able to visit Silicon Valley and access ESADE's "Moonshoot Thinking" programme, which has given us a vision of Palo Alto's entrepreneurial ecosystem, and above all, change the "chip", think big, which is the way to create disruptive technology companies. Currently, our main focus is to generate innovative technologies for our manufacturing platform and for our software.
3DN: Where do you see TRIDITIVE in the next ten years?
We hope that TRIDITIVE will be a benchmark in automated metal and polymer additive  manufacturing for large volumes of production, implementing additive mass production in the industry is our main objective, to be the manufacturer of the automated manufacturing platform benchmark in the international market.
3DN: Do you have any last words for our readers?
Additive manufacturing is a technology that has come to stay and will be part of the manufacturing processes of companies. Companies that adopt this technology in the first place will be much more competitive, especially those that adopt additive technologies that allow rapid adoption on the production line without the need for a large initial investment. You can find more information about our technology in the following video or on our website HERE.
What do you think of TRDITIVE's mission? Let us know in a comment below or on our Facebook and Twitter pages! And remember to sign up for our free weekly Newsletter, to get all the latest news in 3D printing send straight to your inbox!