Tree Column, Blast Studio's Column 3D Printed Out of Mycelium and Waste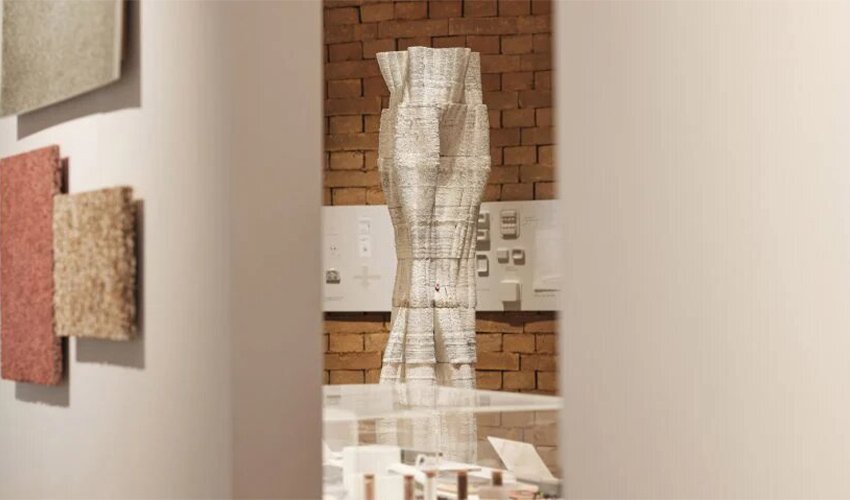 While we are used to seeing 3D printing associated with plastic and metal, more and more initiatives are combining the technology with natural materials. London-based design studio Blast Studio recently developed a 3D printing method using mycelium, also sometimes called shiro, which is an underground network of fungal threads or hyphae. Using its additive manufacturing process, Blast Studio has designed a column called "Tree Column". The name is derived from its ridged and wavy structure, which is reminiscent of tree trunks.
Measuring more than two meters high, "Tree Column" provides the necessary strength and growing conditions for mycelium. With this project, the studio aims to provide both a structure capable of growing edible mushrooms but also able to be a part of constructions. Paola Garnousset, co-founder of Blast Studio, explains the designers' motivation: "Our vision is to start a new type of living architecture that could self-repair and be harvested to feed people. The idea would be to 3D print a living structure in situ, which would be inoculated with different varieties of mushrooms, some with high structural resistance and some delicious ones."
Creating The Tree Column
In order to design "Tree Column", Blast Studio didn't just use mycelium. The British designers first harvested used coffee cups from the streets of London, then mixed them with the mushroom spawn. In addition, to allow the mushrooms to grow, the artists incorporated paper into their bio-material. Once this step was complete, they then used a 3D printer based on extrusion technology to build the column. To do so, they printed 10 individual modules and then assembled them, ultimately resulting in "Tree Column."
One of the main attractions of the structure is its ability to provide mushrooms as well as to be used as a part of "living architecture" so to speak. Once the mushrooms have grown and been harvested, the column can be dried at a high temperature so that it solidifies and becomes a building element. For those who would like to see "The Tree Column" for themselves, it is temporarily on display at the Design Museum in London as part of the Waste Age exhibition. You can find out more about the project HERE.
What do you think of the Tree Columb from Blast Studio? Let us know in a comment below or on our Linkedin, Facebook, and Twitter pages! Don't forget to sign up for our free weekly Newsletter here, the latest 3D printing news straight to your inbox! You can also find all our videos on our YouTube channel.