How to choose the right training in 3D printing: Experts give their advice!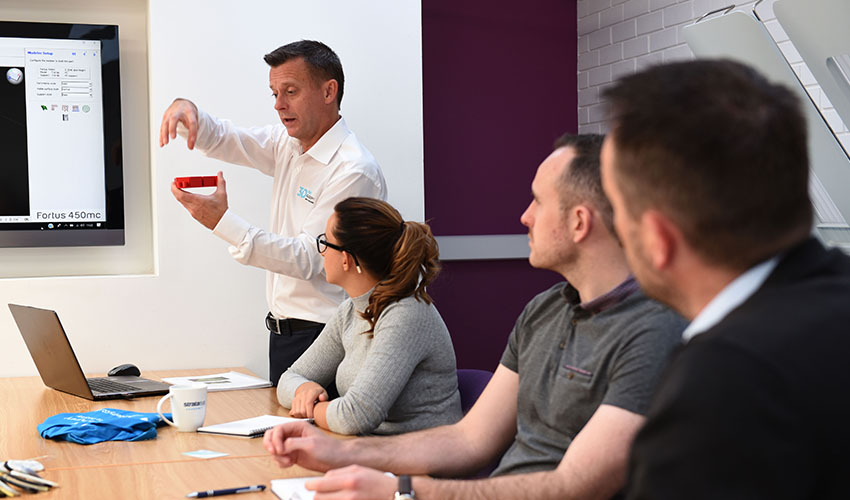 Additive manufacturing has become an essential technology, a production method adopted by more and more companies, from large groups, startups to SMEs. Its use requires some knowledge, whether in modeling, knowledge of the machine itself, materials, applications, etc. This is why it has become important to find the right training in 3D printing – several companies, organizations and colleges offer courses to teach key knowledge and allow all types of profiles to develop these skills. We've asked three experts in additive manufacturing for advice to help you choose the right option. 
Our first expert is Professor John Hart, Director of MIT's Center for Additive and Digital Advanced Production Technologies, and full time Professor in the Department of Mechanical Engineering. In 2018, his team launched MIT's Additive Manufacturing for Innovative Design and Production, it is one of the leading professional online programs for AM on the market. Our second expert is Rob Lent, VP and cofounder of Vision Miner. The company's mission is to help others reach their full potential in functional additive manufacturing by empowering  and equipping the future leaders of this field. Vision Miner offers 3D printing services, consultation and training – they have put in place one-on-one packages tailored for your needs and level of experience. Last but not least, our third expert is Alex Bordino, Autodesk Inventor Certified Professional, and Accredited Stratasys Additive Manufacturing consultant working for 3D Print Academy, based in the UK. The academy empowers design and engineering companies to design better, faster and more efficiently with first class Autodesk and Additive Manufacturing training and consultancy.
Professor John Hart
Robert Lent
Alex Bordino
What are the different options for someone who wants to learn how to use 3D printing? 
Today, knowledge is one of the greatest barriers to adoption of additive manufacturing at scale. On top of this, it is not always easy to choose the right program for the first time. This is because there is a large variety of courses on the market. Some target those who wish to learn the basics of the technology, whilst others target those interested in a professional certification program. Professor John Hart at MIT explains, "Selecting the right course for you will require you to harmonize your personal learning objectives with the content approach, hands-on opportunities, and cost-benefit of any program you evaluate." This is an essential step in choosing the right training for you. 
For those who have no experience in additive manufacturing, there are different ways to go about learning. For example, those who wish to introduce the technology to their business but are unwilling to invest thousands of dollars can be tempted by some more practical options. Rob Lent told us: "You can pick up a $200 printer. We recommend this over more expensive beginner machines, because you will be forced to learn how it works, put it together, and you'll actually understand the technology, before moving into the big leagues. Most open-filament machines require basic maintenance, and you need to be familiar with slicing software. Buying a machine that "just works" with PLA won't teach you what you need to know for higher-end materials, so we recommend you get something cheap, which you build yourself, to really get the basics. That will prepare you for tuning the more advanced materials, and fixing basic issues like clogged nozzles and bed leveling."
Our expert at 3D Printing Academy, Alexander Bordino advises that a complete beginner can start by learning the process, material and design prior to starting the print. There are many resources and courses online for this purpose. "The print technology that you adopt will dramatically influence the outcome and design constraints that must be adhered to in order to get successful parts for your chosen application. In September 2019, we are looking to launch our brand new IAM course (intro to Additive Manufacturing), ideally suited to novice users or businesses early in the explorative stages of additive technologies." 
Of course, some programs in additive manufacturing are far more advanced, Professor John Hart details some of the options available for those interested in industrial applications, coming from colleges: "AM as an industrial process goes far beyond desktop polymer equipment that you may have in your office or workshop, and its implications extend to all aspects of the product lifecycle. Here, professionals looking to use or deploy AM in a professional setting – from functional prototypes for performance goods to custom jigs or fixtures for an assembly task – are better served by a professional program like MIT's, or other quality programs available both online (e.g. Purdue's "Online Additive Manufacturing Certification" led by Dr. John Barnes) and hands-on (e.g. Penn State University's "Additive Manufacturing and Design" Master's Program, led by Prof. Tim Simpson)."
Why is it beneficial to undertake a program or training in 3D printing?
Our three experts agree that additive manufacturing is widely applicable to industry for many uses, which means there is growing demand for trained personnel. At the same time, there is still a lack of trained personnel that can deliver the knowledge. "Expert technology users are few- and far-between, and are valuable assets to any organization. An AM professional certification can demonstrate to prospective and current employers a degree of competency in the language and the practice of AM, and is proven to enable professionals to lead new programs and initiatives using AM", explains Professor John Hart. 
Rob Lent at Vision Miner adds: "Rapid iteration and in-house production offer significant cost-savings to most businesses. If you can learn and master the processes and provide that value, you'll be desirable in almost any industry. Working knowledge of 3D modeling programs will also help massively, as you can design parts specifically for the different 3D printing processes." 
Undoubtedly, it is also a technology that is still developing and changing rapidly, which means there is always more to learn. "It's one of the hottest topics in the engineering world at the moment with new innovations, applications and materials being created and tested. Every day we hear how 3D printing is changing the world in a variety of sectors from aerospace to medical. Completing an academy course will give delegates the confidence to know what technology they need to adopt to suit their business needs. We have everyone from MD's to tool engineers coming on our courses, and there is no industry sector where we haven't seen additive manufacturing not have a positive impact." explains Alex Bordino. 
Any specific advice to succeed in your training ? 
One encouraging fact is that people do not need much, if any knowledge of the technology to get started. Of course, a basic understanding of manufacturing processes is important to identifying where and how AM may make sense to replace or augment an existing manufacturing workflow. Moreover, some skills in CAD software can help you reconcile the organic, complex shapes produced by generative design and topology optimization programs with more accessible, manufacturing-ready geometries. 
Rob Lent adds: "We have witnessed people that have gone from knowing ZERO to becoming extremely  proficient in a matter of months. If you're willing to dive in head first and learn through trial and error, then there is no reason anyone can't become an expert after some time. The basics are available, and provide an excellent foundation, but once you pick a process, specialized training is most effective for shortening the learning curve. Working with experts in your specific application is always the best choice, and that's in just about everything – whether it's manufacturing, music, or martial arts, learning directly from a master is always the best choice."
For more advanced programs like the one at MIT, Professor John Hart explains "There is no singular profile. The plurality of our learners have more than 15 years of work experience, but still roughly a quarter of them are very early in their professional careers (1 to 3 years). More importantly, I can say that the "best" learners – those that are, anecdotally, most likely to succeed in the program and use the knowledge gained to lead exciting AM implementation efforts – are those that are palpably excited about the technology. These bright individuals constantly ask important questions, take it upon themselves to learn more, and share back the most exciting results." 
You can find more information on these specific programs on the following websites:
Vision Miner
MIT Center for Additive and Digital Advanced Production Technologies
3D Print Academy
Was this expert advice useful? Let us know in a comment below or on our Facebook and Twitter pages if the listing above was useful! Don't forget to sign up for our free weekly Newsletter, with all the latest news in 3D printing delivered straight to your inbox!