#TOP5 Videos: cat can walk again thanks to 3D printing, 3D printed collarbone and more!
---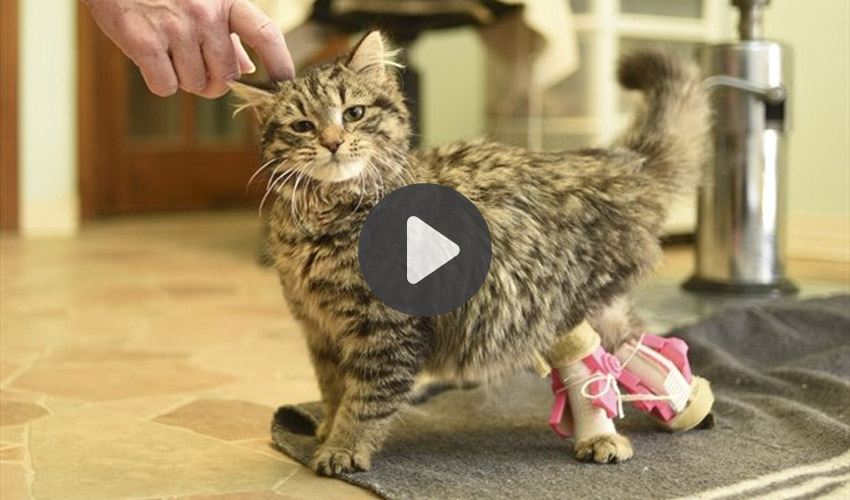 We found the TOP 5 videos of the week about 3D printing and the way additive manufacturing is shaping and changing our society. This week we touch on Carly, the cat that can walk again thanks to 3D printing, 3D printed collarbone and much more! If you enjoy these, you can view even more 3D printing videos on our Youtube channel.  Hope you'll enjoy and have a great Sunday!
Top 1: Cat can now walk thanks to 3D printing
Two brothers from Guelph, Ontario have made custom leg braces for Carly the cat with their 3D printer. The cat has a condition that weakens her hind legs, making very hard for her to walk around. A social media campaign to put Carl for adoption ended up changing her life. Find out more in the following video:
Top 2: Two Duke football players used 3D printing to help their quarterback
Clark Bullet and Kevin Gesmann, Duke senior engineering students, join 'The Exchange' to discuss how they got Duke University quarterback Daniel Jones back on the field after he broke his collarbone. This is not the first time 3D printing has been used for medical applications. This field of applications is growing as the technology is developing and hopefully many more fractures will be treated with the use of additive manufacturing in the future. Find out more in the video below!

Top 3: BASF uses 3D-printed parts at site facilities
The German chemical company, BASF is adapting its traditional designs to additive manufacturing designs. It has allowed the company  to 3D print parts in a very short time and increase efficiency of the whole chemical process. Felix Volkmann, Design Engineer at BASF explains in the following video the opportunities of AM for spare parts printing and optimisation of parts. Check it out!
Top 4: Additively manufacturing titanium watch straps
Uniform Wares partner with Betatype to explore the advantages of 3D technologies by pushing the boundaries of an industry centred around heritage. The results of which led to the production of a superior quality additively manufactured titanium watch strap for their 2019 collection. Working closely to develop a mesh strap stronger and lighter than ever before, whilst overcoming time limitations faced by more traditional methods, 3D printing seems to be the way to go. Find out more in the video below!
Top 5: US Army is investing in 3D printing
The US Army is investing in 3D printing for soldiers needing replacement reliable and ultra strong metal parts. As explained in the following video, additive manufacturing should revolutionise logistics and have a huge impact on sustainment. Potentially, instead of having to carry all the equipment necessary, it could be enough to have the materials and the printer to make any spares needed. We covered in more detail the U.S. Army Combat Capabilities Development Command Research Laboratory's new research early this week. Check it out the following video to learn more!
What did you think of this week's #TOP5 videos? Drop a comment below or on our Facebook and Twitter pages! And don't forget to sign up to our free weekly Newsletter to keep updated on all the latest news in the 3D industry coming straight to your inbox!

---
You may also like