#TOP5 videos: A 3D printed house and much more!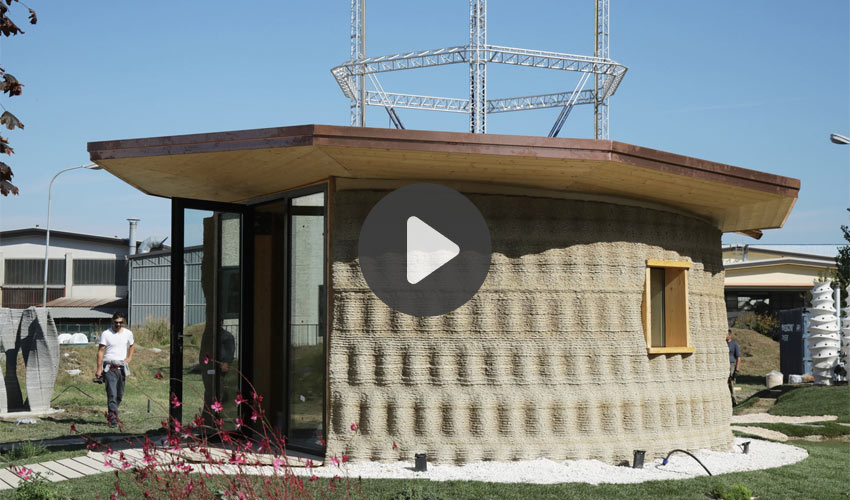 We found the TOP 5 videos of the week related to 3D printing and collected the additive manufacturing here. You can enjoy even more 3D printing videos on the our Youtube channel, as well as share your videos and comment on the article below or on the 3Dnatives' Facebook or Twitter account. Hope you'll enjoy and have a great Sunday!
Top 1: A 3D printed house
In recent years, the Italian manufacturer WASP has been offering environmentally friendly alternatives for when building a 3D printed house. This by using local materials and additive manufacturing methods. They recently introduced Gaia, a 3D printed house made from earth and rice. The objective was to use raw materials found locally and give them some added value. After 100 hours of printing and 27 kilometers of extrusion, the team got a 3D printed house of 9 cubic meters.
Top 2: 3D technologies accelerate construction
As you know, additive manufacturing has become an important part of the medical industry, offering great opportunities for customisation, time and cost. The company PrinterPrezz has understood this and has equipped itself with several 3D printers including Carbon machines to manufacture more prototypes and medical devices in less time. The American company also places an important place in the education of young engineers and doctors and provides them with a solid training program.
Top 3: 3D print vs. security
What if you could deceive the security of your phone? The experiment conducted by Forbes is quite interesting: Thomas Brewster wanted to test the facial recognition system of several smartphones. So he 3D printed a model of his head that he placed in front of the cameras of each phone. It seems that only the LG and the iPhone have spend the resources securing the phones properly.
Top 4: 3D printed car parts
Techniplas uses additive manufacturing technologies to transform transportation. It offers innovative products like this connected car to enhance the user experience and drive innovation to a new level. It combines additive manufacturing and cognitive technologies; the results are very promising.
Top 5: Ceramic 3D printing
HAGE3D is one of Europes leading companies in industrial 3D printing. They participated in the project: cerAMfacturing working with the additive manufacturing of ceramic parts. As we have spoken about earlier and area of which Canon has moved into as well. This project however is focused on enabling new ways for serial production of 3D printed consumer goods and medical product to be made of ceramics.
Did you like this weeks TOP 5 videos with a 3D printed house, how 3D printing can cheat facial recognition and so on? You can also see more videos on our Youtube channel or drop a comment below or on our Facebook and Twitter page. And don't forget to sign up to our free weekly Newsletter to keep updated on all the latest news in the 3D industry coming straight to your inbox!