Top 12 Halloween 3D prints!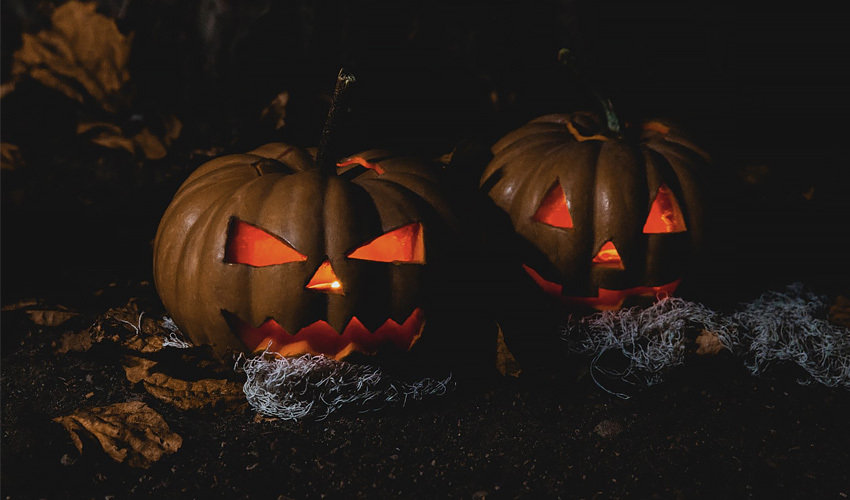 We are in October and Halloween is creeping in on us. The season is full of incredible costumes and unnerving decorations. So how can 3D printing help take it all up a nudge? We checked up on some of the halloween 3D prints to see what's out there. Keeping it simple and straight forward for you to test out.
We have previously covered 3D printed halloween masks. This time around we have collected a list consisting of the must-haves for any halloween, cool, little details and items to bring more of a creep factor to it all. Take a closer look at some cool and creepy Halloween 3D prints to help bring your celebration to the next level.
Night King Mask and Bust
If you are a fan of Game of Thrones, this mask is perfect for you. One of the most emblematic characters of the HBO series is Night King, with his characteristic icy skin. Thanks to 3D printing, you can reproduce the character's mask and bust! You can download the 3D model here.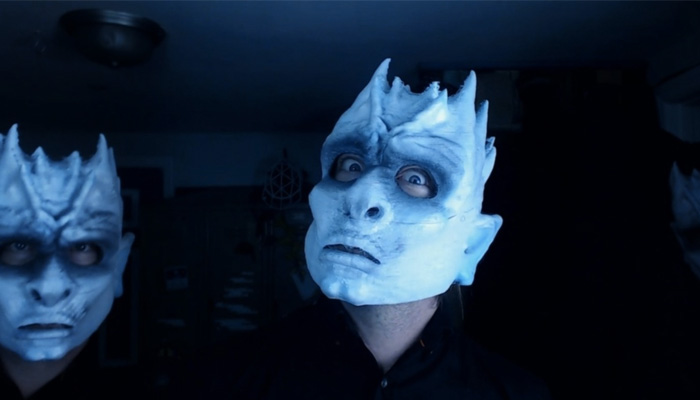 Scary Mask
This mask was developed by the Spanish artist Shira, and was 3D printed with a DiwoBQ machine. The mask can be 3D printed in two parts, and then connected with an elastic band that allows the jaw to move! This original idea will  make your costume a success. You can download the 3D model here.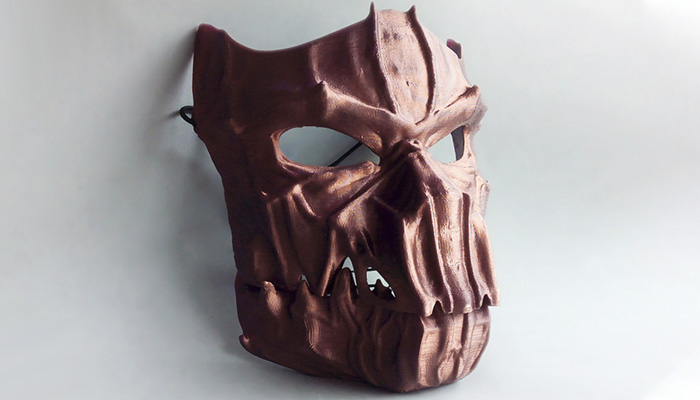 The Paper House Mask
Have you watched The Paper House before? Launched a few years ago, this series is a source of inspiration for Halloween. With the help of 3D printing, it is now possible to reproduce the famous mask of the painter Dali, used by the characters in the series. You can download the 3D model here.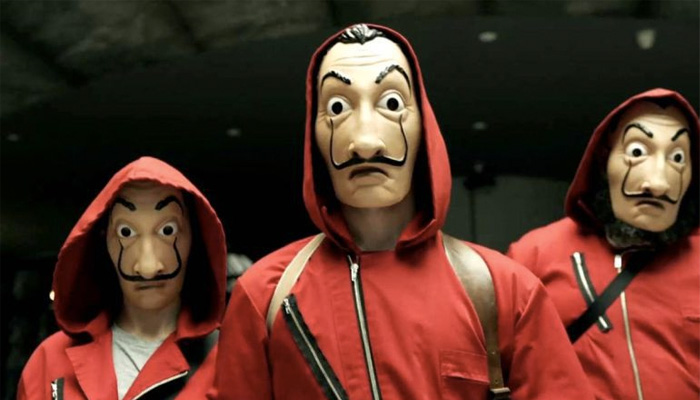 A Joker Mask
Designer Eddie Cristiano did some research on the internet and found that there were very few realistic masks with a good Joker finish. So he decided to create his own mask using the software Zbrush and later Simplify 3D. This is certainly a very original idea! You can download the 3D model here.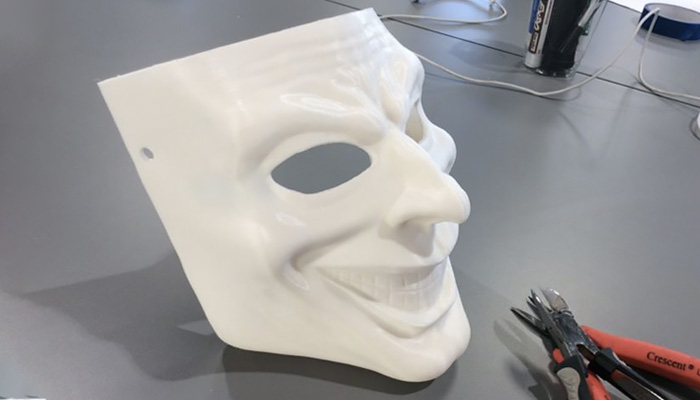 Giant Spiders
If there is one most people are scared of that is spiders! These hairy insects are a must in any Halloween situation. Whether larger or small, the long-legged spider can scare most. The good thing about this model is that you only have to print the parts separately and put them together to get the original decoration. You can download the 3D model here.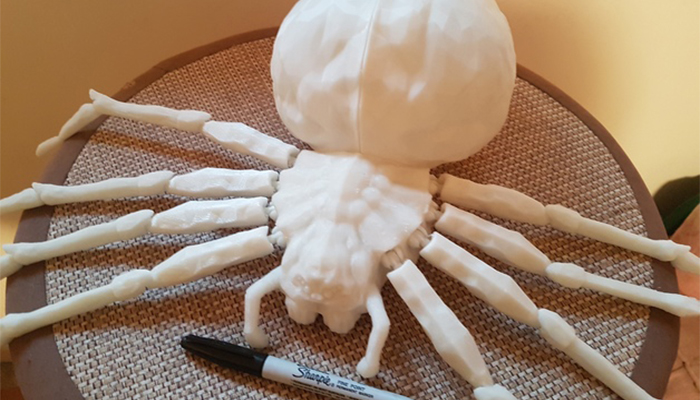 Reaching Wall Hands
This spooky decoration is definitely a real eye-catcher, whether it's on the wall of your Halloween party or on the front door, to scare visitors away. The best thing about the decoration is that you can easily make it yourself with a 3D printer. This allows you to print your hands without padding, making them light enough to hang on the wall. In addition, you can leave a space at the bottom so that you can easily hang them from a nail. You can download the 3D model here.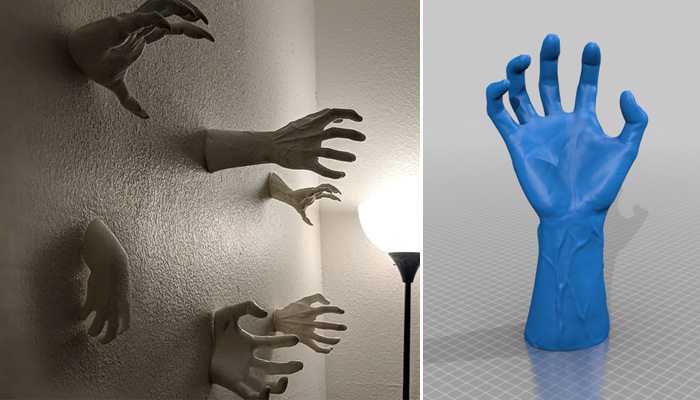 Frankenstein
Frankenstein is probably one of the most famous monsters in literature. He became an icon of popular culture and has appeared in various media such as films, television series, merchandise and video games. Now you can easily 3D print your own Frankenstein monster. In this example, you can even separate the brain from the bust, so that it not only serves as a decoration, but can also be used as a bowl for sweets and candies! You can download the 3D model here.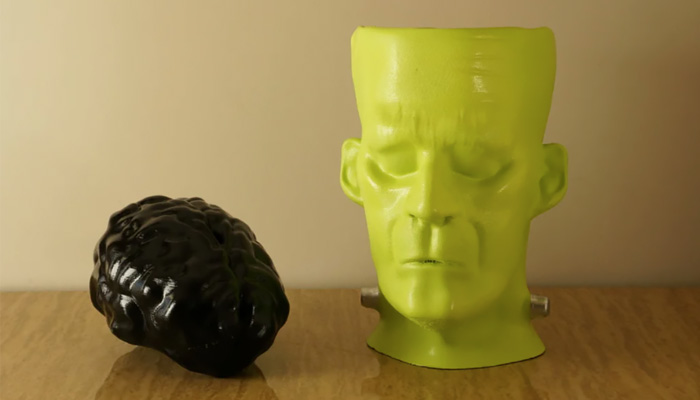 A Ghost Bat
Bats can often be a little scary to humans, as they live in dark caves, and can mostly be seen at night. With multiple loops along the bats' spine and wings, you can hang it in multiple orientations. All you need is a push pin and some fishing line. You can download the 3D model here.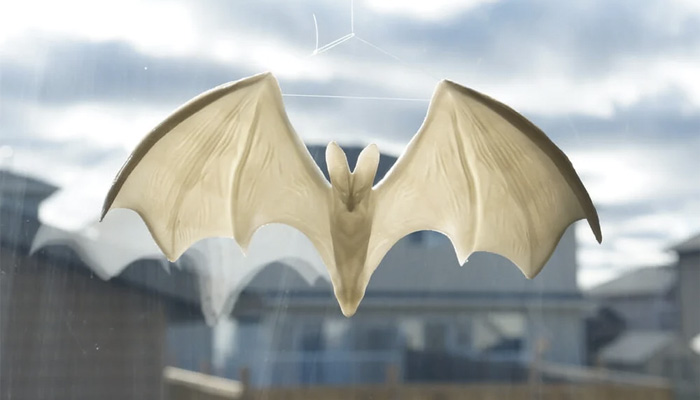 The Skull Bowl
Skulls are a must-have during Halloween! The following skull also serves as a bowl, so it is practical too for Halloween night! If you own a 3D printer at home you can start making this bowl. You can download the 3D model here.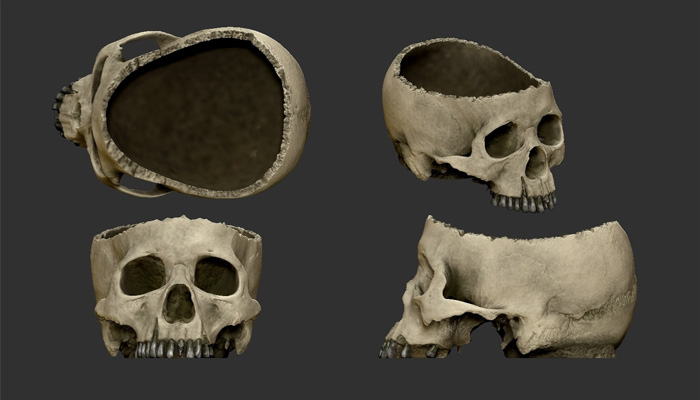 Cookie Cutters
Baking cookies for Halloween is always a good idea. However, originality should not be overlooked on a day like this. These are some of the cookie cutters that you can 3D print from home. Besides the cat and witch shape, there are many other models you can create with your 3D printer. You can download the 3D model here.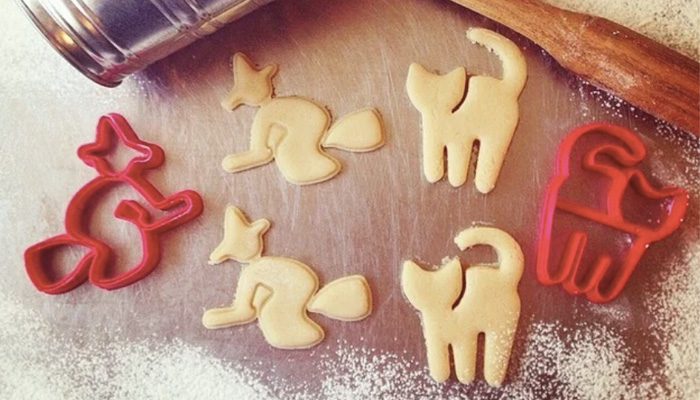 Bloody Axe
When it comes to Halloween costumes and accessories, a simple axe can be used in several ways. Whether you are dressing up as a fireman or any film character, this accessory can be modified to suit your needs and, in this case, your costume. It may take a little more work to make this axe with 3D printing, but it's definitely a good choice for Halloween night. You can download the 3D model here.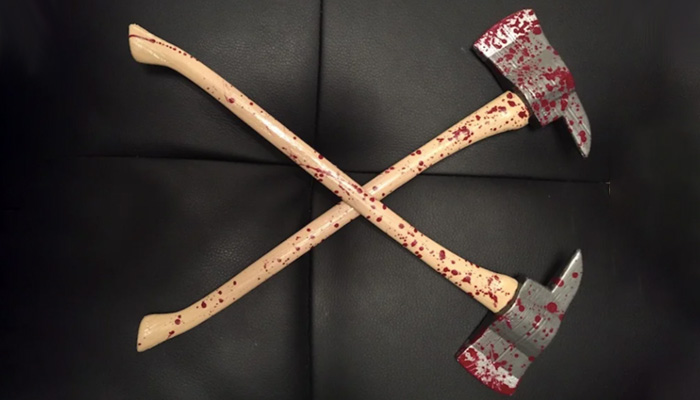 Rings for Halloween
Do you have your Halloween costume in mind but don't know how to put the finishing touches on it? On Cults3D there are many models of rings that you can 3D and that have a very original and scary design. From skulls to pumpkins, these rings are easy to make and can be the icing on the cake of your costume. Don't forget to take into account your finger size when making these rings! You can download model 1, model 2 and model 3.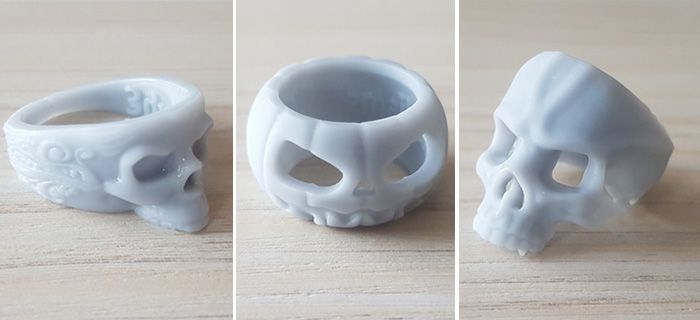 What do you think of the Halloween 3D prints, anything you would add? Let us know in a comment below or on our Facebook and Twitter pages! And remember to sign up for our free weekly Newsletter, to get all the latest news in 3D printing send straight to your inbox!