Our Top 10 Free Halloween 3D Prints For Your Spooky Celebrations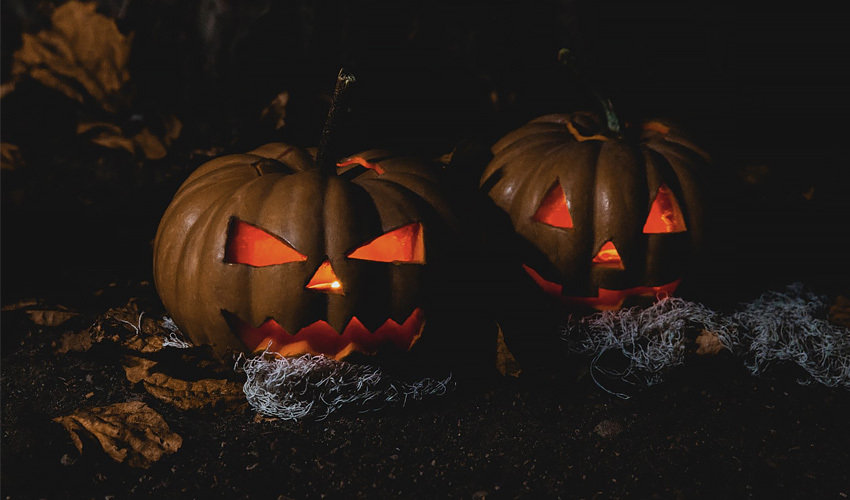 With Halloween coming up, we wanted to add a festive theme to our 3D printing content! We have collated a list of our favorite Halloween files to allow you to print your own little creations at home. Even better, all these files are free and accessible. From pumpkins to fun witch hat earrings, we've got something for everyone so keep reading! (And let us know in our comments, on Twitter or Facebook what you decide to make!!)
A Halloween Ghost to Get Into the Holiday Spirit
Get ready, because this spooky cute ghost will definitely improve your Halloween decorations! The file created by creator Yugeshsandhi, which is available in OBJ and STL formats, includes a ghost that has a perfect topology and at the same time also displays a high resolution of the polygons. Unfortunately, it is not known what height the ghost has and what material it was printed with. You can find this perfect addition to your Halloween decorations for free download on Cults3D.
A Pumpkin-Shaped Candy Dispenser for Trick-or-Treaters
You all know the famous phrase "trick or treat?" As you know, Halloween and candy go together perfectly. For the occasion, we suggest you make your own pumpkin-shaped 3D candy dispenser. What could be better than having access to pure sweetness without getting up? The process is simple, a switch is placed on the head of the pumpkin. Inside the pumpkin are the candies you put inside. To retrieve one, you just press the switch and you can enjoy your candy. A device is set up to slide the candy out of the pumpkin's mouth. To learn how to make this pumpkin, watch the video below. Candy Pumpkin by user ByCtrlDesign on cults3D is licensed under CC BY-NC-SA 4.0.
Coasters for a Friendly Celebration
For Halloween night you may be thinking of organizing a party at home with friends, family, so we will help you with the decoration with the next of our 3D prints on the list. You can print this coaster or table decor for a spooky dinner. You can also cut out these printed figures or even let your children free rein to paint it with markers, put it in the window…just a few of the ideas of what you can do with this design after you have printed it in stl format. Enjoy the scariest night of the year!
Witch Hat Earrings For Halloween Costume 3D Print Ideas
These 3D printed earrings are cute and easy to make. The shape is really well made and gives the feeling of a real hat! Author Desktop Makes designed the model with Fusion 360 software and printed the witch hats with MakerBot Replicator 2 printer, without supports. The stl file can be found on Pinshape. A great idea for a Halloween-themed gift!
A Twist Lock Coffin to Store Your Halloween Treats
When it comes to Halloween décor, what could be spookier than a coffin, especially one decorated with a skull. Well thanks to this next free file from 3D Printy that is available on Printables, users can 3D print their very own coffin shaped box with a hidden latching mechanism (unlocking when through the twisting top section) to store all their Halloween candy. According to the creator, when printing you can choose between either a plain or tapered base design as well as 5 topper designs (plain, skull, scratch, skull and scratch, spider). No supports are needed if all the parts are properly aligned though assembly will be needed at the end. Additionally, please note that it is important to glue the spring and topper because if they are not properly secured, the mechanism may come apart while in a locked state. Twist Lock Coffin  by user 3D Printy on Printables is licensed under CC BY 4.0.
A Useful Keychain for Your Shopping
The following 3D model, besides being very original, is also useful when doing your pre-Halloween shopping. Designed and published by the anonymous user "by ctrl design", this keychain may seem simple at first glance. However, behind the ghost figure is a piece that is intended to simulate the shape of a coin. This way, you can always carry it with you in your set of keys and take it out in the supermarket to put the coin in the shopping cart. In addition, its original ghost shape makes it ideal for spooky season. You can find the STL file below.
Reaching Wall Hands For Some Spooky Halloween 3D Prints
This design comes with four files, each a different size hand. Take your pick from 'Baby', 'Creepy', 'Devil' or 'Short', or combine all four for maximum spookiness! These hands can be printed with 0% infill; the hollowness makes them very lightweight and therefore ideal for wall mounting. Each one also features cutouts to attach to a pin. If you want to see proof before you try it for yourself, the webpage features 58 makes and 9 remixes (where a user has modified the original for their own use). 
Halloween Pikachu 3D Printed Figurine
Are you still looking for Pokemon? We present to you a kind of Pikachu that could not be rarer! With this 3D printing file made available on Thingiverse, it's a Halloween Pikachu that, together with broom, vicious pumpkin and hat, is just waiting to be allowed to expand your Halloween decorations. This Pikachu is an interplay of different files from different Creators. Creator Jay Mulligan – also known as JayMull420 – combined the files of the Witch's Hat, the Broom, the Pikachu and the Pumpkin. If you too want to add Pikachu to your Halloween decorations, you can find the STL file HERE.
Halloween Decorations and Accessory 3D Prints
Want to decorate your home with wall sculptures or get Halloween accessories? It is now possible: thanks to 3D printing, you can create this totem easily. Depending on the printer you have and the size of the printing plate, the dimensions of your decorations, keychains or pendants can vary. Invite your friends over and thrill them with a collection of Halloween-themed 3D models. Pumpkins, bats or witches, all the elements are gathered to spend October 31st in the best conditions. If you want even more decor, the creator has several designs, all for just 50 cents USD each!
Glowing Skull Lamp to Decorate Your Home for Halloween
If you want something fun to create pretty light patterns, try out this skull lamp! The printed design was made using Meshmixer and sliced using Makeware. The creator suggests printing in PLA. The design features an open bottom, allowing you to add a small candle such as a tealight (you could also use an LED candle for a fire-safe choice). Either option will produce spooky shadows due to the patterned skull! Check out the picture to see how this could look, and download the free stl files if you fancy giving it a go. 
Remixed from Skull Playset by user faberdasher. Halloween Skull Lamps by user Mingshuian on Thingiverse is licensed under CC BY-SA 4.0.
What do you think of the Halloween 3D prints for 2022? Anything you would add? Let us know in a comment below or on our Facebook and Twitter pages! And remember to sign up for our free weekly Newsletter, to get all the latest news in 3D printing send straight to your inbox!