Top 5 Videos: University of Michigan Reduces Warping in Metal 3D Printing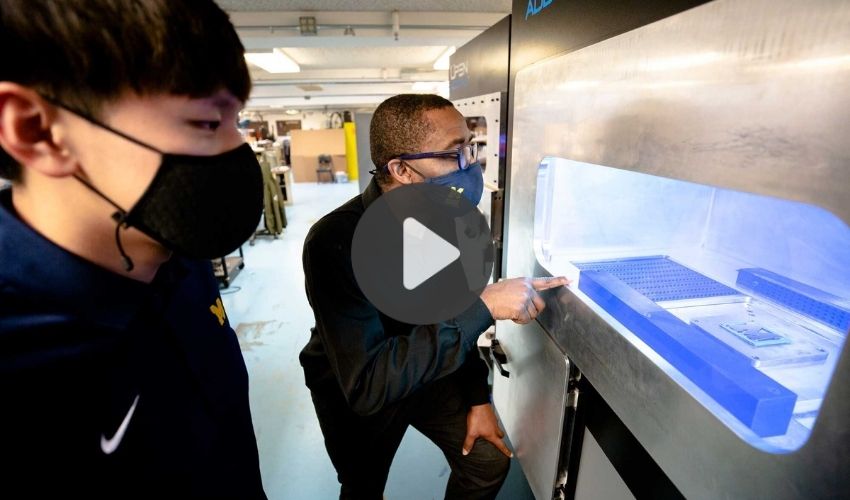 While, you spend time with families over the holiday weekend, we at 3Dnatives are sharing with you, as with every week, some of the top 3D printing videos that we found. Start off, we have a video from the University of Michigan where researchers have developed a software to reduce warping in metal 3D printing. Next, an interview with FabRx to talk more about 3D printed medicine, how 3D printed drugs work and what's coming next in the field. Then, check out an anatomically correct heart printed using TPU and a BCN3D FDM printer. Ranking at top 4 on our list, celebrate Easter with Flashforge! In a video, the company shows how you can use their printers to make a "surprise Easter egg" just in time for the holiday. Finally, finish of the week with a look at the partnership between Markforged and Vestas. Happy Easter and Happy Sunday!
Top 1: University of Michigan Develops Software to Reduce Warping in Metal 3D Printing
Warping is one of the biggest concerns for users of metal 3D printing methods, including LPBF. Considering the fact that many of the applications for metal 3D printing centers on industries with high industries including, but certainly not limited to, aerospace, automoative and biomedical, many are working to solve this issue in order to ensure that parts made are still usable. Now University of Michigan researchers have unveiled their own project. Led by Chinedum Okwudire, Associate Professor of Mechanical Engineering, the team has developed a thermal-model-based software that direct printer lasers on the optimal scanning sequence to reduce warpage. Check out more in the video below:
Top 2: FabRx is Developing Personalized 3D Printed Medicine
In our latest 3D Interview, we sat down with Alvaro Goyanes, Co-Founder & CEO of FaBRX, to discuss drug printing technologies and their importance for the future of medicine. 3D printed medicine is becoming increasingly popular as it provides a way to create completely personalized drugs which could revolutionize healthcare, especially for those with complicated conditions. Alvaro told us more about how it works as well as about FabRx's current project.
Top 3: An Anatomically Correct Heart From BCN3D
One of the increasingly common applications that we are seeing for 3D printing in healthcare is the creation of anatomically accurate part to help students and surgeons study before complicated procedures. However did you know that it was possible to make one out of TPU and using an FDM 3D printer? BCN3D shows the capabilities of printers in the video below. Using thermoplastic polyurethane (95 A TPU) and BVOH for the supports, they print a heart where you can clearly see all the ventricles and chambers.
Top 4: Celebrate Easter with Flashforge
Excited for the holiday? Then dive head first into the festivities with this next video from Flashforge. The Chinese manufacturer shows hows users can recreate a surprise Easter egg where anyone can hide not their goodies from the day, but a mini excavator! The perfect gift for any children in your lives or anyone young at heart on Sunday. Watch the video to learn how to do it yourself!
Top 5: Markforged Helps Reduce Carbon Emissions with Vestas
In this next video, well-known American 3D printer manufacturer Markforged asked the question "How do enterprise businesses reduce costs, lead time and carbon emissions?" For the company Vestas, a global leader in wind energy, Markforged's Digital Forge platform enables it to support direct digital manufacturing (DDM) program in turn allowing for local development, rather than relying on supply chains which can result in a higher carbon footprint. Learn more about their partnership and why the company chose to turn not just to 3D printing, but to Markforged's solutions.
What do you think of the new software from the University of Michigan? Will you use it to help address warping issues during metal 3D printing? Let us know in a comment below or on our Linkedin, Facebook, and Twitter pages! Don't forget to sign up for our free weekly Newsletter here, the latest 3D printing news straight to your inbox! You can also find all our videos on our YouTube channel.