TOP 5 Videos: Trumpf and metal additive manufacturing …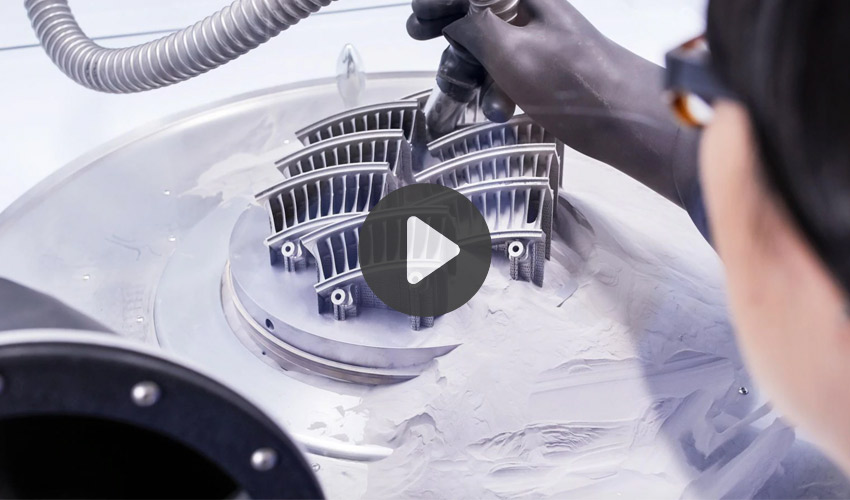 This week, Trumpf talks to us about metal additive manufacturing and more particularly about its TruPrint 5000 solution which incorporates particularly interesting features for the aerospace industry. Thanks to a reduced residual stress, the parts produced benefit from better geometric precision. We also invite you to discover the startup Abeye, supported by Atol Les Opticiens, which has designed a pair of 3D printed smart glasses for people with dyslexia. Finally, do not hesitate to (re)watch our last webinar which covers how to choose the best 3D printing material as well as the right printer for engineering-grade 3D printing projects. Have a great Sunday!
TOP 1: Trumpf and metal additive manufacturing for the aerospace industry
Trumpf is a German industrial 3D printer manufacturer that today meets the needs of many industries such as aeronautics. In the video below, he presents his metal additive manufacturing solution, the TruPrint 5000, which notably includes a preheating option to 500 ° C. This functionality prevents any cracks when printing with titanium, a material particularly interesting for the aeronautical sector. Residual stress is reduced, geometric accuracy is higher, and print media are less. We invite you to listen to the Trumpf expert who will tell you how to properly integrate this preheating option into your industrial environment:
TOP 2: 

Glasses to relieve people with dyslexia
3Dnatives visited the startup Abeye to find out more about its latest product Lexilens. It is a pair of smart glasses that comes to help dyslexic children. And if we are particularly interested in it, it is because its frame is 3D printed. Thanks to HP Multi Jet Fusion technology, the young French company was able to reduce assembly stages, test different iterations quickly and lower costs. We went behind the scenes of the manufacturing, we'll let you watch!
TOP 3: How to choose your AM engineering grade material and 3D printer
On February 25th, we held a webinar, along with 3DGence, on how to choose the best 3D printing material as well as the right printer for engineering-grade 3D printing projects, covering a variety of engineering-grade plastics used in 3D printing including PC, PA and more. We also delved into the printing requirements for said materials, answering questions like why do you need a heated chamber? Is it possible to print with these materials without one? Why is it important to have dry material? To learn more about 3D printing with engineering-grade materials, you can watch the full webinar now:
TOP 4: Motorsport and 3D printing
As you probably know, additive manufacturing is very popular in motorsport because of its ability to produce light parts but also spare parts quickly and easily. This is undoubtedly what prompted Tim Hunter to turn to Airwolf3D's FDM solutions. He designed several components on his Volvo C30 race car, whether they were air ducts, hose clamps or even camera mounts. For example, for the air ducts, Tim imagined them larger, which means less use of the brakes, discs and brake pads and therefore obviously lengthens their lifespan. We let you discover all the advantages he could derive from 3D FDM printing :
TOP 5: ADDITIV Aerospace
After the success of previous ADDITIV events, including ADDITIV medical France and ADDITIV digital World, we are organizing a new 100% virtual event, this time dedicated to additive manufacturing in Aerospace, a growing field due to the immense benefits that AM brings to the Aerospace sector. ADDITIV Aerospace is a free 1-day virtual event offered by 3Dnatives, the leading online magazine about 3D printing and Additive Manufacturing. You can register for free HERE.
What do you think of Trumpf's metal additive manufacturing machines? Tell us in a comment below or on our Facebook, Twitter and LinkedIn pages! And don't forget to sign up to our free weekly Newsletter to keep updated on all the latest news in the 3D industry coming straight to your inbox!