Top 5 Videos: The BigRep PRO Industrial 3D Printer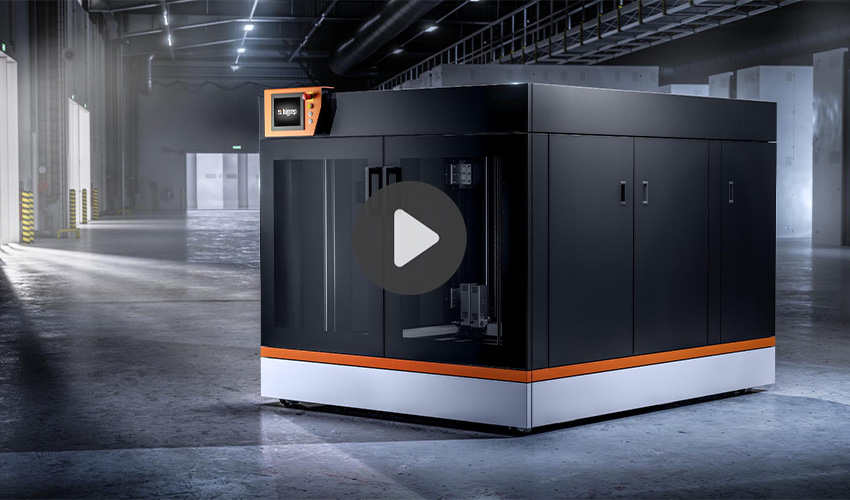 This week, discover the BigRep PRO industrial 3D printer. With a printing volume of one cubic meter, it is designed to produce large parts. Then, get to know the the J5 MediJet™ from Stratasys, which was developed specifically for the requirements of the medical industry. Next, take a look at a solution that combines 3D scanning and drones in one tool. Watch all these and more in this week's Top 5 videos. Happy Sunday and happy watching!
Top 1: The BigRep PRO industrial 3D printer
Did you know that some 3D printers are capable of producing parts that are more than 3 feet long (1 meter)? These large format solutions offer great advantages to manufacturers to meet their industrial needs. One of these printers is the BigRep PRO, produced by the German manufacturer of the same name. According to the manufacturer, the industrial printer can be used to produce functional prototypes, composite tools and finished products. Additionally, the machine is equipped with a filament compartment, capable of storing up to 4 spools for users' convenience.
Top 2:  J5 MediJet, a machine for the medical sector
Additive manufacturing is gaining popularity in medicine. As a result, more and more manufacturers are offering 3D solutions for this industry. This includes Stratasys, which recent showcased its new J5 MediJet™ machine. With the ability to print multicolor and biocompatible materials on a single print table, this machine sets a new standard for modeling in the medical field. It also offers the ability to create highly realistic anatomical models as well as sterilizable and biocompatible drilling and cutting guides with one certified system – all on a single platform!
 Top 3: A 3D scanner integrated into a drone
We already know of many different scanners for different applications. And 3D-printed drones could also already be in the skies. But what if these two tools were combined? This idea gave birth to Skydio 3D Scan™, the first adaptive scanning software of its kind, which can create a real-time model of an area or structure. The drone can automate the data acquisition process to generate 3D models with complete coverage and high resolution. See the device in action here:
Top 4: SLA technology explained in just one minute
You've probably heard of the stereolithography-based 3D printing process. Also known as SLA, this resin technology has many advantages over the FDM process, which is the most commonly used. To help you better understand this process, we would like to present the first instalment of Manufacturing Hot Takes – a series for engineers and product developers discussing SLA 3D printed parts and methods for obtaining solid models.
Top 5: 3D Print Recycling at Make Architects
Though both 3D printing and the material PLA are both considered more sustainable alternatives to traditionally made plastic products, there are still concerns that most users do not know how to properly recycle parts. London-based Make, decided to take on the challenge. After investing in a SHR3D IT Recycler, Airid Polymer Dryer and Precision Filament Maker from 3devo, they show how they have been able to recycle 3D prints into a new PLA filament. This way, all the parts they make contributing to a more circular economy thanks to the fully closed-loop production process.
 What do you think of our top 5 3D printing videos of the week?
Let us know in a comment below or on our
Facebook,
Twitter
and
LinkedIn
pages! Sign up for our free weekly
Newsletter here
, the latest 3D printing news straight to your inbox!