Top 5 Videos: Snapmaker 2.0, the All-in-One Printer…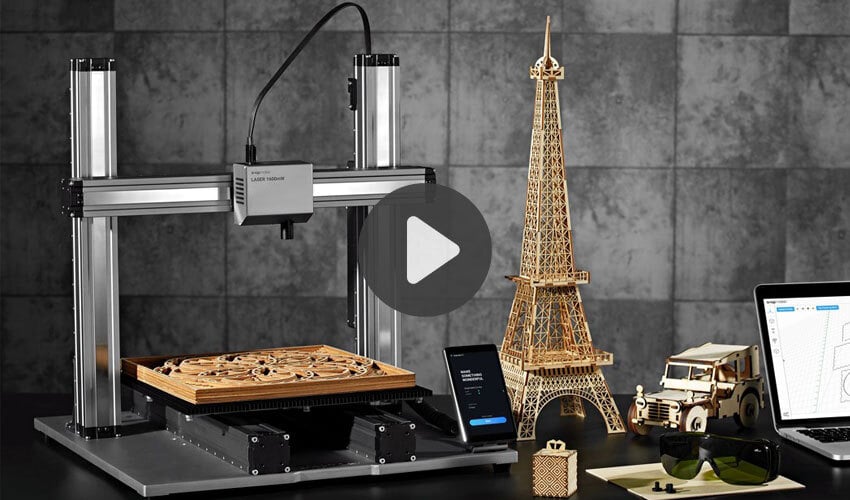 In our first video of this week's top five is Snapmaker 2.0 3-in-1 machine that comprises 3D printing, laser engraving and cutting, and finally CNC carving capabilities. Enough to give life to all your projects! We will also take the opportunity to talk to you about EnvisionTec machines and their use in the aerospace industry. Finally, you will see how 3D technologies, specifically FDM, can allow the development of electric automotive projects more quickly. Hope you enjoy and have a great Sunday!
Top 1: A 3-in-1 manufacturing machine
In 2017, the manufacturer Snapmaker presented its first 3D printer with integrated laser engraver options and a CNC sculptor, all at a very attractive price. Since then, it has developed the Snapmaker 2.0 , a modular machine with a print volume of 320 x 350 x 330 mm. It also offers laser engraving and cutting functionality as well as CNC carving. It is therefore suitable for all makers and professionals who need to combine different design methods to go even further in their projects. The 3D printer part is in any case compatible with materials such as PLA, ABS, TPU or even PETG   :
Top 2: A little inspiration from Rapid Application Group (RAG)
Rapid Application Group (RAG) are the only disabled veteran-owned, full production, 3D printing company in North America. RAG offer several services including reverse engineering, 3D CAD modeling, tool design, and fixture design. In the three years since it found its beginnings with just a $1,000, a napkin sketch and a home office, RAG has seen massive growth, and is now a leading company in the additive manufacturing industry. You can find out more about RAG's inspiring story in the video below:
Top 3: An Additive Manufacturing Simulator
Philipp Aduatz is a designer based in Vienna who uses additive manufacturing to design original objects like furniture and chairs. His latest project was made with Incremental3D and features 3D printed furniture including a vase, bench, chair, and a stool. The objects are designed from concrete extruded by a robotic arm, which has been colored which gives a rather aesthetic gradient effect. We let you have a look for yourself:
Top 4: EnvisionTec's Aerospace Solutions
Additive manufacturing plays a key role in the aerospace sector , both to design spare parts for our aircrafts and engines for our rockets. Technology reduces production times, increases the performance of a part while making its design more complex. These advantages are now mastered by 3D Composites, an American 3D printing service that has invested in several EnvisionTec resin 3D printers in order to manufacture quality components. In collaboration with the company ACS, they have 3D printed parts for Boeing 747s, satellites and much more:
Top 5: Automotive and 3D Printing
The Californian company Electric GT designs and manufactures electrical systems for classic cars – it has notably worked on the famous Volkswagen Combi project , switched to electric and integrating several 3D printed parts. Precisely, Electric GT has invested in an FDM machine, the Airwolf 3D EVO to be more precise. The 3D printer has seen more than 5,000 printing hours and has been used to design battery boxes, prototype crate motors, charging ports, etc. Today it is a production tool that has become essential which also allows them to personalize certain parts:
What did you think of this week's top 5 videos? Which one is your favorite? Let us know in a comment below or on our Facebook, Twitter and LinkedIn pages! If you enjoy these, you can watch even more 3D printing videos on our Youtube channel. And don't forget to sign up to our free weekly Newsletter to keep updated on all the latest news in the 3D industry coming straight to your inbox!