Top 5 Videos: ScanTech's New Portable Scanner, SimScan, and more!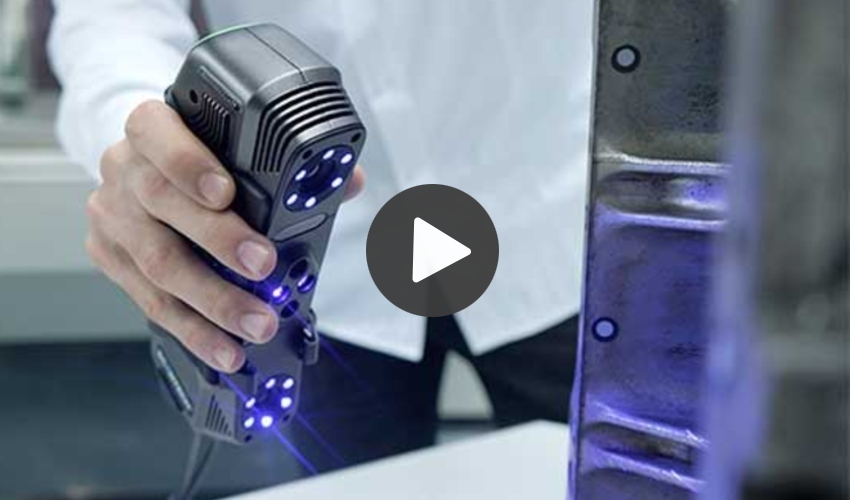 In this week's selection of top 5 videos about 3D printing, we introduce to SimScan, the all new portable 3D scanner from ScanTech, currently the only palm-sized scanner available on the market. Next up is MINI's brand new, and partially 3D printed, electric pacesetter, which will used as the safety car for the ABB FIA Formula E World Championship races. Following this you can watch the replay of our webinar with Aconity 3D on process control in LPBF and find out more about SPEE3D's new game/simulator for metal 3D printing. Last but not least, you can glimpse at the IAAC's postgraduate 3D printing in architecture course. If you enjoy these, you can view even more 3D printing videos on our Youtube channel. Hope you'll enjoy and have a great Sunday!
Top 1: ScanTech Launch Palm-Sized Portable 3D Scanner
After years of metrological development, ScanTech have finally released its portable 3D scanner, the only palm-sized 3D scanner currently available on the market. Possessing dimensions of only 203 mm × 80 mm × 44 mm, the device weighs just 1.3lbs (570g). Despite its size, equipped with a metrology-grade measurement system, the SimScan is able to produce highly detailed scans in a minimal amount of time, landing it a place on our top ten best professional 3D scanners listing. You can find out more about ScanTech's portable 3D scanner in the video below:
Top 2: The All New Formula E Safety Car
The all new MINI electric pacesetter will now be the safety car for the ABB FIA Formula E World Championship races. The vehicle itself is equipped with several 3D printed parts including 3D printed custom padding for seats, meaning that seats can be personalised according the build, weight and preferences of the driver. Official championship safety car driver Bruno comments "Agility, performance, and a cool looking car. the MINI Electric Pacesetter […] has it all". You can find out more about the car by reading our article here, or watching the video below:
Top 3: Process Control in LPBF
On the 30th of March, 3Dnatives spoke with Dr. Yves Hagedorn, the CEO of Aconity3D as well as Ryan Sommerhuber, an Application Engineer from XARION Laser Acoustics about the progress and current challenges in online process control for laser powder bed fusion (LPBF). Together these experts discussed efficient solutions for allowing reliable process control from full control of applied parameter sets to over automated inline process adaptations all the way to applying modifiable beam shapes for full temperature control. You can watch the full webinar below:
Top 4: SPEE3D's New Game/Simulator for Metal 3D Printing
With the pandemic having limited opportunities to learn about additive manufacturing, SPEE3D decided it was necessary to develop an alternative. From this idea spawned SPEE3DCraft, a game/simulator based around SPEE3D's own metal additive manufacturing technologies. The core concept of game play is simple – you are the craftsman, and as the craftsman you are tasked with picking the material, crafting the part, and delivering it on time. You are scored on how many high-quality parts you are able to print within the time limit. Would you try SPEE3DCraft?
Top 5: A Course in AM and Sustainable Architecture
Together, Project Colette and IAAC have announced that they will offer scholarships to prospective students from Africa, South America and Asia wishing to attend the IAAC's postgraduate 3D printing course Barcelona this Autumn, known as 3DPA. 3DPA is a 6-month long intensive programme, which would allow students to study the role of additive manufacturing in architecture as well as its role in sustainable construction. The video below offers just a glimpse of what is available on the curriculum, demonstrating how vaults and domes can be additively manufactured using an extrusion based construction 3D printer.
What did you think of this week's top 5 videos? Which one is your favorite? Let us know in a comment below or on our Facebook, Twitter and LinkedIn pages! And don't forget to sign up to our free weekly Newsletter to keep updated on all the latest news in the 3D industry coming straight to your inbox!