Top 5 Videos: Revolutionizing Metal Additive Manufacturing with InShaPe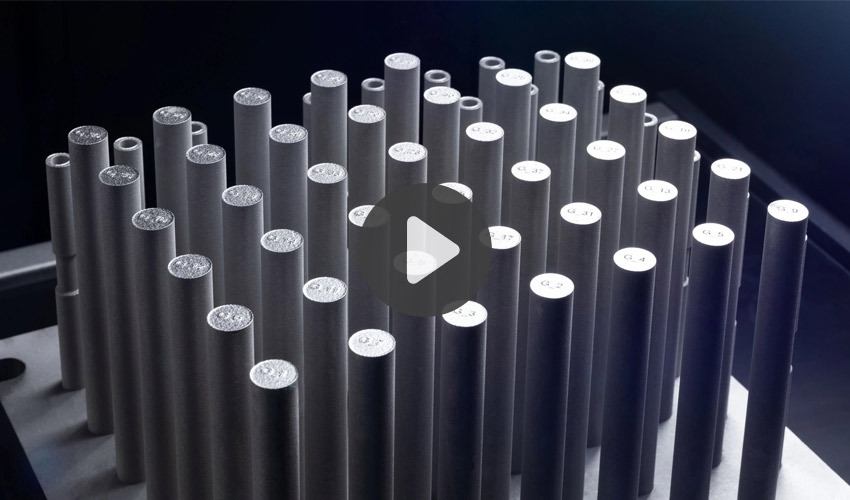 Welcome to another top 5 videos! This week we bring you a new set of curated videos filled with new creations, revelations, and discoveries in the world of additive manufacturing. For this week in the world of four-to-eight-minute long clips, we have a series of videos from the the European Union's project aimed at increasing the efficiency of metal powder bed fusion additive manufacturing technology, electronics manufacturing with XTPL, A report on the partnership Roboze and RusselSmith have created for work in Nigeria, the role of 3D printing in education, and another look at our own tour of the EOS HQ in Germany! Prepare your seat and give a rest to that finger that's been hovering over the play button, because we are ready to get started!
Top 1: An Introduction to EU Project 'InShaPe'
With the noble goal of creating a more sustainable manufacturing industry in Europe, part of the InShaPe mission is to address the use of metal powder bed fusion across a variety of industries and make the 3D printing process more cost-effective and environmentally friendly. This video takes a further step by explaining the PBF process and what are the goals that the InShaPe consortium is pursuing and with what technologies they hope to create a more efficient and effective additive manufacturing process. Take a look for yourself, as the video is just under six minutes and offers a wonderful look at the advantages that additive manufacturing brings and may improve upon.
 Top 2: AM and the Rapid Production of High-Tech Electronics
In this video, we look at the next evolution of the printing press: 3D printing electronics with the use of ultra-precise printing technology from XTPL. It highlights XTPL's unique ability to create ultra-thin structures for various applications, including solar cells, displays, and processors. This technology offers advantages like high precision, simplicity, speed, and versatility. It can work on a variety of substrates and materials, making it a game-changer for flat-panel display manufacturers and other industries. Learn more from XTPL's interdisciplinary team of experts in the video!
Top 3: RusselSmith and Roboze Team Up for Innovative Solutions in Nigeria
In this video, Kayode Adeleke, CEO of RussellSmith Nigeria Limited, introduces his company and its vision of providing sustainable and innovative energy solutions. He discusses how additive manufacturing aligns with the company's vision by enabling smart manufacturing and local production in Nigeria. Adeleke emphasizes the benefits of AM and highlights the potential applications in the energy sector, such as producing parts for corrosive and hazardous environments. He also discusses the advantages of digitizing inventory and the value of their partnership with Roboze, a leading 3D manufacturing technology provider. Learn more about the advantages their partnership has brought by watching the video below!
Top 4: IDeATe: 3D Printing in Education
In this video, we hear from Cody Soska, the technical specialist for the Integrative Design, Arts, and Technology Program (IDeATe), as he discusses the role of IDeATe in providing an interdisciplinary approach to education and design. IDeATe offers studies covering a range of fields, including game design, animation, physical computing, and virtual reality. Learn about why 3D printing is a key component of this workflow, and what is the importance of reliable and cost-effective 3D printing in an educational environment.  See Cody's vision of how 3D Printing could transform STEM education by making it possible for students of all ages to bring their creative ideas to life.
Top 5: Inside 3D Tour at EOS Headquarters
Last week, the 3Dnatives team traveled to Germany to visit with 3D printing company EOS. Speaking first with CEO Marie Langer, the interview delves into EOS's history and commitment to sustainability, with a focus on reducing its carbon footprint and offering carbon-neutral and carbon-reduced polymer materials. The discussion later shifts to EOS's polymer and metal showrooms, showcasing the latest technology and high-quality 3D printing options. To see what all the buzz is about, take a look for yourself!
Which Top 5 video was your favorite this week? Let us know in a comment below or on our LinkedIn, Facebook, and Twitter pages! Don't forget to sign up for our free weekly Newsletter here, the latest 3D printing news straight to your inbox! You can also find all our videos on our YouTube channel.
*Cover Photo Credits: InShaPe