Top 5 Videos: Rapid + TCT In the Limelight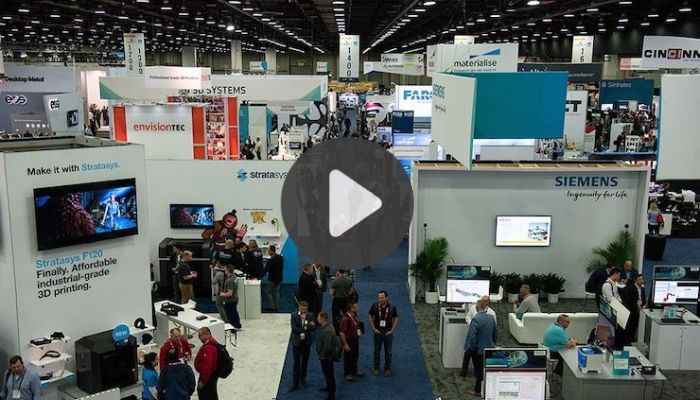 It is once again Sunday, which means it is time for the week's top 5 3D printing videos! This weeks content is engulfed by the three day long Rapid + TCT 2023 event in Chicago, Illinois, the largest, most influential additive manufacturing (AM) event in North America where the most prominent 3D Printing companies unite to discuss innovative technology. Insightful Interviews with Ultimaker and Xjet Ltd. CBO and CEO are featured, as well as a unique array of 3D printed designs to try out. We also explore how additive manufacturing is transforming the medical and food sectors, particularly through the creation of fabric for the heart and a 3D printed fish, as well as human tissue. Happy Sunday, and as always, hope you enjoy!
Top 1: Interview with Nadav Goshen, CEO of Ultimaker
During the well- renowned Rapid + TCT event this week, we met with Nadav Goshen, CEO of UltiMaker – an established manufacturer of FFF 3D printers that offers solution for different sector and industrial needs. Nadav walked us through the rebranding of UltiMaker as well as their new architecture brand. We also had a quick overview on the UltiMaker S Series, and their MakerBot Series to understand the industrial uses of each of them. Alos, feel free to subscribe to keep track with all the #Rapid3D2023 exclusive content!
Top 2: Interview with Dror Danai, CBO of Xjet Ltd.
With another video coming from RapidTCT 2023, 3Dnatives media had the chance to talk with the XJet about the evolution of their NanoParticle Jetting technology and how they are covering industrial needs in different sectors. To learn more about their Carmel Systems and their SMART Solution, we had the pleasure to talk with Dror Danai, CBO at XJet, an international manufacturer of AM solutions that provides high definition 3D printing solutions for ceramic and metal parts. Check out the exclusive interview and keep up to date on everything Rapid + TCT related.
Top 3: 3D Printed Gadget and Contraption Ideas
The video below takes a look at some of the unique 3D printed ideas for handy contraptions and aesthetic gadgets for the month of May. From decor, to household appliances, to desk items and tools, a variety of neat objects are on display. First up, is a 3d printed portable height gouge for taking measurements at home, in the office, or at school. Next up, we have practical appliances such as a set of pliers, a sanding tool, and an owl key hanger. Then, we get creative with an iris compass circle, water bottle prototype, and  toy shark – but this isn't even all of them! Watch the video below for inspiration on your next 3d printed project, your bound to find something that caters to your artistic intuitions:
Top 4: 3D Printed Heart Tissue with Human Stem Cells
The role of 3D printing is increasingly significant in the medical industry, particularly in the area of 3D bioprinting. One exciting breakthrough is the ability to create heart tissue from human stem cells using this technology. Stanford University researchers have been at the forefront of this advancement, demonstrating that the 3D-printed tissues have the potential to be implanted in patients. Check out the video below to learn more about it.
Top 5: 3D Printed Steak, Now Fish?
After discussing 3D-printed steaks in out last weeks Top 5, now we hear that the technology is being used in the food industry again, this time for fish. While we previously explored the impact of 3D printing on the medical sector, it is equally prevalent in food production. Recently, an Israeli food technology company claimed to have achieved a breakthrough by 3D printing the first-ever ready-to-cook fish fillet from lab-grown animal cells.
What do you think of Rapid+TCT in the limelight? Let us know in a comment below or on our LinkedIn, Facebook, and Twitter pages! Don't forget to sign up for our free weekly Newsletter here, the latest 3D printing news straight to your inbox! You can also find all our videos on our YouTube channel.