Top 5 Videos: Radford Motors Uses 3D Printing to Customize Cars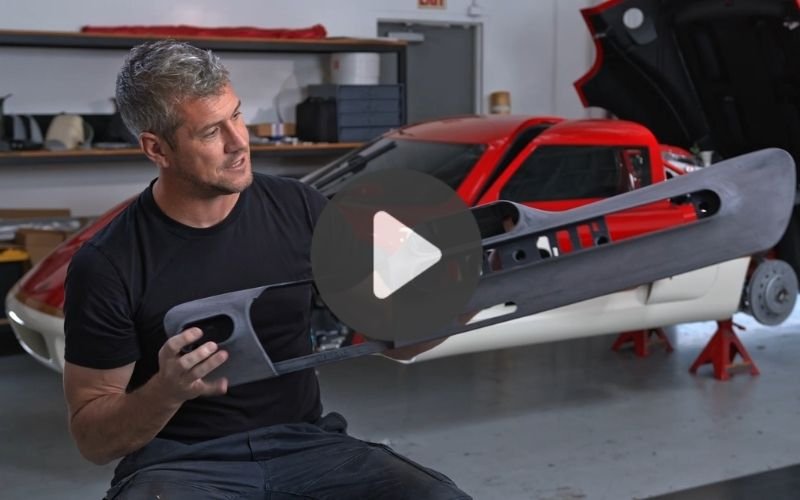 Like every Sunday, today we will be bringing you the top 3D print videos of the week. This week, learn about how Radford Motors is using additive manufacturing to customize luxury automobiles. Next, check out a Tedx talk, in which Alexandre Meurisse, a researcher at the European Space Agency who has used additive manufacturing in his research related to space explorations, is interviewed. Later, we learn the story of Jordan and his PhD in 3D printing. Last but not least, we will see a PLA-CF printing test with the Flashforge Creator 4 printer. Don't miss it!
Top 1: Radford Uses 3D Printing to Customize Cars
UK-based Radford Motors builds exclusive luxury automobiles with a focus on high craftsmanship, limited production, customization and performance. To prototype and build the Radford Lotus Type 62-2 production vehicle, the company relied on additive manufacturing to enable an agile development and production process. The combination of printer capability and strong yet lightweight materials gives Radford Motors the ability to design and build the tooling and components of each custom vehicle much more quickly and cost-effectively than conventional production methods. The capabilities offered by additive manufacturing help make Radford Motors' business model of producing low-volume, highly customized automobiles economically viable. Find out more in the video below!
Top 2: Sustainable Space Exploration With 3D Printing
Another of the top 3D videos this week is Alexandre Meurisse's TEDx talk. Alexandre talks about his research which focuses on sustainable space exploration notably by, taking advantage of the resources available in space, starting with those on the Moon. In the talk, Alexandre not only shares recent scientific breakthroughs on additive manufacturing and oxygen extraction from lunar soil, but he will also show the audience how these advances for space exploration will inspire new generations and be beneficial on Earth.
Top 3: Always Get Your Prints Right With LEHVOSS
In this next video, Thiago Medeiros Araujo, from LEHVOSS, tells us about the joint venture they have carried out with Ultimaker. LEHVOSS has high-performance materials, optimized for industrial 3D printing, allowing quality-controlled additive manufacturing for end-use parts. Its materials have certified quality and feature high mechanical strength. In the video, he talks about LUVOCOM 3F PAHT® 9825 NT, the first certified material in the Ultimaker ecosystem. This new material is a high-temperature, polyamide-based material that exhibits the strength of a PA6 without sacrificing printability. Allowing parts to print right the first time.
Top 4: Get Real-World Engineering Experience in Australia
The following video tells the story of Jordan, a biomedical engineering undergraduate student at RMIT University, Melbourne. Jordan was doing an internship, which sparked his interest in additive manufacturing, and now he wants to further his education in this area by pursuing a PhD. Learn more about his story and why he chose this program!
Top 5: A PLA-CF Printing Test Using the Flashforge Creator 4
Founded in 2011, Flashforge is one of the earliest professional 3D printing equipment and materials R&D and manufacturing companies in China. It is currently the first domestic company to rank third in the global consumer-level 3D printing brand manufacturer ranking. One of Flashforge's most famous printers is the Creator, a multi-functional, flexible, high-performance commercial 3D printer – follow the video below to see how this printer prints with PLA-CF!
What do you think of how Radford Motors is using AM for the automotive industry and the other 3D printing videos fo the week? Let us know in a comment below or on our Linkedin, Facebook, and Twitter pages! Don't forget to sign up for our free weekly Newsletter here, the latest 3D printing news straight to your inbox! You can also find all our videos on our YouTube channel.