Top 5 Videos: PLA vs. ABS & 3D-Printed Rockets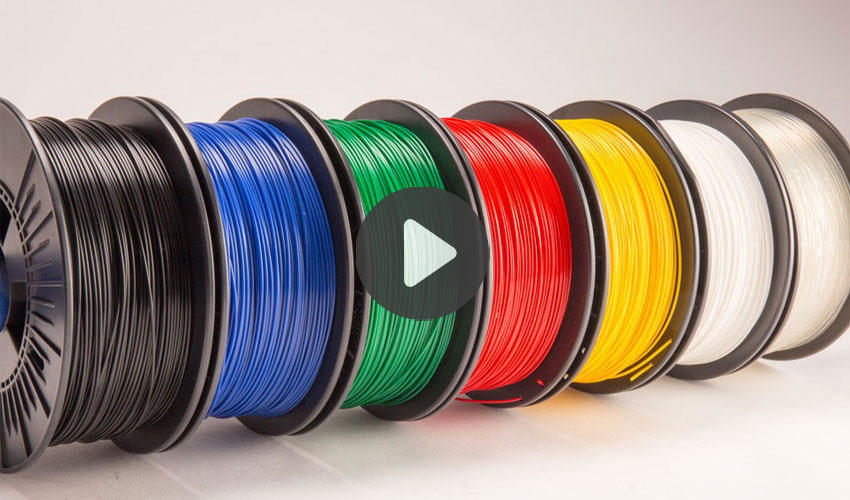 This week discover, among other things, the properties and characteristics of PLA vs. ABS, two of the most popular polymers in the 3D printing industry. Next, explore the world of 3D-printed rockets being used for space missions. Moving on to 3D scanners, see how investigators use these devices for forensic investigation. You will also learn how Laser Powder Bed Fusion (LPBF) works. We wish you a relaxing Sunday, and we're curious to know whether this content gives you new insights into the world of additive manufacturing.
Top 1: The Difference Between PLA vs. ABS Polymers
Among the most widely used materials in the additive manufacturing sector, we obviously find PLA and ABS . These two polymers, which are among the most popular, however, do not have the same properties. On the one hand, ABS is renowned for its flexibility and high-temperature resistance, while PLA tends to deform quickly at around 40 ° C. However, ABS is more difficult to print compared to PLA, although it also stands out for its high impact resistance:
Top 2: 3D-Printed Rockets for Space Missions
Additive manufacturing has been used in the aerospace industry for quite some time. The increasing integration of 3D printing in rocket construction enables companies in the industry to significantly reduce the weight of the end parts that will be launched into space. If you want to learn more about the advantages of 3D technology for research in space, then our video offers you an insight into the importance of additive manufacturing for the industry. On our YouTube channel, you will also discover other exciting videos all about the wide applications of 3D printing across various industries and our unboxing and 3D printer reviews!
Top 3: 3D Scanner for Securing Evidence
The aim of forensics is to secure traces of relevance to criminology. Enormous technological advances have been made in this area in recent years, making investigators' work easier. 3D scanners are also already being used to secure evidence at crime scenes. In the next video, you can see the example of forensic science students from Pennsylvania using the Artec Space Spider 3D scanner to create highly detailed scans of crime scenes and bone finds. These are used for catalogs, for example, and support anthropologists all over the world in addition to forensics! But best see for yourself.
Top 4: How Does LPBF 3D Printing Work?
The laser powder bed process (LPBF) is one of the most frequently used 3D printing processes for metal. The process is suitable for the production of complex geometries, light components, and unusual designs. The integration of 3D technology into the production process is often associated with various hurdles. Among other things, manufacturers have to rethink the design and the material used. In the video, Peter Zelinski and Stephanie Hendrixson explain to you how the laser powder bed fusion process works, for which applications the technology is suitable, and which challenges have to be considered.
Top 5: Women in Science—3D Matter Made-to-Order
Dr. Kerstin Göpfrich heads a research group for Biophysical Engineering at the Max Planck Institute in Heidelberg and is Principal Investigator in the Cluster of Excellence 3D Matter Made to Order (3DMM2O), a joint research cluster of the Karlsruhe Institute of Technology (KIT) and the University of Heidelberg, which is supported by the DFG is funded. In the following video, you can see an interview with her in which she talks about research in the field of synthetic cells and gives aspiring researchers advice for their own careers in science.
What do you think of this week's compilation of 3D printing videos? Let us know in a comment below or on our Linkedin, Facebook, and Twitter pages! Don't forget to sign up for our free weekly Newsletter here, the latest 3D printing news straight to your inbox! You can also find all our videos on our YouTube channel.