Top 5 Videos: Nexa3D and Henkel develop a new material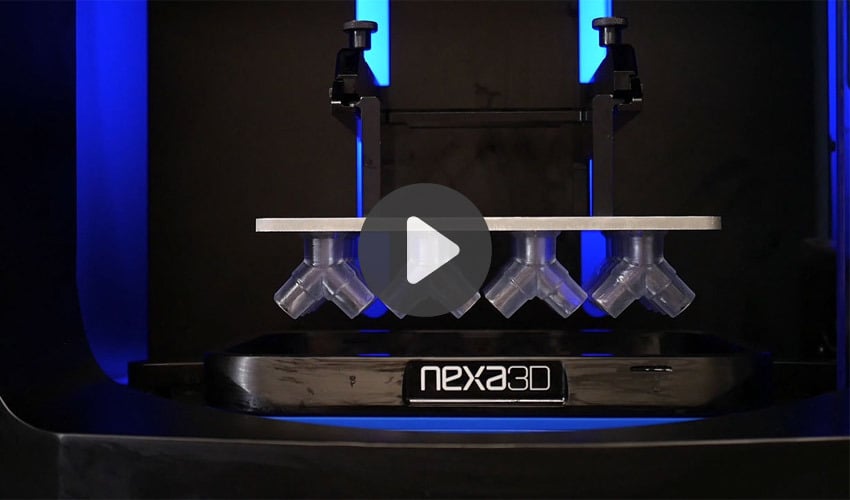 This week we found the top 5 videos about 3D printing and the way additive manufacturing is changing production. The technology has infiltrated many sectors, from medical to automotive – check our selection of the week to keep up with the innovations! If you enjoy these, you can view even more 3D printing videos on our Youtube channel. Hope you'll enjoy and have a great Sunday!
Top 1: Nexa3D & Henkel Collaboration
A fruitful partnership between Nexa3D and Henkel brought about the development of a new material. During the global health crisis it became clear that we need new innovative solutions, and fast. Thus, Nexa3D, the maker of ultrafast stereolithography production 3D printers, and Henkel, a leading supplier of high impact functional additive materials, worked together to quickly develop a new polypropylene-like material called xMED412, which is ideal for manufacturing a variety of biocompatible, medical and wearable devices.
Top 2: AMT's automated de-powdering system
Developed by AMT (Additive Manufacturing Technologies Ltd.), PostProDP Pro is an industrial de-powdering system that aims to facilitate the process by reducing the manual intervention in the AM workflow process. The incorporation of this de-powdering system would reduce labor costs as 90% of the parts can be cleaned automatically. Apparently, the process is rather fast too – you can get clean products in about 10 minutes only. The PostProDP is software enabled and ergonomic. The system  is made for companies scaling up their additive manufacturing facilities into high volume production lines.
Top 3: European Patent Office & EU IP Office host a 3D printing conference
European Patent Office (EPO) together with European Union Intellectual Property Office (EUIPO) hosted their first digital 3D printing conference. For the duration of four days, legal experts, inventors, investors, and academics discussed AM technology in the context of intellectual property rights. António Campinos, EPO President and Christian Archambeau, Executive Director of the EUIPO, discussed the potential implications of additive manufacturing for the economy, society and intellectual property system. One of the interesting and important guests was Chuck Hull, the inventor of stereolithography, the first commercial 3D printing technology himself! In this EPO conference he talks about the future for his invention.
Top 4: New polypropylene pellets for industrial 3D printing
Titan Robotics, a 3D printer manufacturer and service provider, collaborated with Braskem, a Brazilian petrochemical company, and now the two are announcing the launch of a new 3D printable polypropylene (PP) resin. This pellet-based polymer is optimized for printing large-format production parts. This is the first commercially available grade of unfilled polypropylene designed specifically for Titan's industrial Atlas 3D printer with pellet extrusion capability.
Top 5: Mobility goes Additive
This last video is about "Mobility goes Additive", which is an international competition on 3D printing for students on all aspects of additive manufacturing and digitization. The competition is carried out by the Association of German Engineers (VDI e.V.) in cooperation with the international network Mobility goes Additive e.V. With the organizers being very pleased with the participation rate, the amount of motivation and the results, the event will almost certainly take place the next year as well.
What did you think of these videos? Drop a comment below or on our Facebook and Twitter pages! And don't forget to sign up to our free weekly Newsletter to keep updated on all the latest news in the 3D industry coming straight to your inbox!