Top 5 Videos of the Week: an electric and autonomous car integrates 3D printing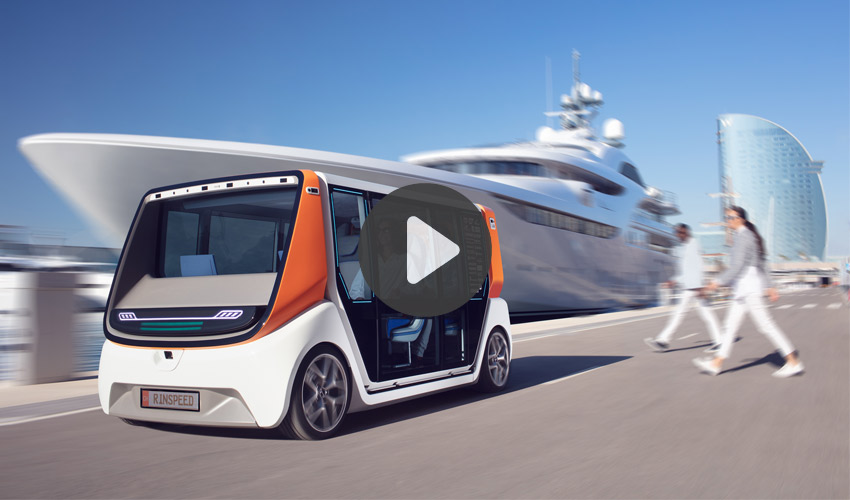 This week we found the top 5 videos about 3D printing and the way additive manufacturing is shaping our society. The technology has infiltrated many sectors, from medical to automotive! Check out our selection of the week to keep up with the innovations! This week we touch on a new type of vehicle with 3D printed parts, liquid rubber 3D printed shoes and much more! If you enjoy these, you can view even more 3D printing videos on our Youtube channel. Hope you'll enjoy and have a great Sunday!
Top 1: The MetroSnap vehicle was presented at CES 2020
We told you about it last Friday during our CES 2020 recap, the car manufacturer Rinspeed unveiled MetroSnap, an electric and autonomous car that integrates 3D printed parts. The company explains that it used Stratasys' FDM and PolyJet technologies to design some 30 parts, for the inside and outside of the vehicle. This manufacturing method allows the manufacturer to customize its car according to the desires and needs of users:
Top 2: Native Shoes presents 3D printed liquid rubber shoes
The Canadian shoe manufacturer Native Shoes has announced a new collaboration with the Self-Assembly Lab at MIT to design 3D printed shoes, using liquid rubber. The project, called Liquid Printed Natives, aims to use futuristic manufacturing methods to create everyday products, in this case different types of shoes, from sneakers to ballerinas. These shoes are produced in a gel container thanks to Self Assembly Lab's Rapid Liquid Printing technique. The result are highly original and entirely personalised shoes!
Top 3: 3D printing to preserve fossils!
3D scanning and additive manufacturing solutions now make it possible to reconstruct fragments of History: many projects use 3D technologies to recreate cultural objects, reconstruct a historical era, etc. This is the case of Alberta's Royal Tyrrell Museum in Canada, which reconstructs dinosaur skeletons from fossils using 3D technologies. Using 3D scanners and printers, teams can reproduce the animal's entire anatomy very precisely and better study its behaviour.
Top 4: Additive manufacturing and tooling
The American company Lean Machine, specializing in machining for the transport and mining sectors, used to manufacture all its metal tooling in-house, using traditional production methods. It then invested in a Markforged continuous fibre 3D printer which gradually enabled it to print carbon fibre parts, whether it be cable fasteners, control valves, etc. The company then invested in a Markforged continuous fibre 3D printer which enabled it to print carbon fibre parts. The teams realized that carbon fiber was just as resistant as metal and that this manufacturing process was much more efficient. They plan on investing in a metal 3D printer next!
Top 5: Additive manufacturing in the automotive sector
The company Design Infini has been designing wheels for the automotive market for several years – it counts 7 designers able to meet the demands of manufacturers looking for innovative products. The company has invested in resin additive manufacturing solutions, specifically an EnvisionTec Vector 3SP, to create highly detailed visual prototypes. 3D printing allows the company to design wheels on a small scale, with high resolution, which is very important for the customer to see the product's surface finish, different angles, etc. The company has also invested in a Vector 3SP from EnvisionTec in order to create highly detailed visual prototypes. Design Infini opted for this machine in particular because it offered a generous printing volume and high speed.
What did you think of this week's top 5? Drop a comment below or on our Facebook and Twitter pages! And don't forget to sign up to our free weekly Newsletter to keep updated on all the latest news in the 3D industry coming straight to your inbox!