Top 5 Videos: Korthotics' 3D Printed Orthoses and More!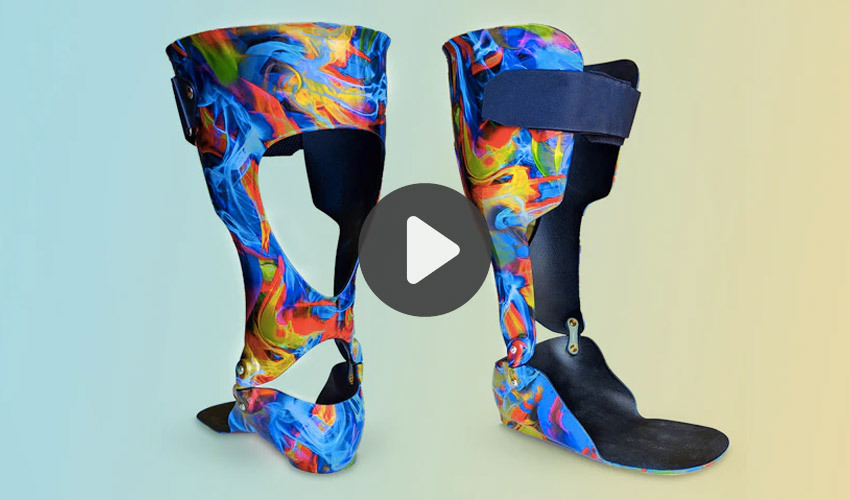 This week, we introduce you to Korthotics, the Australian company that, through 3D printing, produces custom orthotics. Thanks to 3D technologies, Korthotics is able to offer its patients fast and reliable production. For the second video, we're taking this opportunity to remind you that ADDITIV Aerospace is just five days away! Finally, discover the new process developed by ExOne and Ford, by binder jet for 6061 aluminum, one of the most widely used aluminum alloys in the world. In any case, we wish you all a good Sunday!
Top 1: Korthotics manufactures orthoses using the SLS process
In this video from Korthotics how you can see how the company use new technologies to produce tailor-made orthoses. First, a 3D scan of the patient's foot is transmitted to the CAD software so that a digital model can be created. As soon as the design has been finished, the orthosis can be manufactured using 3D printing. Korthotics relies on SLS technology and uses the 3D Systems ProX SLS 6100 for production. You can see the entire production process in the video.
Top 2: ADDITIV Aerospace
ADDITIV Aerospace will be taking place in just a few days! If you want to learn more about how additive manufacturing is changing the Aerospace sector with panel discussions on topics like, what are the main challenges to AM in Aerospace and how are they tackled? Or what part does does AM have to play in space exploration? Then register here! ADDITIV Aerospace will take place on March 18th from 8AM to 6PM EDT (1PM to 11PM CET). Come listen to experts in the field from NASA, the European Space Agency, Eaton Aerospace, Rolls Royce, Airbus, Collins Aerospace and more! Meet with professionals from Aerospace and AM in panel discussions, networking sessions and workshops. You can find more information in the video below or on our website:
Top 3: The new process developed by ExOne and Ford
ExOne, the manufacturer of metal 3D printers, and the famous automobile manufacturer Ford have developed a process, still awaiting a patent, by binder jet for 6061 aluminum , one of the most widely used aluminum alloys in the world. This process for the production of aluminum parts is much faster than other 3D printing methods and is able to reach the volumes needed for automotive use. The parts printed by this process have a density of 99% and material properties comparable to those of traditional manufacturing. A breakthrough that constitutes an important innovation for the industry. 
Top 4: Xometry partners with Stratasys
In order to offer engineers a range of high performance materials, Xometry and Stratasys have teamed up. The American giant therefore now offers four high-performance nylon materials for selective laser sintering (SLS) printing, available directly on the Xometry platform. The first is nylon 11 EX, an impact resistant polymer in white color. The second is nylon 11 HST, made of mineral fibers and resistant to temperature. Finally, nylon 12 AF and nylon 12 CF, which both stand out for their strength and rigidity:
Top 5: cDLM printing with the EnvisionOne
Continuous Digital Light Manufacturing, or cDLM for short, was patented by EnvisionTEC. It is a generative manufacturing process, a further development of the DLP process. Similar to stereolithography a light-sensitive plastic is used for printing. cDLM printing is suitable, among other things, for the production of jewelry, as well as medical and space travel applications. In the video below you can see how the EnvisionOne uses this technology.
What did you think of this week's top 5 videos? Which one is your favorite? Let us know in a comment below or on our Facebook, Twitter and LinkedIn pages! And don't forget to sign up to our free weekly Newsletter to keep updated on all the latest news in the 3D industry coming straight to your inbox!