Top 5 Videos: Ford Motor Company Large-Format 3D Printing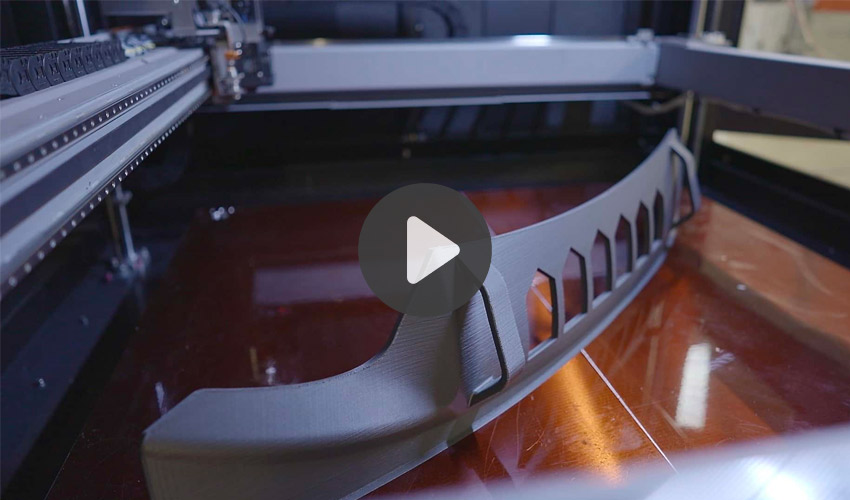 In this week's compilation of 3D printing videos, discover how the Ford Motor Company is using large-format 3D printing, resulting in the company saving over 90% manufacturing time! Next, you will go behind the scenes of Mighty Buildings, an American company that uses concrete 3D printing to build the walls of its houses and provide more sustainable and affordable housing. Finally, go on an imaginative adventure where you get to 3D print anything you'll ever need—from food to housing and transportation. In any case, we wish you a very good Sunday!
Top 1: Ford's Large-format 3D Printing
The American car manufacturer has been using additive manufacturing for 30 years for different applications. One of them is the creation of more functional tools. For this, the company has invested in a large-format machine from BigRep, the BigRep One. This allows the company to design tools of all kinds and adapt them to its cars. For example, Ford has 3D printed a whole series of handy tools to put your hands-on when it comes to positioning parts on typical vehicles such as hatchbacks. One of the main advantages of large-format 3D printing for Ford is the ability to produce large parts in one go, without going through more cumbersome assembly steps. In any case, the manufacturer has reduced by 94% its production times for tooling in the factory thanks to its 3D printer!
Top 2: Low-Volume Rapid Injection Molding with 3D Printed Molds
Injection molding requires a high initial investment and lead time for tooling, which slows down the introduction of new products to the market. However, 3D printing technology offers a cost-cutting, agile solution to quickly design and fabricate molds for small series of thermoplastics prototypes or end parts. Check out this informative 3Dnatives webinar with Juliette Combe from Formlabs.
Top 3 :
With the goal of putting 1 Million people on mars, Relativity Space is an ambitious American startup rapidly building rocket ships using the power of additive manufacturing. Take a look at the world's first-ever 3D-printed rocket.
Top 4: Behind the Scenes of Home Building
In this 15-minute report, you will take a look behind the scenes at Mighty Buildings, which today uses concrete 3D printing to erect the walls of its houses. Its objective is to produce Accessory Dwelling Units, kinds of small mobile cabins for living or working. The company hopes to facilitate access to housing but above all to offer a more sustainable construction method, generating less waste while offering cost reductions. In the video below, you can follow the work of 3D printers, the way houses are built and the vision of Mighty Buildings:
Top 5: What If You Could 3D Print Anything?
Let your imagination expand in the world of 3D printing. This video takes you through several hypothetical situations in a world where you can 3D print anything—but, the question is, do we already live in this mystical place where you can print food, cars, houses, and medical supplies?
What do you think of this week's selection of 3D printing videos? Let us know in a comment below or on our Facebook and Twitter pages. Don't forget to sign up for our free weekly newsletter, with all the latest news in 3D printing delivered straight to your inbox!