Top 5 Videos of the Week: Farmshelf, MakeX & More!
Published on December 17, 2017 by
Jamie D.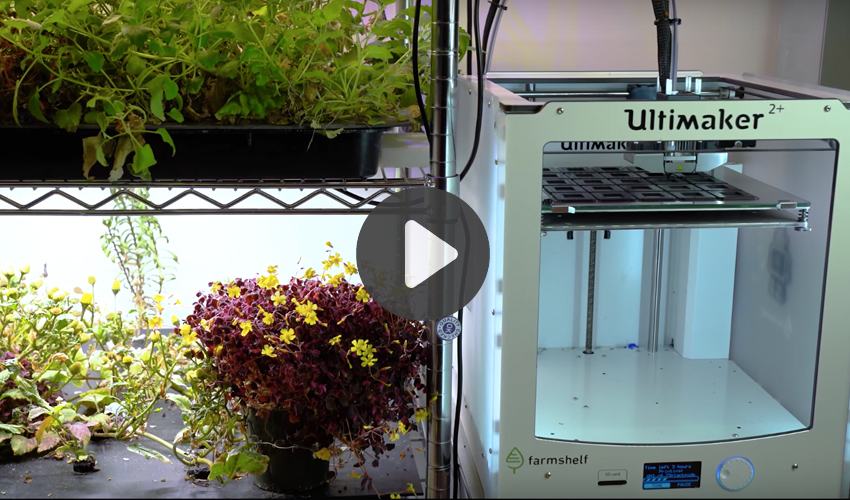 This week's Top 5 Videos of the Week includes videos from brands such as Ultimaker, MakeX, and Farmshelf. These videos encompass agriculture, backpacks, and the music industries. A new Top 5 Videos is uploaded every Sunday, so don't forget to check out next weeks Top 5 Videos too.
1 – Ultimaker & Farmshelf
This video outlines how Farmshelf are growing plants far quicker than they normally grow. They do this through feeding them exactly what they need, whenever they want. 3D printing was used to design the parts for holding the plants, allowing Farmshelf to create perfectly fitting parts for maximum plant growth. Ultimaker 3D printers were used for this process.
2 – Solar Powered Glass 3D Printers
This 3D printer uses the suns rays to heat sand to its melting point, thus creating glass. Since the 3D printer is being used in a desert where sand is plentiful, this 3D printer is using an almost unlimited resource to 3D print glass structures. This could potentially revolutionise glass production.
3 – 3D Printed Flip Flops
These innovative new 3D printed flip flops were inspired by Amazonian Indians and changes according to your feet. The 'Iguaneye' assembles together from two parts, and includes a micronet to take different shapes. In addition, the shoes are made from special cork which absorbs sweat and prevents body odors.
4 – MakeX 3D Printing Backpack
MakeX's 3D printing backpack, the Migo, is an innovative new option for 3D printing. Due to being able to be transported as a backpack, you can take this 3D printer out with you, and have it keep running whilst you go about your day. This 3D printer recently hit its Kickstarter target and will move into production soon.
5 – EasyKu
EasyKu have developed an innovative 3D printed device which you attach to a ukelele to make it easier to play. The EasyKu device uses buttons to play chords, making playing famous songs such as Jason Mraz's "I'm Yours" far easier. It has several levels based on your skill level to practice harder chords.
What do you think of these videos by Ultimaker, MakeX, and more? Let us know in a comment below or on our Facebook and Twitter pages! Sign up for our free weekly Newsletter, all the latest news in 3D printing straight to your inbox!