TOP 5 VIDEOS: Failure is key to 3D printing success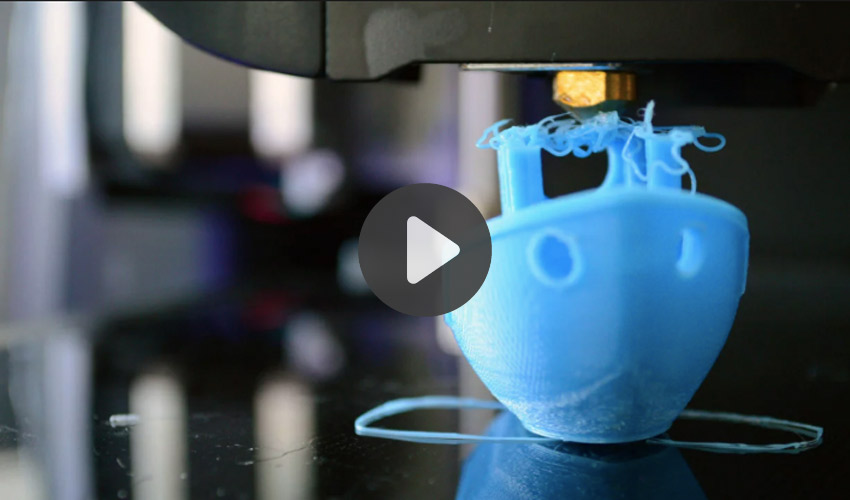 This week we found the top 5 videos about 3D printing and the way additive manufacturing is shaping our society. The technology has infiltrated many sectors, from medical to space! Check out our selection of the week to keep up with the innovations! This week we touch on key 3D printing failures to arrive to success, the launch of the Liquid Crystal Magna and much more! If you enjoy these, you can view even more 3D printing videos on our Youtube channel. Hope you'll enjoy and have a great Sunday!
TOP 1: Failure is key to 3D printing success
The American company Vision Miner, a 3D printing service specialised in high-performance materials demonstrates in the following video how failures in 3D printing are very important to better succeed in the future. Many people believe that it is enough to plug a machine and press a button to obtain a quality part, with a high level of detail. In reality, the printing process is more complex; testing the 3D printer, making mistakes, starting over, all this is essential to master your machine and create quality parts:
TOP 2: Liquid Crystal Magna is Photocentric's new 3D printer
Photocentric's new cost-effective, large format LCD printing innovation enables large component prototyping and custom mass manufacture at a competitive price. They launched this new machine 4 years after the success of their first 3D printer: Liquid Crystal. Using the same LCD technology, this solution enables custom mass production as it combines high resolution and precision with a large build volume. Going beyond simple prototyping is the aim of the Liquid Crystal Magna!
TOP 3: Sintava delivers parts to the aerospace industry
The American company Sintavia is a 3D printing service specialised in the production of metal parts. It has equipped itself with EOS metal 3D printers that allow it to create a variety of quality parts, faster and with more flexibility. Sintavia produces components for the aerospace sector, with an accredited laboratory allowing it to carry out several inspections, complete post-processing services and non-destructive testing of components. In particular, the company works with Siemens to ensure that the entire manufacturing process is controlled.
TOP 4: 3D Printing Parts for Marvel's Iron Man Suit
Dinsmore Inc. is a US-based 3D printing service that has invested in a wide range of 3D printers: 3D Systems, Stratasys and HP, to name a few. The company has opted for industrial 3D printers capable of creating parts with a high level of detail. This is a crucial point for many companies, especially design studios that are looking for precision. This is the case of Adam Savage who wanted to reproduce the Iron Man suit. He asked Dinsmore to 3D print some parts of the costume in order to obtain very realistic results in a short time!
TOP 5: New 3D printer from Creality
Creality has upgraded its CR-10 3D printer to launch the CR-10 Max! As you will be able to see in the following video, the CR-10 Max offers a greater building volume of 450 x 450 x 470 mm. Additionally, a pull-rod has been added to the gantry frame to form a stable triangular structure so as to reduce vibration when printing in the Z axis. The print success should be improved with matrix auto-levelling, comprehensive measurement point, precise induction and dynamic leveling compensation. Moreover, the CR-10 Max also features two nozzles, one 0.4 mm and 0.8 mm size to cater to different printing requirements!
What do you think of this week's Top 5 Videos? Drop a comment below or on our Facebook and Twitter pages! And don't forget to sign up to our free weekly Newsletter to keep updated on all the latest news in the 3D industry coming straight to your inbox!