Top 5 Videos: All You Need to Know About Binder Jetting 3D Printing in 3 Minutes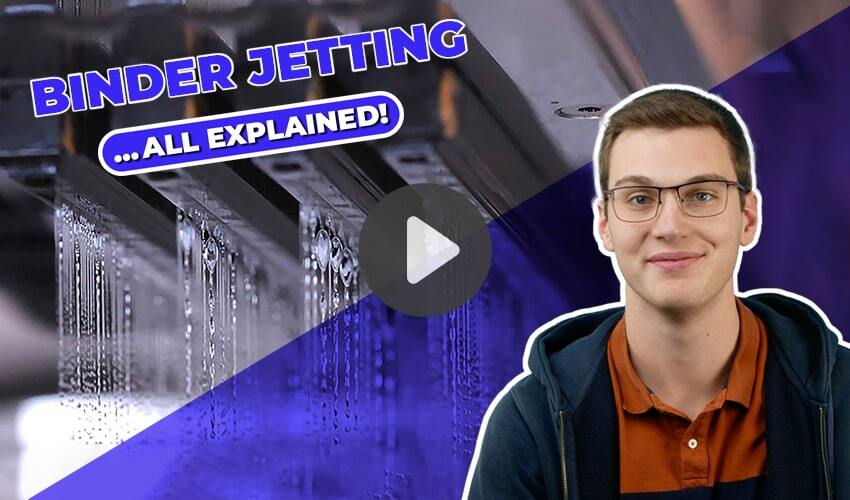 It is Sunday so that means, beyond looking forward to a new week, it's time for the top 5 videos of the week! Let's start it off with a video from our very own Elliot who takes you through all you need to know about binder jetting 3D printing in under 3 minutes. Next, we check out a video from Mercedes-AMG Petronas Formula One Team which shows how F1 teams using additive manufacturing for rapid prototyping to make their cars faster than ever. After, you can see how the first 3D printed airless basketball, which made its debut on an NBA court earlier this week, was made before learning more about 3D printing and mass customization applications. Finally, we take a look at the world's smallest printer which is barely bigger than a match. Happy Sunday and happy watching!
Top 1: Binder Jetting 3D Printing Explained in Under 3 Minutes
Starting off the week, watch 3Dnatives' latest 3D Explained video where this time we tell you everything you need to know about binder jetting. Binder jetting is one of the most versatile of the 3D printing technologies, capable of printing with a number of different materials in power form, thus having a large range of applications. As always, our 3D Explained videos are designed to give viewers the fundamental knowledge of each 3D printing technology, making it fun and allowing all to learn about it in a dynamic and quick way. This time, learn not only how binder jetting works, but also its benefits and drawbacks.
Top 2: Rapid Prototyping in F1
It is certainly no secret that 3D printing plays a key role in the automotive sector, including in motorsports, such as Formula One. In this next video, the Mercedes-AMG Petronas Formula One Team takes us behind the scenes in their rapid prototyping department to see how 3D printing is key to the success of their tests, notably in the creation of parts for wind tunnels. Though of course 3D printing is increasingly being used for end use parts, rapid prototyping was one of the first applications for the technologies and continues to be important to this day. Learn more about the printers being used by Mercedes-AMG in the video below:
Top 3: The First 3D Printed Airless Basketball
3D printing and sports are often a winning combination, as we have seen many times in the past. Now, there is yet another successful project. This week, the first 3D printed basketball was made and debuted in an NBA match. The ball is exceptional not just because it was made using additive manfuacturing but because it is airless, its material and lattices replicate the bounce of a traditional basketball without needing to be inflated. In this video you can even see how it was made:
Top 4: 3D Printing and Mass Customization
In this video from Formlabs, one of the leading 3D printer manufacturers with both photopolymerization and SLS solutions, come learn at how 3D printing can be used in mass customization. Though of course one of the major advantages of additive manufacturing is its ability to customize goods, it can sometimes be difficult to see how production can be scaled up. Luckily, in this video, Formlabs not only shows applications of 3D printing in mass customization, but also gives tips on how users can achieve it in a variety of sectors, including consumer products, dental appliances, prosthetics and more.
Top 5: The World's Smallest 3D Printer
You have certainly heard about micro-printing, but what about micro 3D printers? In the next video, YouTuber My N Mi shows us what he claims is the smallest 3D printer in the world. The machine using photopolymerization and can fit in the palm of your hand. Check it out below to see how it can create parts despite its tiny size:
What do you think of this 3D Explained on binder jetting 3D printing? Let us know in a comment below or on our LinkedIn, Facebook, and Twitter pages! Don't forget to sign up for our free weekly Newsletter here, the latest 3D printing news straight to your inbox! You can also find all our videos on our YouTube channel.