Top 5 Videos: 'Airless' – Wilson's 3D Printed Basketball Is a Slam Dunk in Innovation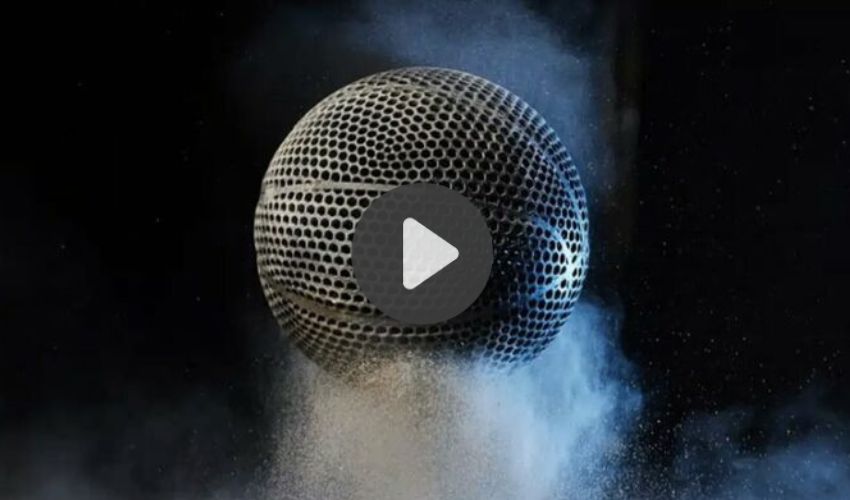 Get ready for the top 5 videos of the week that will take you on an exhilarating journey through the world of 3D printing! First up, we learn about the fascinating story behind the world's first 3D printed basketball and showcase the innovative use of 3D printing by NASA and Space X for Mars colonization. We also explore a remarkable 3D printed caravan in Australia and learn about how Paleontologists are using 3D scanners to learn about dinosaur bone deposits. Don't miss out on these captivating videos that showcase the limitless possibilities of 3D printing! Happy Sunday!
Top 1: 'Airless' – The First 3D Printed Basketball
In February, Wilson Sporting Goods introduced the world to their first-ever 3D printed basketball prototype, poised to revolutionize the sport. This cutting-edge ball boasts a unique lattice-like design for enhanced grip and control, redefining ball performance. Beyond its striking appearance, the 3D printed basketball reflects a commitment to sustainability, minimizing material waste. As anticipation grows, this groundbreaking invention holds the potential to elevate players' skills and reshape the future of sports through technology-driven innovation.
Top 2: Palaeontologists Use 3D Scanners To Learn About Dinosaur Bones
Half a century has passed since the initial discovery of the first Pachyrhinosaurus bone at the renowned Pipestone Creek Bone bed, situated west of Grande Prairie. Now, in a fascinating endeavor, paleontologists are harnessing the power of 3D scanning technology to delve deeper into the rich deposit of dinosaur bones. This summer, as they meticulously scan and analyze the fossils, cutting-edge 3D scanners provide these researchers with unprecedented insights into the ancient world, shedding light on the mysteries of these majestic creatures that once roamed the Earth. Through this innovative approach, scientists hope to unlock new understandings about the Pachyrhinosaurus species and its remarkable existence, bridging the gap between the distant past and our present-day fascination with these prehistoric giants.
Top 3 : NASA and Space X Aim For Mars
NASA and Space X have set their sights on a remarkable endeavor: making Mars inhabitable through the power of 3D printing. Their ambitious project involves finding groundbreaking solutions that could pave the way for human colonization on the Red Planet. Through 3D printing technology, they envision a future where essential structures and tools can be 3D printed on-site, using locally available resources. This approach not only reduces the need for carrying heavy payloads from Earth but also offers the potential for rapid construction and adaptability to the unique Martian environment. In this captivating video, learn more about the ingenuity and determination driving NASA and Space X as they embark on this transformative journey towards making Mars our second home.
Top 4: Improving Z-Strength In 3D Prints
Discover the Power of Multi-Part 3D Printing with Markforged! Uncover the secret to maximizing the strength of your printed parts as we reveal how printing in multiple stages can enhance durability. Join Research and Development Engineer, Peter Kelly, on an insightful journey through a practical real-world example. Learn step-by-step how to design, print, assemble, and test a multi-part print that defies expectations! Check it out!
Top 5:  Standard Polymers in 3D Printing, Explained 
Welcome to the latest edition of 3D Explained! In this release, we embark on an exciting journey to demystify the vast world of polymers used in 3D printing. Our goal is to equip you with the knowledge needed to navigate through the diverse array of materials available for this cutting-edge technology. In today's episode, we'll delve into the realm of standard materials, providing you with essential insights in less than 5 minutes. Whether you're a seasoned 3D printing enthusiast or just beginning to explore this fascinating field, our concise and informative video will deepen your understanding of the various polymers at your disposal.
What do you think of the the 3D printed 'Airless' basketball? Let us know in a comment below or on our LinkedIn, Facebook, and Twitter pages! Don't forget to sign up for our free weekly Newsletter here, the latest 3D printing news straight to your inbox! You can also find all our videos on our YouTube channel.
Cover photo credits: Wilson/DyeMansion