Top 5 Videos: A Sustainable, 3D Printed Porta-Potty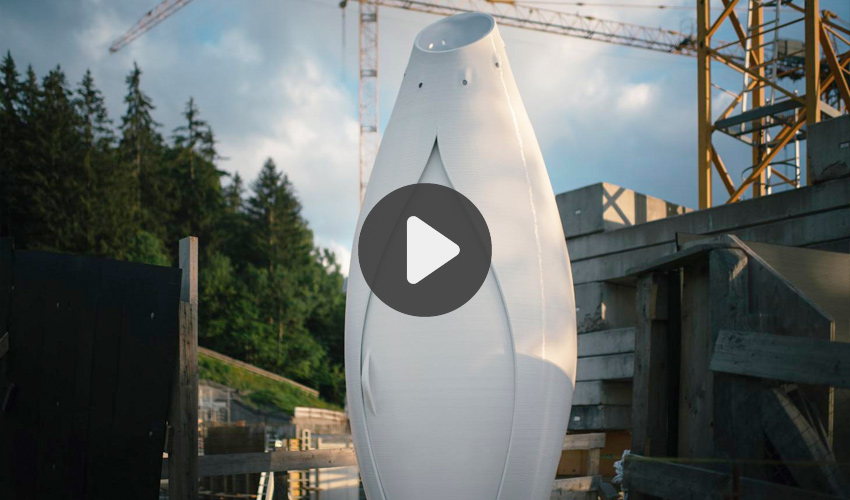 In this week's top 5 videos, we take a look at the slickly-design 3D printed porta-potty (portable toilet) from Spanish studio Nagami. The project is more sustainable as it was designed from recycled plastic and able to compost solid waste. Next, check out our latest #TALK3D video with Terry Wohlers, a key figure in the industry who is known especially for the yearly Wohlers Report, a key publication for major AM players. After that, go behind the scenes at one of Markforged's factories, following along with Frankie Benjaminsen as we learn how he got into 3D printing and what his job entails. Moving on, a video of the 3D printed eye we discussed earlier in the week which was given to a British patient. Finally, Essentium has announced its plans to go public, making it one of a number of AM companies that have made the move this year. Happy Sunday and happy watching!
Top 1: A sustainable, 3D printed porta-potty from Nagami
Spanish design studio Nagami has created a 3D printed portable toilet (colloquially know as a porta-potty). We have previously discussed Nagami as it is known for its surprising original furniture and sculpture projects. This time, the company has once again made headlines for taking advantage of the benefits that additive technology offers when designing and manufacturing large-format pieces. Specifically, this bathroom is made from recycled plastic and designed to compost solid waste. With a sleek design and look, the portable toilet was built with a robotic arm 3D printer and took only three days! Discover the innovative project in this video:
Top 2: An interview with Terry Wohlers
In our latest installment of #TALK3D, we sat down with Terry Wohlers, the Head of Market Intelligence in additive manufacturing at Wohlers Associates, now part of ASTM International. Terry is one of the most prominent voices in the field of additive manufacturing, known especially for the annual Wohlers report which many key players in the industry use to understand the trends and applications in AM. During the interview he outlined not the current state additive manufacturing industry today, but also where he thinks it is headed in the coming years. As Terry Wohler himself states in the video, "What we know about 3D printing is exciting, but what we don't know yet is even more exciting." Check out more of his insights in the video below:
Top 3: Behind the scenes at Markforged's Material Factory
In the next video, see what the day-to-day life is like for an employee at Markforged's Material Factory in Massachusetts. The video follows Frankie Benjaminsen, telling the story of how he became the company's Production Supervisor, where he got his expertise, and why he is so exciting about 3D printing. Frankie explains what he's responsible for in his position and how his mission at Markforged began. Check out the behind the scenes of one of the biggest additive manufacturing companies in the United States in the video below:
Top 4: The first 3D printed eye
Steve Verze, an NHS patient, made headlines this week when he received the world's first 3D-printed ocular prosthesis. The eye was implanted at Moorfields Eye Hospital in London. In the video below, Steve Verze explains how he is doing with his new eye. You can see for yourself the benefits that the prosthesis has compared to acrylic eyes and how life is for Steve with the new 3D-printed eye.
Top 5: Essentium will be going public
Essentium, a U.S. manufacturer of industrial 3D printing solutions, plans to go public. With this step, the company wants to set another milestone and continues its vision to establish additive manufacturing as an industrial manufacturing method worldwide. Learn about the company's mission, how it differentiates itself from other companies, and how the manufacturer plans to make industrial 3D printing scalable. The employees also tell viewers what they think is behind the secret of the company's success!
What do you think of the 3D printed porta-potty and other amazing projects in this week's top 5 videos? Let us know in a comment below or on our Linkedin, Facebook, and Twitter pages! Don't forget to sign up for our free weekly Newsletter here, the latest 3D printing news straight to your inbox! You can also find all our videos on our YouTube channel.