Top 5 Videos: A 3D Printed Park, Space X's 3D printer and more!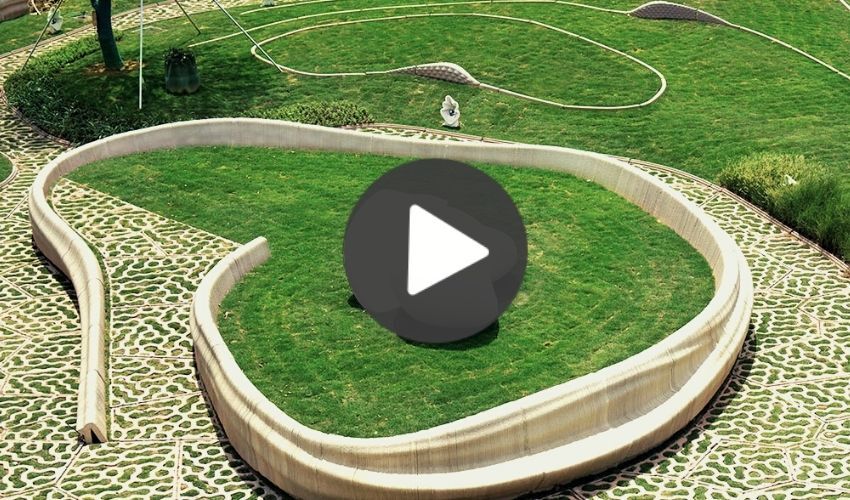 As with every Sunday, today we will be sharing with you some of the latest videos from the world of additive manufacturing. For this week, we took a closer look at park in Shenzhen, China with 3D printed 2,000 parts. Next, Elon Musk unveiled the 3D printer that makes SpaceX rocket parts. An Italian designer has imagined a new 3D printed, smart village in Ecuador that will be made out of cocoa waste. See all this and more in our Top 5 videos of the week. Happy Sunday and happy watching!
Top 1: Take a Look at the First 3D Printed Park in China
U.S.-based Advanced Intelligent Construction Technology (AICT) has opened the first 3D-printed public park at the Shenzhen International Convention & Exhibition Center in China. The finished park consists of more than 2,000 concrete elements, including sculptures, benches, flower beds, retaining walls, and curbs. The total cost of the 55000 square meter park is approximately $650,000. The implementation took only 2 months, the aesthetics is supposed to represent the course of a river. You can see more about the creation of the park in this video.
Top 2: Elon Musk Introduces the SpaceX Printer
Hardly anyone else causes as much excitement in the tech scene Elon Musk these days. The visionary has been working for years on his SpaceX project, which aims to use 3D-printed rockets to enable Mars colonization and tourism in space. Now the entrepreneur is unveiling the technology that will be used to additively manufacture the SpaceX rocket parts. See for yourself which process is used in Musk's project and from which materials the SpaceX parts are made!
Top 3: A Village Made Out of 3D Printed Cocoa Waste in Ecuador
Next up, we are going to show you a smart village in Pedernales, Ecuador made of 3D printed cocoa waste which was designed by Italian architect Valentino Gareri on behalf of chocolate manufacturer MUZE Cacao and nonprofit organization Avanti . This eco-friendly project is intended to be the next 'silicon valley' of the circular economy. It has been created to act as a network between sustainable, carbon neutral villages and as an innovation hub for the circular economy. It is designed to be modular, functional, sustainable, technology-enabled and connected to the local community. Find out more below:
Top 4: The First 3D Printed OLED Display
The process of creating OLED screens requires large factories and machinery but, a few days ago, a group of researchers at the University of Minnesota have discovered an innovative method to create a flexible OLED screen using a 3D printer. To do so, they combined two printing methods: extrusion and spray printing. This discovery would mean a significant cost reduction when manufacturing screens for smartphones or televisions. The display prototype was about 1.5 inches on each side and had 64 pixels. Every pixel worked and displayed light. Discover the innovative project in this video:
Top 5: The Cryptide Sneaker
Last but not least we will take a look at "The Cryptide Sneaker," a fully 3D printed sneaker made using selective laser sintering and flexible TPU. Stephan Henrich, German architect and designer, divided into two parts: the sole and an upper part that resembles a sole. One of the benefits of this type of footwear is that you can adapt its shape to the measurements of your foot, scanning it previously and thus we obtain greater autonomy. Watch the video below to learn more about the shoes' unusual properties and why Henrich decided to use 3D printing to design his creation.
What do you think of our choices for the top 5 videos of the week? Which was your favorite? Would you go to a 3D printed park? Let us know in a comment below or on our Linkedin, Facebook, and Twitter pages! Don't forget to sign up for our free weekly Newsletter here, the latest 3D printing news straight to your inbox! You can also find all our videos on our YouTube channel.