Top 5 Videos: 3D printing self-contained structures for living and working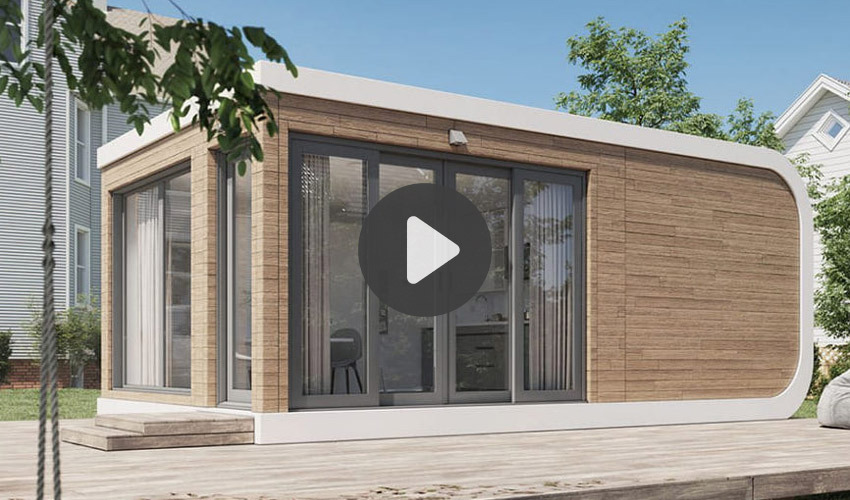 This week we found the top 5 videos about 3D printing and the way additive manufacturing is changing production. The technology has infiltrated many sectors, from medical to automotive: check our selection of the week to keep up with the innovations! If you enjoy these, you can view even more 3D printing videos on our Youtube channel. Hope you'll enjoy and have a great Sunday!
Top 1: Mighty Buildings builds a 3D printed ADU
A few months ago, we met the startup company Mighty Buildings, whose mission is to build the houses of tomorrow using concrete 3D printing. These are actually modular structures, called Accessory Dwelling Units. They are equipped with a kitchen and a bathroom and can become your home or a small building for your garden. The company claims that by using 3D printing technology, it is able to use 90% less material. You can watch a video of Mighty Buildings and how they work below!
Top 2: The capabilities of electronic 3D printing
Microfabrication has been used in the electronics sector to miniaturize the size of devices for a long time. Today, 3D printing technologies are also being utilized in this sector to improve performance, functionality and increase the miniaturization. In the following video from Nano Dimension, you will get to see some of the capabilities of micro 3D printing in the electronics industry. Nano Dimension, one of the leading manufacturers of 3D printed electronic components, developed an inkjet technology that uses nanoinks. Based on photopolymerization, a printhead deposits the nanoinks (dielectric nanoparticles, conductive nanoparticles and polymers) onto the build plate, before they are cured by UV light in between each successive deposition to create conductive and insulating structures!
Top 3: Is 3D printing promoting mass customization?
For a long time, customization meant offering the same t-shirt in different colors and sizes. However, this is no longer sufficient, and customers want products that are specifically designed for them. With additive manufacturing this becomes possible. The video shows different applications of custom additive manufacturing production. Be it fashion, jewelry or medical products. So, is additive manufacturing changing the meaning of customization? See for yourself!
Top 4: Additive manufacturing for architecture students
3D printing technologies are increasingly being taught to students of all ages. In fact, it is important to start the learning process early on so that they quickly become familiar with this production method. At the University of Plymouth, for example, they have opened a Digital Fabrication Lab, an area dedicated to manufacturing technologies such as CNC milling, laser engraving, robotics and additive manufacturing. Students have access to various office machines to produce prototypes and end-use parts for their projects. Check out the video below!
Top 5: Fighting against COVID-19
At the Pacific Northwest National Laboratory, Michelle Fenn, a mechanical engineer, used the various 3D printers available to create personal protective equipment (PPE) against COVID-19 but also medical devices for hospitals. 3D printing allowed her to test different designs, to iterate very easily and to compare the behaviour of various materials. The laboratory in question is part of an initiative involving 16 national laboratories whose aim is to find solutions to protect against COVID-19 and relieve the burden on medical staff. Michelle has designed adapters for respirators, masks and also supports for fabric masks:
What did you think of this week's top 5 videos? Which one is your favorite? Tell us in a comment below or on our Facebook and Twitter pages! And don't forget to sign up to our free weekly Newsletter to keep updated on all the latest news in the 3D industry coming straight to your inbox!